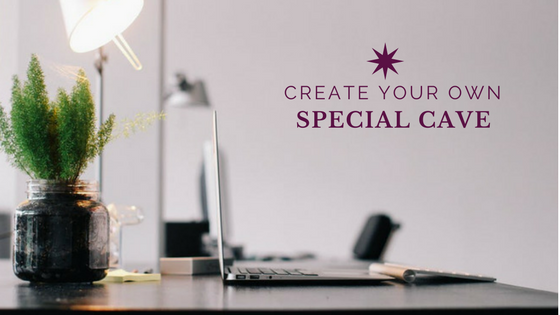 Now that you have tracked your time and made the effort to schedule in your you-time, I have another tip for you. It is designed to help you take stress and overwhelm out of your business. Not only do I want you to track your time and make it a goal to increase your you-time every day and every week. I invite you to find a space of your own in which to spend some of that precious you-time. My husband and I both have our own little spaces in our home. We lovingly refer to it as our 'caves.' Turn your space into your cozy little cave, a sanctuary for yourself within your home.
The size of the space doesn't matter
It is important, though, to have a place in your house that is all yours. Even in the best relationships and most loving families, it is so helpful for us to have our own little spaces. At some point, it may have been used as a shared space. You can schedule this for your own use at designated times. Use it as your safe little cave and little nook. You can get into the vibration of taking care of yourself when you are in this space. Your little cave should feel like home. It is somewhere you are always safe and free to be fully expressive when you are in it.
Your cave will become a space that is nurturing, loving, warm, supportive and a wonderful place you love to go. Create a place where your body knows it can relax. Decorate the space with uplifting and inspiring images. Keep soft and luxurious items in it, like rich blankets for when you need to rest, or colorful pillows to prop yourself up with. Maybe you want to keep it very sparse and minimal, to generate a sense of contemplation and spaciousness. Or maybe you prefer to fill it with books, treasures, and other favorite things. Make it a reflection of your soul.
I use my space for multiple things
I use my chair as my meditation chair, or sometimes I might just sit in it with a cup of tea and recharge. Other times, I curl up with a book.
I love what I do when I'm in my cave, whatever the activity is. I'm happy, and it means a lot to me to have a little sanctuary of my own.
I invite you to create your own cozy cave and I love to see how creative people get with their caves! Please feel free to comment below, or join me on Facebook.
(Once you are on my Facebook page, I would love it if you joined our private Authentic Connections Facebook group!)
If this blog resonates for you, please feel free to reach out. I would love to learn more about how I may support you and your business. Sending you tons of love and light!
REAL LIFE. REAL NEWS. REAL VOICES.
Help us tell more of the stories that matter from voices that too often remain unheard.
This post was published on the now-closed HuffPost Contributor platform. Contributors control their own work and posted freely to our site. If you need to flag this entry as abusive,
send us an email
.