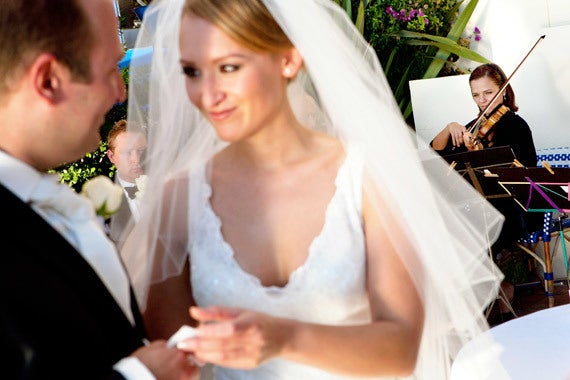 Your personal wedding ceremony is first of all a celebration of the love you share. Unique, your love is different from any other. So it follows that your ceremony is tailored to fit you.
The words of your ceremony reflect your love such that you recognise and appreciate the treasure that you are for each other.  You are making commitments because you care enough to do so.
Your personal wedding will assist your guests to understand what makes you special for each other. You give them the opportunity to see into the depth of your love and what it means for you. They feel honoured that you have chosen them to be with you.
Your families and friends are witnesses to the commitments you are making. The openness with which you share your Vows, Declarations of Love, and Your Story touches their hearts.  This connection re-awakens your guests to their own love. It is your gift to them.
Simply told anecdotes illustrate the values that keep you together in your lasting bond of love. Humourous incidents from Your Story are endearing and speak to your devotion to each other, even and especially when you might be tempted to lose it.
Take time to consider the Vows, promises and commitments you make to each other.  You may have the same or different Vows, long or short. Bear in mind when life is challenging and the strengths and qualities you will express at those times to grow and expand your love. Vows are central to your celebration so it is important that they are true for you.
The months and weeks leading up to your celebration are special because you can use these days to gain insights into your love, to lay in the foundation for your future happiness with each other.  It is vital to balance this close time with each other with the planning and preparation for  your personal wedding celebration, your guests, catering, travel, and all of the other details to be organised.
Consider exploring your Love Languages. Gary Chapman's  Discover Your Love Languages could gave you further understanding that will enrich your marriage partnership into the future.  For many, marriage is a voyage of discovery.  There is always more to know and love in the one who means the most to you.
Your personal wedding is a new beginning. It is truly the door to a fulfilling and rewarding partnership with lasting happiness and joy. To summarise, the keys that open this door include:
making the promises that are meaningful for you
affirming your shared personal values
listening to your hearts, and being true to you
marrying romance with reality
sharing your joy and enthusiasm
expressing appreciation and gratitude to and for one another, and the guests who come as your witnesses
For an exploratory first meeting to discuss your personal wedding ceremony, please contact me, Anne Naylor.  I shall be delighted to hear from you and hope I may have the pleasure and joy of designing and officiating the wedding of your dreams.
Contact Lizzy Parks for her musical talent and inspiration
Contact Wayne Riley for his stylish flower architecture
REAL LIFE. REAL NEWS. REAL VOICES.
Help us tell more of the stories that matter from voices that too often remain unheard.
This post was published on the now-closed HuffPost Contributor platform. Contributors control their own work and posted freely to our site. If you need to flag this entry as abusive,
send us an email
.