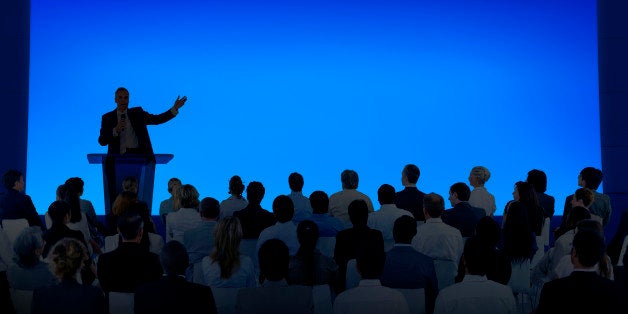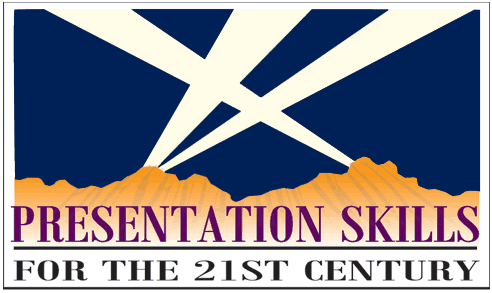 Technology seems to be advancing faster than the speed of light. Our state-of-the-art smart phone, computer and Blu-ray player has become the new car of the 21st century: the minute we drive it off the lot, it's obsolete and virtually worthless. The same can be said for the art of communication, which has been almost completely taken over by technology in the past 20 years. Once traditionally-analog presentations like slide shows, overhead projections, and old-fashioned public speaking have been replaced with Microsoft PowerPoint, Apple Keynote and Skype. For those of us who came of age in the 20th century, this can be a daunting field of battle, particularly if you work with or are putting together a startup. Fortunately, there are a variety of apps out there that can make the biggest Luddite feel like Bill Gates in no time. Here's a few of our faves:
If you truly are making a presentation before the likes of Bill Gates, you'll want to hire a professional designer or use an online service such as Sketchbubble, Sketchdeck, or SlideSource.com to take care of the heavy lifting. But, if you're simply needing a garden-variety presentation (the category most of us fall into), any of these new apps might be just your ticket:
1. Google Slides
Google Slides has become PowerPoint's major competition in collaborative presentation apps. Part of the widely-used Google Docs suite, it's a no-frills, but easy-to-use, presentation app. After selecting a template them for your slideshow, you make the presentation via an online app similar to other tools in the Google family. Most standard features are here: animation, slide transitions, etc.
Google Slides makes itself particularly useful in collaboration. All that's required is a Google account to be added to a Google Slide presentation to begin making real-time edits. Collaborators can chat with the built-in IM functionality, so group projects become a no-brainer. Additionally, all edits are logged, so you can view all revisions made by your collaborators.
Google Slides Pricing: Free; extra storage from $1.99/month for 100GB
2. Slides
Slides is an HTML5-baed presentation tool that allows users to create their own slide styles through the use of unique fonts, shapes, smooth transitions and color sets that will work in any up-to-date browser.
Slides best feature is its clean interface -- it's modern and fresh, with a unique design that shows tools as you need them in a sidebar. It doesn't require digging through menus to get to special design tools, something that can't be said for other new presentation apps.
Slides biggest selling point is its straightforward interface, which displays the tools as you need them in a sidebar. Digging through menus for what you need is left behind in this very cleverly-designed app, obviously made with a ticking clock in mind.
Slides should appeal particularly to web designers and developers, as it includes code syntax highlighting, and if you choose its Pro plan, allows users to add custom CSS to presentations for easy branding and styling.
Slides Pricing: Free for public presentations; $6/month Pro plan for private presentations and more; $12/month Team plan for custom branding
3. Canva
Though Canva is primarily a design app, you can make some pretty wicked slideshows with it. The app includes a large library of stock images, backgrounds, and specially formatted text boxes that, with a bit of creativity, can be used to make polished image-focused slides. The whole interface is drag-and-drop, so you can tweak your slideshow to look exactly the way you want.
Created primarily as a design app, Canva allows users to make eye-popping slideshows, as well. Its enviable image library offers a wealth of stock images, backgrounds and formatted text boxes that can allow your inner Picasso to come out in force, creating some truly unique, image-focused slides. The ease of its drop-and-drag interface makes it that much more appealing.
Canva Pricing: Free, with paid images and layouts starting at $1.
4. Haiku Deck
Although Haiku Deck is about as basic as it gets, with a small number of themes, layouts and formatting options, it's one of the easiest apps to navigate, displaying all its options and tools on the home screen. If you're somewhat techno-phobic, this might be the perfect fit for you.
Another big selling point is Haiku Deck's mobile app, allowing you to work from your smart phone, on-the-go, as opposed to your desktop or laptop computer. The mobile app allows the user to continue working on saved presentations or create entirely new ones. Unlike many mobile app versions of full apps, its layout is very similar to the full website.
5. Deckset
If you're someone whose secretarial skills allow you to take thorough, copious notes, but you lack the technical knowhow to turn those notes into a modern presentation, this is the perfect app for you. You need only put your notes into your favorite text editor, format them with Markdown, then separate them into sections with dashes. You then import those sections into Deckset, pick one of the templates offered and Deckset does the rest: taking your notes and making slides from them.
Unlike the other apps in this list, Deckset is a Mac app that lives on the desktop, so it doesn't have the cloud-backed simplicity of working from anywhere or collaborating with others. Deckset's simplicity, however, is hard to beat, and if you save your work to Dropbox or use a collaborative writing app to draft your presentation notes, you'll get the best of both worlds.
One drawback (or asset, depending if you're a Mac or PC user): Deckset is an app unique to Mac that exists on the system's desktop and doesn't have cloud-backed resources allowing the user to work anywhere or collaborate with others. However, if you're a Mac user who uses services such as Dropbox or a collaborative writing app to draft notes, you get the best of both here.
Deckset Pricing: $29.99 on the Mac App Store
Calling all HuffPost superfans!
Sign up for membership to become a founding member and help shape HuffPost's next chapter