By: Joseph P. Coulson, Ph.D.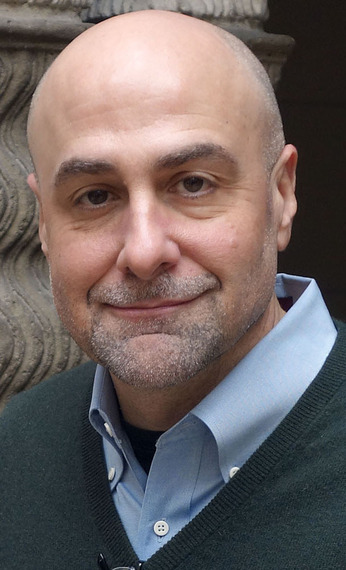 "How many a man has dated a new era in his life from the reading of a book."
― Henry David Thoreau, Walden
When I was in college, I heard John Logan read "Poem, Slow to Come, on the Death of Cummings," an elegy that recounts Logan's grief over the death of his mentor, E. E. Cummings. In the poem, in verses of great musicality, Logan works through his sadness by remembering moments he shared with Cummings, by celebrating his mentor's profound influence as an artist and teacher.
As the words floated on the air that day, as Logan swayed with the music of his words, I understood the depth of human connection that the writing conveyed, and as the poem rose to a crescendo, the importance of literature and artistic expression revealed itself to me for the first time. Logan's poem opened my eyes to what literature can reveal about integrity, compassion, and the complexity of the human heart, and in that moment, I decided that the celebration of literature would be my life's work.
I eventually earned a Ph.D. in English and taught literature and writing at many levels, but as time passed, I found myself drawn to teaching in high schools. The question of personal identity forms the core of the high school experience, and I found that the reading and discussion of rich literature gave students a platform for exploring alternatives and thinking about their own dilemmas.
Teenagers ask: "Why am I here? What is my purpose in life? Where am I going?" I've found that guiding students through literature and active discussion begins the process of answering these difficult questions and provides life skills that extend beyond the classroom.
Conflicts between good and evil presented in stories and poems can be applied to personal and ethical choices in a student's life, and these concepts are the same for every student--from urban to suburban schools, from American to international schools--the universal qualities of literature provide shape and substance for student exploration. Because literature is a cultural treasure that stands as a pillar of human experience, great books and the conversations surrounding them can lead students to moments of insight, of truth.
For the student, of course, participating in a conversation is much more compelling than being asked to memorize, say, the rules of grammar. And when an adult is authentically interested in what a student has to say about a text, it becomes a fulfilling, confidence-boosting experience for all concerned. Indeed, the trust and respect that grows from such discussions eventually moves into realms outside of the classroom.
Despite my fondness for teaching, I began to feel an urgent need to move from the classroom to a larger sphere of influence. As a teacher, I had the opportunity to work with perhaps 150 students each academic year. Now, with the Great Books Foundation in the service of the Shared Inquiry method, I have the opportunity to reach thousands of students of all ages all over the country.
I teach literature, lead workshops for students and adults, and provide professional learning for teachers, and in all situations I model and demonstrate Shared Inquiry, a method of teaching and learning developed by Great Books that hones the skills of close reading, careful questioning, active listening, and the respectful exchange of ideas.
Through the lens of great literature, I hope to improve civil discourse in our communities and provide a forum for people to understand a diverse range of viewpoints. The discussion of literature, for students and adults, also provides a framework for understanding the history of ideas. In July, for example, leading discussions in the Great Books Summer Program, I began an exploration of "Civil Disobedience" by Henry David Thoreau. As the group unpacked the details of the text, students soon drew parallels with Gandhi's protests in India, the Civil Rights Movement, Martin Luther King, Jr., and Black Lives Matter. Because we explored Thoreau's essay together, because students had the opportunity to make connections on their own, students expressed excitement, even amazement, over Thoreau's ideas, and everyone in the room understood the power and importance of bringing the past into the present.
Through the reading and discussion of literature, students develop a deeper sense of their potential and begin the long process of discovering their personal identities. Literature also allows students and adults to connect with their larger cultural identities, a process that requires the exercise of empathy and understanding, particularly when cultural assumptions are challenged.
The experience of literature offers the possibility of common ground--our shared humanity--and the opportunity to confront and understand a world of different ideas, backgrounds, and perspectives. Literature, therefore, is essential for personal growth and social progress--our very survival may depend on it.
Pioneers for Change is a seed-bed for innovative thought. An activator of personal potential. A catalyst for collective energy. A community to drive social change.
Our annual, international Fellowship is open to anyone aged 28 - 108 years old. We gather change-makers -- a business person, a community person, an investor, a thinker or doer -- who are willing to harness their talents, energy and resources as a force for good. Pioneers for Change is an initiative of Adessy Associates.
Adessy Associates believes social and business objectives are mutually reinforcing. We equip and enable organisations and individuals to make positive change happen, and contribute to a sustainable future. We focus on benefit for people, planet and profit. Our bespoke services harness sustainability, innovation, consciousness and purpose. We are proudly B Corp certified.
About Joseph Coulson
Joseph P. Coulson, Ph.D. is President of the Great Books Foundation, receiving the appointment after a seventeen-year career in education as a classroom teacher, senior administrator, English professor, and director of teacher training and professional learning. Coulson is the author of two novels, three books of poetry, one stage play, and numerous essays. His first novel, The Vanishing Moon, was published as a Harvest Book by Harcourt and was selected for the Barnes and Noble Great New Writers series.
Popular in the Community