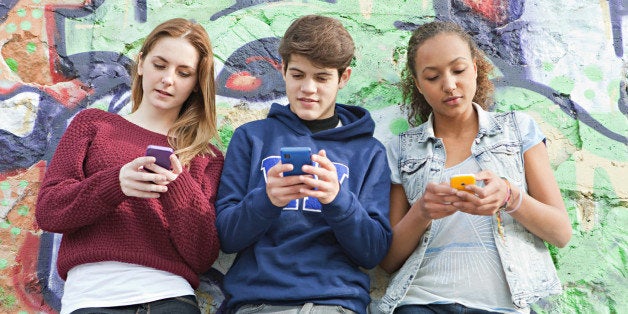 Making Caring Common Project recently released an interesting survey of 10,000 middle and high school students that revealed 80 percent of kids believe their parents are more concerned about their overall achievement and happiness rather than caring for others. Let's not confuse the fact that they want their children to be caring people, however only 20 percent of students identified caring for others as their top priority.
It's time for parents to turn this around. There is nothing wrong with wanting our children to be academically accomplished and happy, but many understand that giving to others actually brings the most joy to those that do the giving.
With 98 percent of teens online, creating an environment of caring includes cyberspace.
Most teens have an extension to their hand -- it's called a cell phone. If they aren't talking on it, they are using it to text or surf the web.
In reality, parents are not that far behind. If you are in a mall, for example, you will witness many adults with their cell phones close at hand.
Caring Extends to Cell phones
Let's consider cell phone etiquette when you are with friends. It is about being kind and respectful when you are with others, no matter what age you are. Parents, these lessons start with you -- your children will follow your lead:
•Lower your voice if you need to take a call in public. It's called respect for others.
•Avoid texting or checking messages when you are with a friend, especially during a meal or if you are having a conversation with them. It is showing respect to your friend.
•Never text and drive. Your kids are watching. Your years of experience will not hold water with a teenager who feels invincible, and they won't protect you from the dangers of inattentive driving.

Bring Kindness to Social Media
Social networking, blogging and all their other forms found in today's digital space have become an outlet for self-expression for people of all ages. It doesn't make a difference how old you are, no one wants cruel keystrokes directed at them.
Parents have to lead by example -- don't post all over your Facebook page about your bad day or a date gone wrong. Over-sharing is not only a concern for kids -- adults are falling into the trap too.
What can you do to create a cycle of caring online?
•Always think before you post, keep in mind that less is more.
•If you see someone is struggling, reach out to them online with kind words -- use positive keystrokes to lift others back up.
•Get involved or create clubs like iCANHELP Delete Negativity Online.
What many kids are unaware of is that parents can be victims of cyberbullies too. Adults can sometime be crueler than children and the fact that they should know better makes it worse. With the many resources online to help parents and children, sometimes we get paralyzed with fear, overwhelmed and too afraid to reach out to ask for assistance.
Parents should talk with their kids about reporting online abuse and discuss exactly what cyberbullying is. Let them know this is not only happening to young people, it is something that adults struggle with too. Our kids can learn from our actions, how we handle the situation if we are a victim of another adult or simply by us teaching our children to be cyber-mentors.
•Locate how to report online abuse for each of your child's social media sites and apps.
•Remind your child that they should always tell an adult (hopefully you) if they are being harassed or bullied.
•Encourage your child to pass on to their friends what they learn about becoming proactive in cyberbullying prevention. Education is the key to prevention.
•StopBullying.gov has a vast amount of information for parents, students, and communities.
We need to model being kind and caring in the online environment and teach our children that the anonymity the Internet affords us shouldn't change how we behave toward others.
Since most of our kids live the majority of their lives online, extending caring into their digital life is something that every parent needs to encourage. We know that parents can sometimes be beyond us in their knowledge of technology, but you can never be lacking in caring and kindness.
•Caring for others isn't limited to community service, it has to include our digital lives
•Your keystrokes are a reflection of you, and you are your child's number one influence
•SPARK Kindness helps create a culture of caring digital citizens, they have many parent resources -- visit their site today and get inspired
•Thank the many caring teachers, librarians, and coaches that instill positive digital citizenship
Support HuffPost
A No-B.S. Guide To Life
Related
Popular in the Community