Do you know how hard it is to find a black girl with hair like yours?
Ten years ago I was in a stand-off with my southern parents in my ultra-conservative hometown. I had just informed them of my intention to cut off my thick mass of bone-straight hair and never again incur the burden of a relaxer. They were, to say the least, flabbergasted.
Do you know how hard it is to find a black girl with hair like yours?
The question was provocative: not only was I disappointing my parents, but shaving my mane apparently meant failing an entire culture. It was my first peek into the supposition that my hair does not belong to me but, rather, is part of some trenchant responsibility -- a birthright, if you will -- and deeply engaged in identity politics whether or not the body/mind attached to it desires such.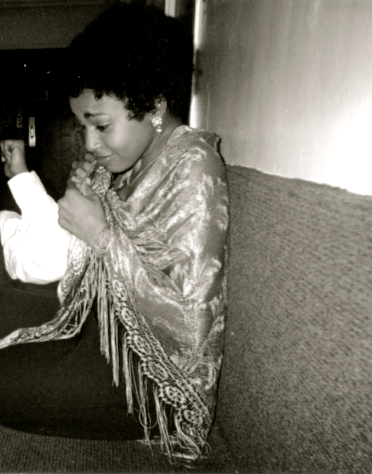 For those unaware, transitioning from a relaxed to a natural texture means also transitioning from conventional to fringe society. Abandoning straight hair labels one eccentric and often reduces you to a single characteristic rather than broadening the scope of your being. Historically, this narrow scope is commonplace for the woman of color but, as the focus turns to hair, things become more complicated.
The black woman as a concept has an identity largely based on archaic tropes. This same woman as reality, however, exists at the unfortunate intersection of archetype and living soul. Our society's framework for black women reads as such: strong, indignant and fiercely independent with endless resilience; a myriad of expectations entirely at odds with the vulnerable reality of having natural hair.
Yes, one is vulnerable when one is natural. Relaxed hair has a narrow range of variation; natural, however, comes in an array of texture, kink, curl, thickness, length, and a surprisingly increasing number of standards against which you are constantly judged and which I find myself navigating in order to maintain something resembling integrity.
In my line of work, arriving on set and meeting a stylist who takes one withering look and either proclaims my hair camera-ready or quickly pulls out a curling iron and eagerly redefines my texture is, regrettably, par for the course.
Last year, a bellwether moment happened when I settled into a stylist's chair for my first keratin treatment. As we joked about my hair's new, looser curl pattern being more television and romance-friendly, I worried about the message my change in appearance might send. Turns out that was nothing compared to the watershed makeover I received a month later.
My inaugural year on Grey's Anatomy was defined by two points: my character's boyfriend and the episode when said relationship began. For the audience, the episode is noteworthy because it features a classic spectacles-to-contacts, curly-to-straight transformation. For myself it's noteworthy because, even after Carol's Daughter in Sephora, I Am Not My Hair on Billboard's Hot 100 and decades of mop-headed kids in GAP commercials, the public still goes batshit over bone-straight hair on a black woman.
Do you know how hard it is to find a black girl with hair like yours?
After the episode aired, the praise I received from strangers, friends and even my own family was staggering. I suddenly had mass-appeal and the undertone was clear: with a single blow-dry, I had arrived.
What was intended as flattery was profoundly insulting and it hurt me deeply to realize my natural form wasn't considered feminine or desirable.
The response ignited that same young rebellion I had all those years ago. My hair had graduated from the purview of my parents to become of direct concern to the masses and, in both cases, no one considered the effect on the person at the center.
Living these politics in the public sphere is, for me, exhausting. Every day that I'm not on set, the way I wear my hair is a purposeful choice which leaves me vulnerable to the judgement of others. Daily, it's a conscious decision to make sure that their mindset is not my concern.
There are days I wish I'd never compromised, days when I mourn the former texture of my hair. I'm still struggling to come to terms with the fact that I wear my personal journey in plain sight and it is complicated by the disparity between my professional and personal selves.
I completely understand why other actresses and women in various professions make the hair choices they do: it's undeniable that long, straight hair is a societal passport. But when we simplify like this, we would do well to examine why the conventional choices inspire such esteem and the more unconventional ones obscure our personhood. When I consider the black girl with hair like mine, I want her to feel validated by more than a mass of hair. I want her to feel whole.
Calling all HuffPost superfans!
Sign up for membership to become a founding member and help shape HuffPost's next chapter