The Central African Republic (CAR) is one of the worst countries in the world to be a child.
Sitting second only to Niger at the bottom of the UN's human development index, the children in this West African nation grow up within a crippled infrastructure beset by poverty, food insecurity and malnutrition, low literacy levels, high rates of child marriage and female genital mutilation, and poor access to water, sanitation and health services. The recent conflict has exacerbated this situation as ongoing insecurity has hamstrung humanitarian efforts. In a country where 40% of the population are under 15, over half of the 2.3 million people affected by the fighting are children, meaning the conflict will have a significant ripple effect on CAR's future development. Three years on, a quarter of schools remain closed due to damage inflicted by militias, insecurity and displacement; only a third of children are enrolled. Thousands became child soldiers and remain too traumatized to return to the classroom.
Theirs is a childhood interrupted, a childhood lost.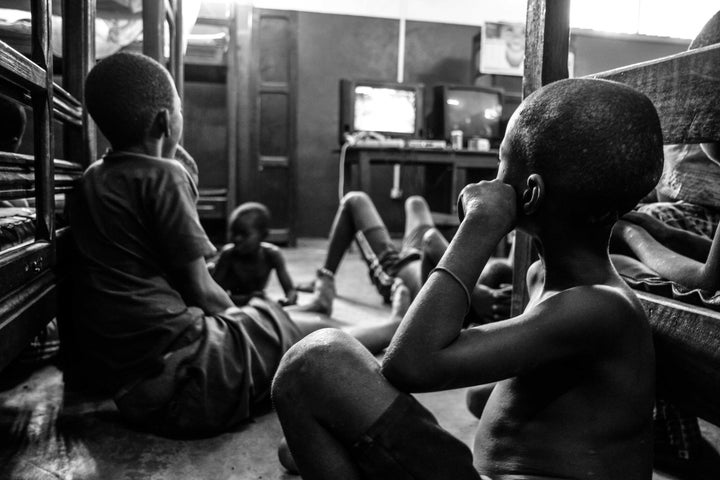 But as tragic as the situation is in the country, beyond the region, public interest is minimal and fleeting. The situation in CAR has often been billed as the "forgotten crisis", overshadowed by events in neighbouring Democratic Republic of Congo and South Sudan. But an aid worker told me this tag was paradoxical. To be forgotten, they told me, implies this obscure West African nation was actually ever in our collective consciousness. So this poses an age-old quandary for foreign correspondents: how do you make people care about strangers in a faraway land? And with President Trump's isolationist and insular stance, with the United Kingdom withdrawing from the European Union, we arguably live in an era of ever-shrinking geographic and political borders. How also can reporters combat the superficial and temporary 'clicktivism' that we saw with the 'Kony 2012' campaign? CAR was also only the briefest of blips in the news cycle a few years ago with journalists parachuting in to cover the conflict itself, but not its aftermath. The news beast has to be fed, and the media spotlight quickly moves on to the next disaster, the next war. So how can a journalist engage and hold an audience's attention on a country once the guns have fallen silent?
Casting my mind back to my own childhood, I came up with a possible answer to these important questions. I remembered my love of the choose-your-own-adventure-style books that were so popular in the 80s - books that empowered the reader to direct the narrative. Should I enter the haunted house? Who do I choose as my guide through the mountains? Such an approach always made me feel infinitely more invested in the story. And so my upcoming #ArtBeyondBorders photo/graphic novel will adopt a similar participatory approach. I have produced immersive online comics on child marriage, female genital mutilation, and female child soldiers before.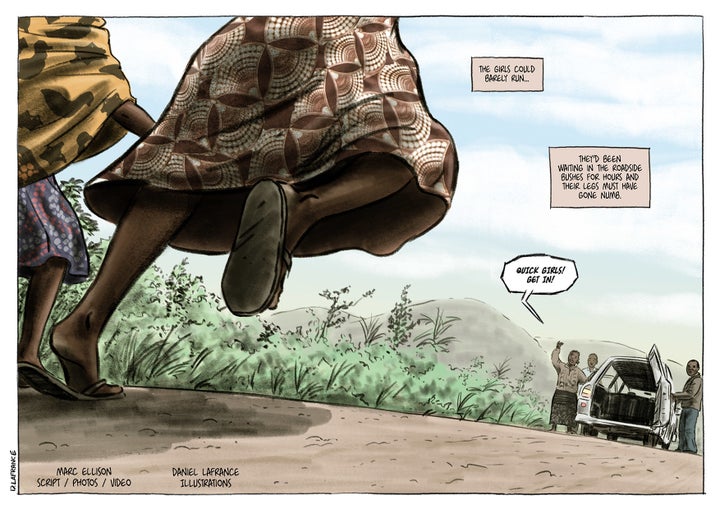 The power of the illustrated format can be harnessed to immediately hook an audience into an intimate virtual conversation with its characters like a monochrome block of text never could. But this project will veer away from the traditional reporter-audience paradigm; I want readers to take on a less passive role and to make the experience truly "interactive". In addition to following my field updates via the #ArtBeyondBorders hashtag on Twitter and Instagram, I want to transport readers to CAR, to cross borders with me. Travel with Central African artist Didier Kassai and I as we visit classrooms, vocational skills training centres, refugee camps, villages and hospitals from tomorrow until the end of February.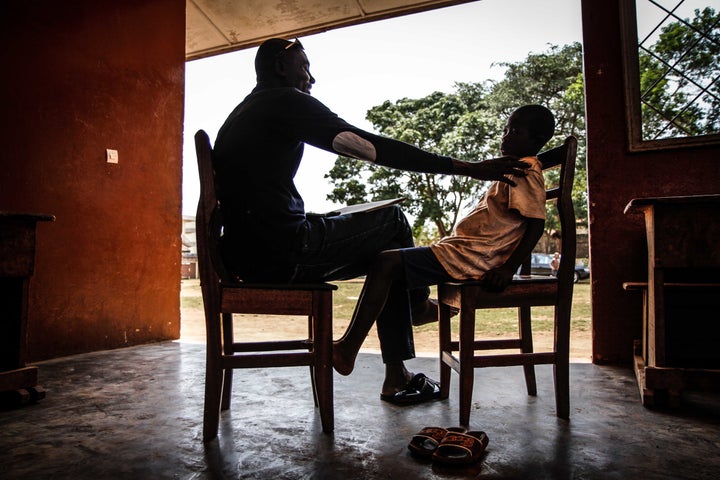 Help me with the storytelling, become an "armchair foreign correspondent".: What questions didn't I ask; who should 'we' speak to, or what should 'we' report on, next. This "live" feedback I hope will not only allow me to address issues I may have overlooked in my reporting while still in situ, but also make you, the reader, feel like you're investing in the project. You can also help me make difficult editorial decisions during the production phase before we release the graphic novel and 360 video in Summer 2017. What topics do we focus on? Whose stories do we discard?
The #ArtBeyondBorders project ultimately strives to produce an empathy engine, a mechanism that will improve the storytelling and help break down borders. But any machine is only as efficient as its component parts, its cogs, and pistons -- or in this case, you, the reader.
This project is supported by the 'Innovation in Development Reporting Grant' programme of the European Journalism Centre, financed by the Bill and Melinda Gates Foundation.
Popular in the Community