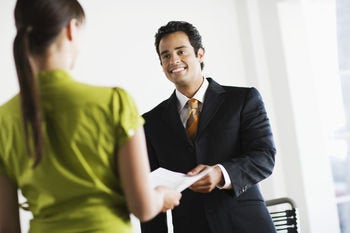 When Laura Ching and her two co-founders of Tiny Prints, a Sunnyvale, California-based online customized stationery company, first sat down to create their enterprise in 2003, they were four years out of the Stanford Business School and had all spent time working at big companies. "We saw an opportunity to create a utopian culture to fix some parts that we saw were broken at some major corporations," Laura says. "So we set up some core values, including to instill a passion to win, to nurture creativity, to treat each other like family and to insist that every dollar counts- -e ven building our own IKEA desks because we couldn't afford anything else" Now five years later the three find themselves at different stages of their lives, both personal -- with spouses and children -- and professional, with about 250 employees, but "we still maintain those values," says Laura, " though we have to work harder to stay true to them."
Company culture is one of those buzz phrases that gets some managers boasting about Nacho Wednesdays and Bingo parties or wearing t shirts and flip flops and allowing pets in the office, but many start ups find competitive value early on by going beyond bells and whistles to create a productive atmosphere. Flexible hours and competitive compensation certainly help. But Towers Watson workforce strategist Julie Gebauer, author of Closing the Engagement Gap, notes that "engagement" or getting employees to participate in the company culture with heads, hands and heart, "is not about employee programs but about what kind of leaders they have and leadership's focus and commitment. They care about what their company stands for and their ability to build their own skills. If you talk only about projects and schedules, there is nothing for them to connect with personally." Her observations are seconded by culture guru Howard Schultz, CEO of Starbucks, who says even when you start a company, "everything matters -- everything. You are imprinting decisions, values and memories onto an organization."
Laura Ching of Tiny Prints, which posted revenues of over $100 million in the past twelve months, admits that she has introduced a "look forward to Mondays" theme by offering lunches, happy hours, games," but the real point was "for us to understand why employees don't look forward to Mondays. We've set up committees to discuss how we apply our values. If we find out that one reason employees don't look forward to Mondays is that their workloads are too heavy, we adjust expectations too and don't just offer free lunches."
In 2004, when CEO Michelle Conceison founded her indie music management company with only two employees, "culture was the first thing on my list because I wanted a company that both employees and clients wanted to be associated with." But she admits that it's a "squishy thing which I can't always explain." For her it started with her company name. "Usually music agencies carry the founder's name. So I chose Market Monkeys which always makes people smile -- a good beginning for such a cut-throat business." Before conferences, key sales points in her business, Michelle writes personalized letters to her employees, reminding them of the spirit of her organization, "to keep the promises we make so that together we can do great things." At the conference, she continues, "our culture is evidenced in the room we set up for our clients, the lighting, the handouts, maybe it's the way we sit in the room always ready to talk to our clients, or the fact that we give all of them a pleasant place where they can play and be treated like professionals." Last year her business, now with about 25 clients, grew 30%.
Productive companies figure out how to focus attention on employee needs. CEO Victoria Nessen Kohlasch, of NK and Associates, a marketing company -- with $500,000 annual billings -- that helps small and medium sized companies including banks, insurance companies, and caterers with branding, says one of her core values is reinforcing employee strengths. She explains, "I don't ask them to overcome their weaknesses because that's not fair. I have a great operations person who I don't expect to make creative decisions. You just can't make your people jacks of all trades."
An early adapter of commitment to culture is women's retailer EILEEN FISHER which posted 2010 sales of $310 million and currently employs 880 employees. Its Chief Culture Officer Susan Schor, says that "we're not into metrics as much as we care about valuing our employees so they can contribute, so they're motivated and can pursue what they're good at and have positive relationships with each other." Susan Schor says that the company offers perks, such as an annual $1000 well-being stipend -- for massages, or gym fees or yoga classes -- as well as annual clothing allowances. And the proof that their employees "feel very respected" is a turnover rate of 11% in the stores, compared to 45-50% for the industry, and only 4.5% for the rest of the company.
Related
Popular in the Community