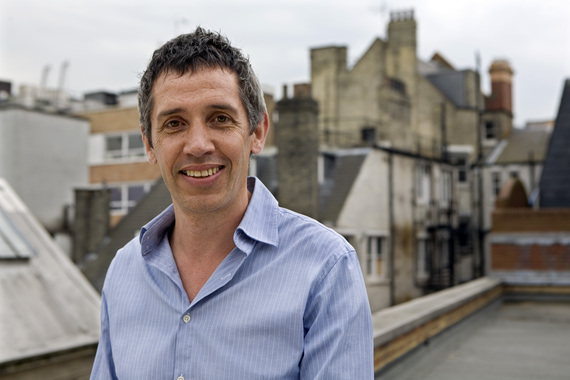 Around 18 months ago in a belated midlife crisis I left my relatively secure role as the CEO of Global Action Plan - a charity I had started 20 years earlier - to create a new social enterprise called Hubbub UK.
The drive was an increasing sense of frustration that although science was telling us that the environmental threats we are facing - particularly climate change - are getting more severe the public seemed either disinterested or cynical.
The question I posed was: Is it possible to get mainstream public engagement by communicating environmental messages in a fresh and compelling manner?
Seeking the answer has been reinvigorating and rewarding. Within two years our turnover has reached £1 million largely secured from multi-national companies who have been grappling with the same conundrum. At the heart of our approach is strong and clear communication.
We talk about things which are of passionate interest to people; food, fashion, their homes and their neighbourhoods. We set clear ambitions against which it is hard to argue - such as cutting food waste. We bring these ambitions to life through creative campaigns delivered on-the-ground in communities throughout the country.
Companies are drawn by the core values that we have tried to instil within the charity. Chief amongst these has been a desire to independently measure the impact of what we have achieved and to openly share results good and bad so that others can learn from them and replicate the most successful elements.
From the outset we worked to the belief that the challenges we are addressing are far more important than us as an organisation. Seeing the impact of this value in reality is sometimes painful. The City of Boston took our concept of a voting to bin aimed at cutting cigarette litter and installed it across the city with minimal acknowledgement of our creative role. Initial frustration was quickly dispelled when we realised that obviously this is a fantastic thing and a great way for a small team to make a big difference.
Creativity and collaboration are at the heart of our approach. We have realised that many businesses strive to deliver real environmental change but are often restricted by internal cultures and practices. Having a fleet footed, agile charity partner provides a far less painful way to experiment and engage with communities.
As with any start-up it hasn't all been a bed of roses and there are three distinct challenges we have to overcome.
Firstly we must remain true to our core values, there is a danger that we could slip into the mould of yet another CSR consultancy feasting off the corporate buck. Secondly we need to generate sufficient revenue to experiment and play in areas where companies are currently too fearful to tread. Finally we need to consider how our approach can have a positive impact on government policy creating a framework where it is easier for companies and people to do the right thing for the environment.
Looking ahead I don't have any grand vision about what Hubbub might achieve. I do know that we will have been successful if I see others starting to replicate the most successful campaigns we have created. I will also know that we have delivered fundamental change if the British public start to see that following a more environmentally sensitive lifestyle is one crammed full of excitement, possibility and enjoyment - rather than the current mind-set which sees it as a retrogressive step imposed by others.
Pioneers for Change is a seed-bed for innovative thought. An activator of personal potential. A catalyst for collective energy. A community to drive social change.
Our annual, international Fellowship is open to anyone aged 28 - 108 years old. We gather change-makers -- a business person, a community person, an investor, a thinker or doer -- who are willing to harness their talents, energy and resources as a force for good. Pioneers for Change is an initiative of Adessy Associates.
Adessy Associates believes a better world is possible, and inspires and equips organisations and individuals to make positive change happen and contribute to a sustainable future. We focus on benefit for people, planet and profit and our bespoke services harness sustainability, innovation, consciousness and purpose. We are proudly B Corp certified.
About Trewin Restorick
Trewin is Founder and CEO of the charity Hubbub UK which aims to revolutionise the way environmental messages are communicated by bringing people and organisations together as a force for good. He is also Chair of Student Hubs
Previously Trewin created Global Action Plan the UK's leading environmental behaviour change charity which he set up in 1993. As CEO, Trewin developed award winning partnerships with BskyB, Barts NHS Trust and EON and developed successful initiatives in schools and communities. Trewin is a frequent media commentator on environmental issues and was trained by Al Gore as one of his climate change ambassadors
Before starting Global Action Plan, Trewin was Director of Fundraising at Friends of the Earth where he created PaperRound London's leading community recycling business. Prior to Friends of the Earth, Trewin worked at Plymouth City Council and produced a youth TV programme for the BBC called Something Else.
Popular in the Community