In the age of social media, it's not enough to just be a good business -- you've got to be a likeable business.
No one knows this better than Dave Kerpen, founder and CEO of Likeable Media, a social media and word of mouth marketing firm. In his book, Likeable Business: Why Today's Consumers Demand More and How Leaders Can Deliver, he outlines 11 principles that will help businesses not only to stand out from their competition, but also create a culture that will foster positive relationships with customers and boost profits overall.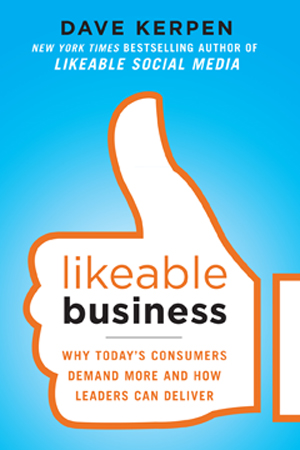 After reading Likeable Business, which I received as a free review copy, I spoke with Kerpen to gather some feedback on the specific ways businesses need to cater to today's consumers to create a true culture of likeability:
A lot of the examples provided in Likeable Business are large, product-based companies. In what ways can small, service-based companies listen to consumers?
That's the amazing thing -- companies of all sizes can use listening to gain a competitive advantage. A small recruitment firm can search Twitter for the term "We're hiring" in their city to listen for potential clients. A small law firm can listen on Twitter for the term "need a lawyer." A business consultant can search Twitter for terms like "my business" and "need to grow." All it takes to listen is some time and creativity -- something small businesses should all have.
What are the elements of a good story? Are there questions companies can ask themselves to develop their story?
A good story needs an introduction, some conflict, and a conclusion. Interesting characters help to make a good story, too. Companies can ask themselves: Who are our interesting characters? What are our conflicts? What have I, my staff, and/or my customers overcome to achieve success?
How can small companies -- not those with a local-only audience, just small in size -- make sure their stories are heard?
Take (or make) great stories and use multimedia to bring them alive. Use pictures, videos, and infographics to make easily digestible and easily shareable stories. Then, seed those stories with a very small advertising budget. Of course, the larger the company, the more resources you'll have to ensure your story is heard, but the Internet and social media have made it easier than ever to compete as a smaller company.
I recently had a horrible emergency room visit, in which I ended up leaving untreated. I provided my negative feedback to the hospital, which eventually led to a call from the chief of the emergency department. Not only did he listen to my entire story, mortified, but he assured me the offending doctor would have to face board review. He gave me his cell number and told me to call him any time should I "dare to visit their emergency room again" or if I just wanted to talk about the situation more. I can't express how much better this simple phone call made me feel about an otherwise horrible situation. Would you say this is an excellent example of several of the 11 principles outlined in Likeable Business?
This is an excellent example of five principles of [a] likeable business: listening, responsiveness, authenticity, transparency, and surprise and delight. The hospital made a huge mistake in its poor treatment of you, but then they took steps to find out about their mistake. The chief personally acted, going above and beyond to earn back your trust. That was indeed a likeable solution to an unlikeable situation.
For companies with "virtual" or remote teams, what strategies do you recommend to build a strong company culture -- and how does this ultimately help create a "likeable business"?
Building a likeable culture with a virtual team is definitely a challenge. I recommend trying to get everyone together physically at least once a year -- people will bond and be much more willing to work hard for each other once they've met in real life.
Beyond this, use technology like Google+ hangouts and video chat to keep people "face-to-face" as much as possible. Handwritten thank you notes and other surprise arrivals go a long way toward establishing a great culture.
Ultimately, a strong company culture helps drive innovation and fosters an environment in which people care about the company, the brand, and most importantly, the customers.
How can small companies show gratitude for their clients and employees while on a tight budget?
Never discount the power of a simple "thank you." These are two of the most important words in business. Whether done in person, in front of a group, or in a thoughtful, handwritten note, nothing shows sincere gratitude or motivates employees like saying thank you. Showing you truly care is never overrated or outside of the budget.
You can read more strategies and insight for creating a likeable business in Kerpen's book, Likeable Business, available on Amazon.com.
REAL LIFE. REAL NEWS. REAL VOICES.
Help us tell more of the stories that matter from voices that too often remain unheard.