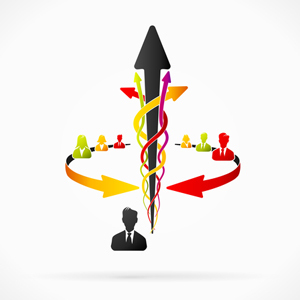 Despite the multiple -- and conflicting -- explanations of the products and services associated with Big Data, marketers and branding experts need a simple way to understand this concept.
The subject is the topic du jour for companies trying to reach consumers more effectively, so these businesses can leverage emerging markets and reshape entire industries. These changes benefit both brands and individuals, allowing each group to adapt to a dynamic online culture.
In this environment, there is an abundance of digital information. But communicating with consumers, through the use of Big Data, will be elusive and frustrating unless we take the time to understand the potential of this massive resource.
The good news is that legitimate data scientists, professionals trained in this discipline and affiliated with some of the nation's top research universities, have practical applications that enable companies to connect with consumers in previously unimaginable ways.
It is essential to highlight the urgency of this connection because, according to figures compiled by Adweek, the audience within the world of social media is quite substantial.
With over 1.2 billion active monthly Facebook users and many more across other social networks, there are surpluses of data -- ranging from people sharing their thoughts about various consumer brands to behavioral information which can predict how these same individuals will respond to certain incentives -- that businesses can use to help make better connections with people.
Additional studies from Pew Research Center reveal that 90 percent of young adults, ages 18-29, use social media.
These facts represent an opportunity to observe a Limitless Focus Group, thanks to social media, which operates in real-time with instant feedback about products and trends.
Through constant evolution and adaptation to the environment of social media, the Limitless Focus Group provides a space for consumers to engage with brands in a more natural setting while making it easier for marketers to track and predict changes in the marketplace.
These concepts are the brainchild of Dr. Alok Choudhary, the Henry and Isabel Dever Professor of Electrical Engineering and Computer Science at Northwestern University; and the Founder of 4C, which combines data from social media, set-top boxes, TV ad occurrences and TV ad scheduling to create a global platform for social and TV advertising.
Dr. Choudhary is also one of the architects making the Limitless Focus Group actionable for advertisers, which, in my telephone interview of him, he describes in a very practical manner.
For example: If BMW were to air a series of national TV ads during a major sporting event, the tools now exist for regional BMW affiliates -- independently operated dealerships in Chicago or Washington, DC, or St. Louis or Southern California -- to simultaneously interact with and measure the response of current or future BMW owners from these respective areas in real-time.
This union of macro- and micro-targeting through TV and social media gives a brand a quicker means of measuring response times and the overall effectiveness of advertising -- before and after -- at scale.
As scientists become more involved in the study and application of Big Data, businesses will have a better working definition of this term and a stronger sense of the value this asset provides.
The ability to transform advertising -- to revolutionize a significant portion of marketing -- hinges on expanding the universe of data, and producing better, faster and more accurate predictive decisions.
Now is the time to learn from these insights and expand the use of Big Data.
Now is the time to have science make marketing more scientific and business more precise in its relationship with consumers.
Now is the time to enter a new realm of smart communication and robust social activity.
REAL LIFE. REAL NEWS. REAL VOICES.
Help us tell more of the stories that matter from voices that too often remain unheard.