By Liz Friedman and Shelly Smith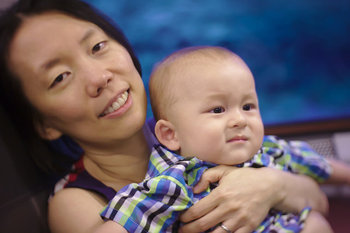 "When I had my baby two years ago, I remember feeling lost with no one there to understand what I was going through or offer any help. Everyone just kept telling me what you feel is normal; you will get over it in time."
The new mother who spoke those words to us at MotherWoman voiced a surprisingly common feeling among new parents. Fortunately, new parents in the Massachusetts communities of Holyoke, Lowell, Melrose, and Westfield will have a new proven resource to turn to, thanks to MotherWoman's 2015-2016 Community-based Perinatal Support Model (CPSM) grants.
Research shows that 10 - 20% of mothers experience perinatal emotional complications*. These numbers drastically increase when additional risk factors such as poverty, domestic violence, addiction, and teen pregnancy are taken into consideration. When undiagnosed and untreated, perinatal emotional complications can have severe negative effects on mother, infant and birth outcomes, including infant low birth weight and social, emotional and cognitive developmental challenges to babies and children. This results in an increase in medical expenses, visits to the ER and loss of income to families. (*Perinatal emotional complications are feelings and behaviors that cause mothers distress and interfere with their functioning during pregnancy and the postpartum period; they can include: depression, anxiety and other symptoms across a spectrum of severity.)
CPSM grantees will receive resources including specialized perinatal mental health training, community readiness assessment and perinatal mental health strategic action plan, perinatal mental health toolkit, technical assistance and webinar support. In partnership with MotherWoman, communities will identify a leadership team, build a community coalition, and ultimately create a comprehensive safety net for mothers and families. Funding is provided by the MA Department of Mental Health and the Massachusetts Child Psychiatry Access Project (MCPAP) for Moms.
The CPSM has already demonstrated great success within the communities implementing it. These communities have been able to address barriers to care such as stigma, lack of training, and public education, by helping care providers join together in identifying the needs of women with perinatal emotional complications. The creation of a comprehensive safety net for mothers across systems including medical, mental health, social service and community programs benefits new parents and their children during a critical and transformational time of life.
The four recipients of the grant are:
Hallmark Health, Melrose MA - Hallmark Health's mission is to provide the highest quality of care to communities in Boston's Northern suburbs, and it is committed to building and sustaining a strong, vibrant and healthy community. In March, Hallmark Health established a community-based provider care collaborative to work closely with new mothers with mood and substance abuse disorders. MotherWoman's experience and expertise will help Hallmark Health to further that collaborative by building more training, screening and referral programs, by creating a strategic plan to sustain its work, and by enhancing the work it has done to seed community-based peer support groups.
Holyoke Medical Center, Holyoke MA - The mission of Holyoke Medical Center is to serve the health needs of the community in a high quality and efficient manner.
South Bay Mental Health, Lowell MA - South Bay's mission is to encourage the self-sufficiency of disadvantaged people through behavioral health care and substance abuse services that are grounded in the community. South Bay Mental Health plans to work with MotherWoman to bring focus in its community to Maternal and Infant Mental Health and to establish a safe community where mothers can feel valued, respected, and supported.
Women's Health Associates of Western MA, Westfield MA - The mission of Women's Health Associates is to provide exceptional care for women in a personalized, warm and responsive environment, and to integrate modern technology with traditional, alternative, and holistic approaches to women's health. Through the CPSM grant, Women's Health Associates will work closely with experts in the field of perinatal mental health to bring much-needed information, resources, and skills to the wider community. With training sessions, webinars, and postpartum support groups, Women's Health Associates will help new families in its area to learn more about perinatal emotional health, how to recognize complications, and how to access support and treatment.
About MotherWoman
MotherWoman's mission is to support and empower mothers to create positive personal and social change for themselves, their families, their communities and the world. MotherWoman also addresses the socio-economic issues facing American mothers by advocating for family-friendly policies. MotherWoman seeks to create a culture that understands and de-stigmatizes screening and treatment of perinatal emotional complications. MotherWoman promotes evidence-informed models in prevention, detection, and treatment of perinatal emotional complications by addressing barriers to care. MotherWoman has successfully trained many medical and mental health professionals, as well as Support Group facilitators, within various communities across the state to implement this vision.
For more information visit www.motherwoman.org
About MCPAP for Moms:
MCPAP for Moms is an exciting new statewide program designed to bridge the gap between mothers and their limited access to mental health resources and support needed to address perinatal depression. It is an expansion of the successful Massachusetts Child Psychiatry Access Project (MCPAP), which has improved child mental health care in Massachusetts by offering pediatric primary care providers rapid access to child psychiatry consultation, education, and care coordination. MCPAP for Moms aims to promote maternal and child health by building the capacity of providers serving pregnant and postpartum women and their children up to one year after delivery to effectively prevent, identify, and manage depression.
For more information visit www.mcpapformoms.org
Liz Friedman is the Program Director at MotherWoman. Shelly Smith is the Program Manager at MotherWoman.