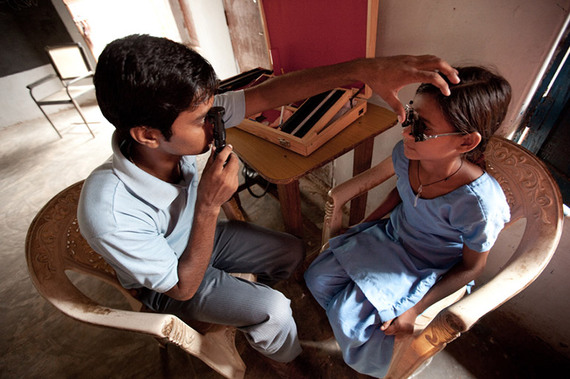 As Founder and Executive Director of goods for good, I have always been inspired by individuals and companies that share my commitment to taking a creative, sustainable approach to international development. With this in mind, it is my pleasure to chat with Neil Blumenthal, co-founder and co-CEO of Warby Parker and Gala for Good Honoree, to hear his thoughts on philanthropy and how we can all support vulnerable communities.
MK: I first met you when you had just left VisionSpring, a nonprofit with a mission of providing affordable access to eyewear, and had just started Warby Parker. Now, years later, I've watched your nonprofit experience inspire Warby Parker's approach to corporate giving.
What prompted you to incorporate a social component into Warby Parker's model? Did you start Warby Parker so you could support VisionSpring?
NB: Our social mission was tied into Warby Parker from the very beginning. Ultimately, we wanted to create a company that we were excited to come to work at every day. From day one, we were trying to solve the problem of getting people the glasses that they wanted to wear at a fair price--whether in the U.S. or in other countries.
Before going to business school, I worked as director at VisionSpring, which focuses on training low-income women in developing countries to perform vision screenings and sell affordable eyewear to their communities.
The VisionSpring model--training low-income women in developing countries to perform optical exams and sell affordable eyewear to their communities-- struck me as thoughtful, innovative, and unexpected the moment I learned about it. I was lucky to work as the organization's second employee, learning on my feet and gaining experience in the field. I was inspired by both the scale of the problem I witnessed firsthand (lack of access to eyewear) and the simplicity of the solution (affordable glasses). It seemed like an enormous opportunity. Glasses are one of the most efficient poverty alleviation tools on the planet--a pair increases an individual's productivity by 35% and her monthly income by 20%.
My three co-founders and I started Warby Parker with a few goals, one of which was (and continues to be) taking steps toward providing glasses to the 700 million people who lack access to them. As far as our social mission, we have much in common with VisionSpring, and we continue to work closely with them as a partner.
MK: As you know, I transitioned goods for good from goods distribution to social enterprise. In a day and age where so many companies and organizations are focused on the one-for-one model, what was it like to establish Warby Parker's philanthropic approach differently from the very start?
NB: Organizations interested in building a social component should be thoughtful and deliberate in their approach, making sure that it engages directly with their mission, connects intuitively with their brand, and (if desired) is communicated clearly to their consumer. Employees should be as passionate about a company's social mission as founders.
With all of this in mind, my three co-founders and I created a social mission the only way we knew how: from scratch. I was lucky to be armed with experience from my time at VisionSpring, where I'd learned plenty of lessons the hard way. I knew that donations could have unintended consequences when applied to development situations. I knew the importance of adequate training, communication, and follow-up support. I knew that Warby Parker could do the most good by working with organizations that focused on creating sustainable local economies.
That said, every company interested in a social mission must find its own path, and investigate the measures and activities that align with its mission, galvanize its employees and forge real change in the world.
MK: You deserve huge congratulations on Warby Parker's success, which has been in the news a lot recently. How do you balance the demands of running such a successful business with maintaining a philanthropic focus?
NB: The two aren't mutually exclusive, or even mutually antagonistic. What started as a trend of the 1990s (corporate social responsibility) has become a necessary element of any company that plans to survive the next few decades. It's also a key part of recruiting and retaining top talent. Millennials have clearly expressed their interest in working for companies whose values align with their own. The decision to build social innovation into Warby Parker's DNA is an ethical principle, but it also has a strong business rationale. Happily, the two can co-exist.
MK: Maybe it's my rose-colored glasses, but sometimes I think goods for good's direct giving model was simpler, and dare I say easier. That being said, I recognize our current approach to microenterprise translates into a more sustainable and long-term solution for the children we are helping. Have you ever thought giving away eyewear might be easier?
NB: Easier: yes. More effective: definitely not. That makes the choice a simple one for us. I know it goes without saying, but international development is really hard. If it were easy, half the world's population (more than 3 billion people) wouldn't live on less than $2.50 a day. As a global community, we don't do a good enough job at acknowledging how hard it is. It is for this reason that social entrepreneurship is the best approach--the work requires a lot of failing, learning and trying again-- and it's why we need to do a better job celebrating leaders like you.
MK: Warby Parker has made a conscious decision to partner with VisionSpring rather than manage a program in-house. What are the benefits of taking this approach to corporate giving?
NB: As I mentioned earlier, this work is really hard. It requires expertise. We want to work with the individuals that are best suited and most experienced in this field. Hands-down, that was VisionSpring. We've built a lot of expertise in-house--around frame design, logistics, UX, software development--and those tools can come in handy when we support our non-profit partners, but they aren't the right skills to distribute glasses in the rural reaches of South Asia, Sub-Saharan Africa, and Latin America.
One of the things we do to connect our team more closely to the work of our non-profit partners is celebrate third anniversaries by sending employees to visit countries where our partners work, like the Dominican Republic (most recently) or Guatemala. They get the chance to travel and see their work in action.
We also try to support our partners in everyday ways, whether it's as something as simple as designing emails for an annual appeal or negotiating with suppliers.
MK: The ecosystem for corporate social responsibility has been revolutionized in the last decade, and I believe it will continue to grow and evolve at a rapid pace. What is your take on this evolution and what do you think the next trends will be?
NB: My hope is that the term "corporate social responsibility" becomes obsolete. It should become table stakes to be a mission-driven organization that thinks about its customers, its employees, its environment and the community at large. I believe it's going to be hard to attract talent if your company treats anyone one of these stakeholder groups poorly.
MK: You have been a long time supporter and friend of goods for good. In fact, this year, you and your amazing wife Rachel are the first annual recipients of our Greater Good award. Why do you support goods for good?
NB: I support goods for good because I believe in the strength of its mission, the incredible devotion and capabilities of its team, and its effectiveness at achieving big goals. goods for good takes a holistic approach and works with some of the world's most vulnerable populations, creating jobs (which is the true path to success, happiness, and human dignity) while simultaneously tackling issues vulnerable children and orphans face, like food security and access to education.

MK: Thank you, Neil for taking the time to chat today. I applaud your commitment to philanthropy, and I can't wait to present you and your wife Rachel with the Greater Good Award at this year's Gala for Good on April 27th.
About goods for good
goods for good is a 501(c)(3) nonprofit organization that empowers communities in Southern Africa to transform orphan care. Together with local partners, goods for good builds small businesses that finance orphan care programs, create jobs, and boost the local economy. Since its founding, goods for good has supported nearly 80,000 children and built ten small businesses. Learn more at www.goodsforgood.org.
About Gala for Good
goods for good will host the 6th annual Gala for Good honoring Neil Blumenthal, co-founder and co-CEO of Warby Parker, and Rachel Blumenthal, founder of Cricket's Circle. The cocktail event will be hosted by Gala Chairs Joey Levin, CEO of IAC Search & Applications, Marissa Sackler, founder of Beespace, and Andrea Tese, a New York City-based photographer and artist, and will be held on Monday, April 27th, 2015 at IAC HQ, located at 555 West 18th Street in New York City. For tickets and sponsorship information, visit www.galaforgood.org.
Calling all HuffPost superfans!
Sign up for membership to become a founding member and help shape HuffPost's next chapter