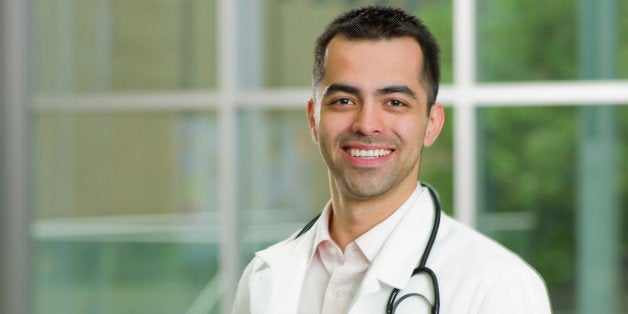 During my first few months in medical school, I noticed that religion was rarely discussed. As a Theology minor in college at Georgetown University, I knew that religion was an important part of life for many Americans; indeed, nearly nine in 10 Americans report a belief in some divine or spiritual power, and several studies have shown that organized faith communities can play important roles in promoting healthy behaviors. Topics related to spirituality and religious beliefs arose during a course on Healthcare Disparities, but the discussions were only tangential. I had a feeling that students felt uncomfortable discussing such personal topics in the academic setting.
For this reason, I proposed a new student organization for the Pritzker School of Medicine at the University of Chicago: the Spirituality and Medicine Interest Group. This group aims to create a safe space for discussion of how spirituality/religion affect healthcare. I thought that this idea fit in perfectly with Pritzker's commitment to all forms of diversity. Last month, the interest group was approved for university funding, and I was awarded Germanacos Fellowship, a $5000 grant to develop a medical discussion series focused on the intersections between spirituality/religion and medicine. These seminars will be partially based on a well-known religious literacy curriculum for healthcare workers developed by the Tanenbaum Center for Interreligious Understanding. The Germanacos Fellowship was awarded by the Interfaith Youth Core, a Chicago-based nonprofit that aims to make interfaith cooperation a social norm in the United States by promoting inter-religious dialogue and community service.
I am interested in the intersections between spirituality and healthcare because my own religious beliefs inform my choice of career. My passion for medicine stems from a declaration in Islam and various other traditions that saving one person's life is equivalent to saving all of mankind. Through my work with the Interfaith Youth Core during my undergraduate years at Georgetown University and as an Ambassador for the Parliament of the World's Religions, I have come to realize that religious communities -- like all social structures -- can be divisive or, when harnessed correctly, can be powerful catalysts for social improvement. Fortunately, the medical field is especially conducive to interfaith engagement because the concepts of service and human dignity are always implicit. In addition, physicians are one of the most religiously-diverse populations in the United States, and providers are increasingly recognizing the importance of religious literacy in medical education.
Over the next several months, I hope to introduce other students to religious diversity in the healthcare world, and to provide opportunities for my classmates to reflect on their personal motivations and values (whether or not those they come from a religious background) for pursuing medicine. I also look forward to finding connections between existing student organizations and facilitating dialogues on important topics such as mental health, reproductive health, and organ donation.
The Spirituality and Medicine Interest Group is especially open to students who do not identify with a faith background. The religiously-unaffiliated are a growing population in the United States (especially among Millennials), and as a result, it is vital to include nonreligious perspectives in any conversation around religion/spirituality. In addition, given the religiosity of the United States, I believe it is helpful for all medical students (regardless of their own background) to have some familiarity with conversations related to spirituality in order to better connect with many patients.
While becoming a physician, I also want to be at the forefront of the interfaith movement's expansion into the healthcare world. I intend to demonstrate that religion and science can work together rather than in opposition. I am guided by one of my favorite verses from the Quran: "Had God willed, He would have made mankind as a single religion [or community], but [He intended] to test you in what He has given you; so strive with each other for virtue (5:48).
Calling all HuffPost superfans!
Sign up for membership to become a founding member and help shape HuffPost's next chapter