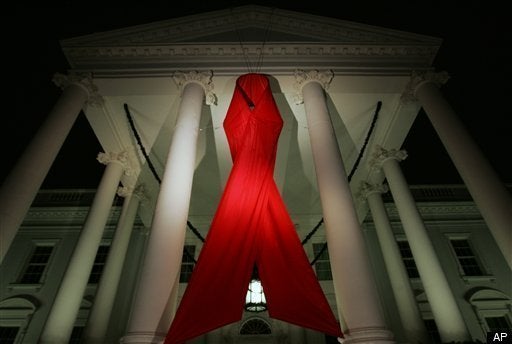 On December 1, World AIDS Day, more than 70 iconic landmarks in 13 countries -- including Sydney Opera House, St Paul's Cathedral in London, Table Mountain in Capetown, the Empire State Building, Niagara Falls, Los Angeles International Airport and Seattle's Space Needle -- will light up (RED)™ to promote awareness of the world's ability to achieve one of the most important milestones in the fight against AIDS -- the possibility of ending mother-to-child transmission of HIV by 2015.
For the first time since this disease began to take hold in our society three decades ago, we
have the potential to witness the birth of a generation of HIV-free babies. It is an inspiring
time. We cannot lose focus now. We should celebrate progress and accelerate action. If we
celebrate progress and decelerate, we will fall behind again and more people will die as a result.
This milestone is not financially out of our reach. Despite financial hardships, if we don't do it now, we will end up spending much more down the line to treat the disease as it continues to ravage future generations. It is incumbent upon us to maintain pressure on our leaders to fulfill their current promises for funding and to seek out new, innovative models to fill the gap. Our World AIDS Day awareness campaign is a reminder to everyone that we must work together to overcome the financial challenges at this critical juncture and to keep the world focused on this issue and achievable goal.
Eight years ago, only 50,000 people living with HIV in Africa, the region hardest hit by this disease, were receiving the anti-retroviral medication (ARVs) necessary to keep them alive. Today, through concerted efforts by the global health community and smart, targeted spending, that number has skyrocketed to upward of 4 million people in Africa receiving treatment. With children and adults living longer, healthier lives, families are remaining whole. This fact has cascading, positive effects across the social landscape.
ARVs offer an amazingly effective treatment protocol. But they are naturally most effective
when administered to keep babies from contracting HIV in the first place. A multi-tiered
approach involving HIV screening of pregnant women, antiretroviral drug regimens for HIV
positive pregnant women, treatment during and after labor, and infant feeding guidelines has
been shown to block mother-to-child transmission in 99 percent of cases.
In the past six years, we've made incredible progress increasing access to this treatment, In 2004, only 9 percent of HIV positive pregnant women who needed treatment had access. In 2008, that had increased to 45 percent and, in some countries that is even higher. For instance, in Rwanda where they receive funding from the Global Fund and (RED), 68 percent of women who need treatment are being reached.
It's still troubling though that for all the progress that's been made in preventing and treating HIV/AIDS, not everyone who needs treatment has access. Nearly 400,000 children were born with the disease last year -- that translates into more than 1,000 babies a day entering the world carrying this immense burden. About 90 percent of these children are born in Sub-Saharan Africa and without treatment as many as half of that population will die before the age of two.
We can and must do better. Within five years, it is completely possible to reach all women who need treatment and create a virtually AIDS-free generation.
On top of illuminating landmarks around the world to focus attention on this issue, (RED) is also launching "The AIDS Free Generation is Due in 2015," a global artists' campaign to highlight the year by which the global health community believes it is possible to virtually end mother-to-child transmission of HIV. Prominent sculptors, painters, illustrators and graphic artists from around the world have collaborated with us to create their own visionary interpretations of the number 2015. The unique images produced in the campaign will be showcased in a spectrum of print, online and outdoor media. Participating artists in this initiative to show just how much this year can mean for millions of children and families include Amy Ruppel, Craig Ward, Ian Write, James Day, Grotestk, Jeremyville, Michele Angelo, Adam Hayes, the Capetown-based Am I Collect, New York's Vault 49 and Barcelona's Brosmind.
The world's iconic landmarks and iconic artists are banding together with (RED) to make this World AIDS Day a countdown to the historic milestone that is possible by 2015 -- a world where mothers can deliver babies without the burden of HIV in their lives.
Popular in the Community