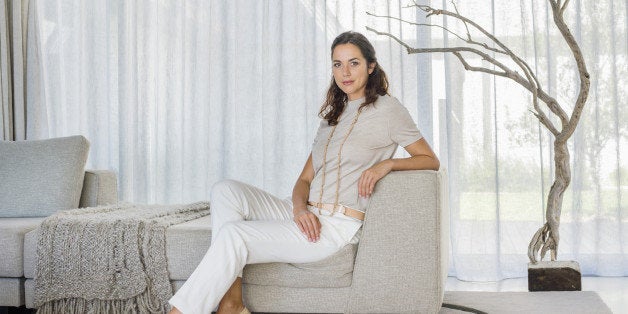 As I sit, writing this article on finding calm in a crazy world, I have my cell phone close by watching texts roll in, my tablet is beside me with Pandora soothing my home office, the TV is on in the next room with news at an ear's reach, two dogs are waiting for that morning walk and laundry needs to be turned over. And that is just the beginning of another full day. But apparently, that's the way I like it. However, as I gain wisdom (a nicer way to say "get older"), I am learning that each moment counts, and some things just have to wait. I've also learned that we all should work some, play some, give some and rest some. I'm learning to step away and unplug in order to plug into what really matters -- my family, my friends and my sanity!
I have always been the "Energizer Bunny," going non-stop throughout my day. If you looked up "multitasker" in the dictionary, there I was! I have been a hair dresser & makeup artist by trade for over 30 years. Although I haven't worked in a salon in many years, when I did, I worked well into the night, six days a week, never able to say no to last-minute calls from clients. I loved the personal interaction, helping others feel good about their looks and the money didn't hurt. However, I did feel something was missing. I was young and had big dreams to move to Los Angeles. I felt I had to work hard and save to make this dream come true. And I did. Once I arrived in L.A., I worked super hard to get connected to the entertainment world and keep that money flowing in.
Along the way, I met my incredible husband, a man of great integrity and kindness, and we started our family. This is when I really started putting my priorities in place. Having children showed me that my priorities are up to me. As my world was evolving, I needed to take charge and set these priorities for myself and everyone that mattered to me. Being a good example to these little people was now job one. Raising children is a tough job. It's not the diaper changing, relentless laundry or toy organization that's hard; it's knowing that your guidance and your actions will shape these human beings for the rest of their lives. While raising three daughters, I worked diligently building my career as a hair stylist & makeup artist for films and TV. There was some serious juggling to find balance with work and family. But I still felt something was missing. It is very hard as a freelance artist to turn down work. You are always afraid the client won't call on you the next time. So I often compromised my family to take the job. In looking back, maybe I should have passed on more jobs. In spite of that, our girls turned out to be three of the strongest, kindest, most delightful people I know. There is much conversation about people climbing the corporate ladder and giving too much time to the office, but even those of us working for ourselves often get caught up trying to "keep up" rather than being at peace where we are. However, I have learned along the way, that all work and no play is not the recipe for happiness. And working some and playing some isn't it either. As my daughters got older, I started volunteering at their school and in the community for various causes. That is when I learned the joy of giving back. And this is where my life started making sense and bringing me true pleasure and balance.
I now volunteer with an incredible organization bringing awareness to the issue of child sexual abuse. Protecting the innocence of children is one of my passions, and giving to this non-profit has brought me great joy. But it is a combination of work, play, give and rest that has now, in my fifties, made me truly fulfilled. I've never been one to sit still, but I am certainly learning to love the energy of doing nothing, or just being. To constantly busy oneself does not make you any more successful or fulfilled. In fact, it does just the opposite. I will never be totally on top of everything that needs to be done. But as I prioritize my to-do list and find pleasure in sitting still, my life is more calm than ever and my time is well spent. A little work, a little play, a little giving back and a little sitting still is now my recipe for happiness!
REAL LIFE. REAL NEWS. REAL VOICES.
Help us tell more of the stories that matter from voices that too often remain unheard.