Bill Shankly, a successful football manager of yesteryear and a maverick in the eyes of many once said, "Some people believe football is a matter of life and death, I am very disappointed with that attitude. I can assure you it is much, much more important than that". Over the past 12 years, my experiences have brought those words to life.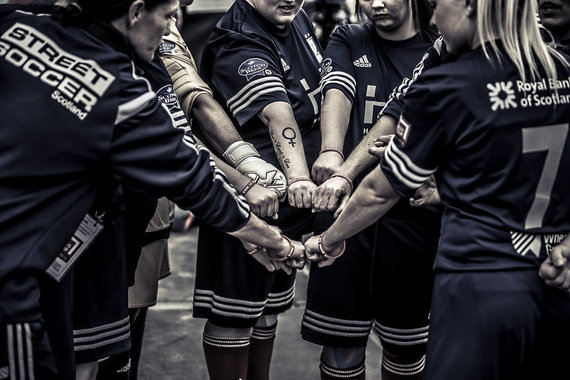 As a young adult I experienced something that shouldn't exist: homelessness.
The death of my father led me on a downward spiral which saw me spend almost two years of my life as a homeless young person. Being homeless isn't nice, I lost everything. Being homeless doesn't just take away the roof from above your head, it often disconnects you from the society you once felt part of. The stigma of homelessness meant I disconnected myself from family and friends as I was ashamed of what had happened. I was broken by the hopeless person I felt I had become, my confidence was non-existent, I lost every ounce of self-respect and I spent most days waiting for it to end.
Back in 2003, Glasgow was home to some of the worst homeless hostels in the country. Often dubbed 'open prisons', the hostels were notorious for violence and drug dealers and only offered a basic 'urine scented' room. The staff members were nice, but instead of support workers, there were mainly janitors and security guards!
Thankfully after months of living there, I was offered a place at a young person's supported accommodation, which provided me support and finally a feeling of safety albeit I was still 'homeless'.
The rope that pulled me out a dark hole.
One day, I saw a poster advertising try-outs for a Scottish team to take part in a World Cup. It's not often these days to associate a Scottish Football Team with a World Cup (hopefully in 2018 though!) but this was the Homeless World Cup, a tournament (in its second year) which united homeless people by football. With my confidence low, I forced myself along to the trials and luckily secured myself a spot on the team.
After being selected, I would meet up with the team and play football twice a week. Although this is something that most of us would take for granted, these basic football sessions gave me some hope. The training gave me structure to the week, a feeling of belonging and it triggered positive lifestyle changes both on and off the pitch. I was doing extra fitness training, eating better, not drinking as much and suddenly it wasn't just my physical health improving, my mental health improved too. With a positive mindset, I went to the 2004 Homeless World Cup.
It's easy to assume that playing for your country would be the biggest game-changer, but actually it wasn't. It was the people I met. One guy from Namibia taught me a valuable lesson in gratitude. When chatting one day, I asked him the question, what's next after the Homeless World Cup? He replied, "happiness". This man lived in a place where education and training opportunities were limited, there were little or no job opportunities and the healthcare system was out of reach. His country didn't have a welfare system like here in the UK and although it could be better, it served its purpose for me. For the first time since I can remember, I felt blessed.
When I returned to Scotland, I realized that even though I was still in temporary accommodation and homeless, I had the confidence and opportunity to change it. So I did. The football sessions stopped, but I started volunteering at a kids football club. Once I got my own home, I decided to study community development at college whilst gaining football coaching certificates. I then decided to commit my time to working in the community, combining supporting homeless people and coaching kids football. In 2009 I decided that I wanted to try and give other people the chance to change their lives using football, so I quit my job and set up Street Soccer Scotland, a social enterprise which uses football to create positive social change in the lives of socially disadvantage adults and young people.
We started with a £3,000 grant, working at the end of someone's desk and running a weekly football session. This soon developed into delivering 32 weekly programs for around 1,000 attendees each week across eight regions in Scotland. We now deliver free drop-in football sessions, personal development and education courses. We have also helped represent Team Scotland at the Homeless World Cup (twice World Champions -- believe it or not) and since 2009, over 10,000 people have engaged in our service. Many of whom, (not all) have made significant positive changes in their lives, which is great. But change can only happen only with the help of others. Our players become peer mentors to one another, supporting and encouraging each other when times are tough. Former players often give their time to volunteer and help out. As an organization, we work together with mental health charities and Addiction Centers to provide support to players when they need it. The government also supports our work by investing into key areas of our work. For example, businesses such as the Royal Bank of Scotland provide support financially but they also get their staff involved in volunteering. So when I say change is a Team Sport, I really mean it. Without my teammates, and the people around me, I wouldn't have changed my life. Without the support of everyone mentioned above, Street Soccer Scotland wouldn't be able to create change in other people's lives.
REAL LIFE. REAL NEWS. REAL VOICES.
Help us tell more of the stories that matter from voices that too often remain unheard.