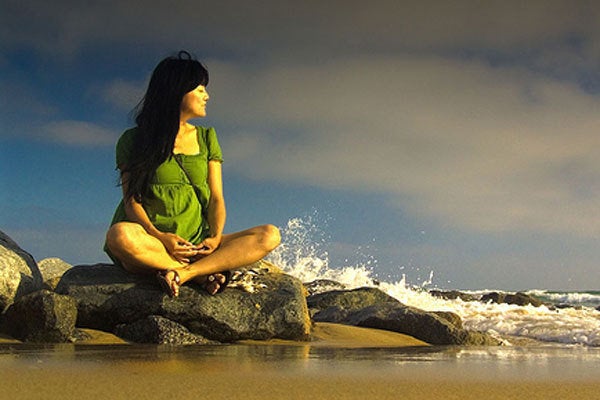 Seven years ago, when family matters caused Buddhist meditation teacher Trudy Goodman to leave a lifetime's worth of connections in Cambridge to move to Los Angeles, she had no idea how hard it would be to feel rooted in her new city.

"It seemed like LA's geography exerted a centripetal force, scattering people away from each other," she says." She started the non-profit InsightLA in a neighbor's living room and, she puts it, "began trying to bring a feeling of connection to the city by offering a place to gather and just sit and be together. It was an act of resistance to the fragmenting and distracting forces of the big city."
The rewards of meditation become clear to just about anyone who tries it for a few months -- better sleep, greater clarity, reduced stress. But it's almost impossible to keep up a regular practice on your own, no matter how great the benefits. Sitting once a week with a group -- especially one in or near your own backyard -- makes you part of what Buddhists call a sangha, a group of like-minded souls to help support your practice.
The InsightLA website now highlights -- in addition to a wide range of programs at its Santa Monica headquarters -- information about neighborhood meditation groups. Called kalyanamitta, or spiritual friendship, they take place in people's homes in other parts of town, and are led by local residents who know enough of the basics to facilitate these informal gatherings.
In early 2009 Robert Conrad -- a lawyer who's studies with noted Buddhist author/teacher Ken McLeod -- sent out an email blast to his neighbors (via the Upper Nichols Canyon Association group list) encouraging participation in a meditation group at his home. He got around a dozen members right away -- all beginners. Most still attend the weekly sessions.
If pain is the touchstone of all spiritual growth, LA's lousy transportation system can produce interesting experiments in community. Take Ananda, a worldwide organization focusing on the mantra-based teachings of Paramhansa Yogananda. A couple of years ago, the group tried to make its mark in LA via a Santa Monica center, but traffic in the great LA sprawl got in the way. So eight months ago they closed that center and now supervise eight 8 -- soon to be 10 -- groups of 10-20 practitioners in West Hollywood, Torrance, Westlake and elsewhere.
Diana Winston -- whose meditation training included a year as a Buddhist nun in Burma -- is director of mindfulness meditation at UCLA Semel Institute's Mindfulness Awareness Research Center, which offers classes with a secular emphasis on mindfulness meditation. Winston encourages anyone to attend MARC's free drop-in meditation groups at the Hammer Museum in Westwood and at UCLA's Ronald Reagan Hospital.
East Side organizations also have outposts elsewhere in Los Angeles. Silverlake-based Kadampa Meditation Center holds sessions all over the city, and both Eagle Rock-based Shambhala Center and The Zen Center on Normandie host weekly open groups in Santa Monica.
Four years ago, a neighbor began coming over to my house in Laurel Canyon once a week so we could sit together. After a while, a few other locals started showing up. Thanks to word of mouth and a plug from InsightLA, we're now over 40 members strong, though only a dozen or so attend any given session.
If you're not aware of a group in your neighborhood, Google a bit and there's a good chance you'll find one. If not, even if you're not an expert, start your own group. Send a message via your neighborhood email list or association newsletter, or use meetup.com, Facebook, Twitter and other social networking venues to recruit members.
Monty Python once televised a gathering of The Royal Society for Putting Things On Top of Other Things. All you had to do to be a member was to put one thing on top of another thing. Meditation groups don't even require that -- just showing up and doing nothing is quite enough. Sure, there's usually some discussion, but you don't need to say a word. So give it a shot -- you literally have nothing to lose.
Next up: Helping to create community for the poor and the homeless.
Calling all HuffPost superfans!
Sign up for membership to become a founding member and help shape HuffPost's next chapter