A major challenge and an opportunity confronting museums today is that the museum experience is typically limited to on-site visitors. As museums increasingly develop online content, it is important to highlight two distinct goals: (1) introduce a wider audience to the museum's collection, and (2) build a deeper connection with those who have visited the museum.
Towards these two goals, MoMA's Digital Member Lounge offers a new way of experiencing the museum's collection. The Digital Member Lounge includes Virtual Gallery Walk-Throughs, Videos of Gallery Talks, and Slideshows that preview upcoming exhibitions.
http://www.moma.org/support/membership/member_site/landing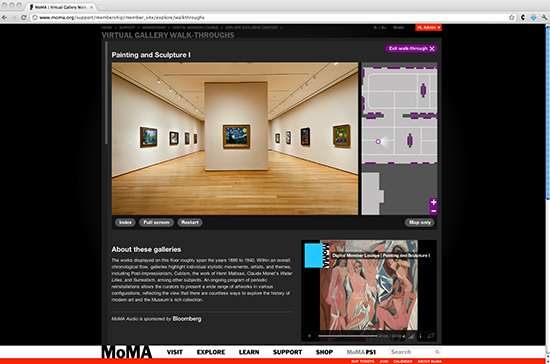 An important lesson from other industries is that the benefits valued in an online experience are not the same as those valued in the physical world. In my conversation with Chiara Bernasconi, Digital Media Project Manager at MoMA, she explained that one of the goals of the Digital Member Lounge was to provide content that would be interesting and engaging to the museum's members, especially to the members who cannot visit the museum's physical space.
This post focuses on the Virtual Gallery Walk-throughs. Presently, four walk-throughs are included in the Digital Lounge: (1) Painting and Sculpture I (5th floor), (2) Painting and Sculpture II (4th floor), (3) The Abby Aldrich Rockefeller Sculpture Garden (1st floor), (4) Edvard Munch: The Scream. Additional Walk-throughs will be introduced every few months. Exploring these walk-throughs allows one to extract some general principles for creating engaging digital content for museums.
Interface
Below are some of the key elements of the interface of the Digital Member Lounge that are intuitive and effective.
1. An Index of the works that can be seen in each one of the virtual galleries.
2. Auto-pilot: A feature that enables online visitors to choose between navigating the virtual space at their own pace or using the auto-pilot feature.
3. A "+" sign that provides information on the featured artworks.
4. A speaker icon that provides audio commentary on the featured work.
Artwork in 3D
A recent addition to the Digital Member Lounge is the ability to offer a 360 degree view of James Rosenquist's F-111. This feature offers considerable potential for 3D artworks that present a bigger challenge when being experienced online.
Curator Involvement
A digital online experience can provide benefits that can considerably enhance the visitors' overall experience. In a study I have recently conducted about the type of online content that is most valued by museum visitors, participants indicated a strong preference for viewing and listening to the curator's viewpoints while exploring an exhibition. In a series of videos, Ann Temkin, The Marie-Josée and Henry Kravis Chief Curator of Painting and Sculpture, introduces the walk-throughs and provides insightful commentary on specific artworks.
The value of creating engaging digital content for museums goes beyond the goal of expanding the audience. It can be seen as a useful tool to expand the lifetime of an exhibition long after the physical exhibition is over. A well-crafted digital strategy also solves the conundrum of displaying a larger percentage of a museum's collection, which in the case of large museums can rarely be exhibited in its entirety. Dealing with these challenges effectively will provide significant opportunities to museums and other cultural institutions.
REAL LIFE. REAL NEWS. REAL VOICES.
Help us tell more of the stories that matter from voices that too often remain unheard.