Ajit Nawalkha is an international investor based in Kuala Lumpur, Malaysia. Ajit's shares his perspective on building successful partnerships.
What are the key ingredients in great partnerships?
The key ingredients to great partnerships are communication and listening. Learning how to become a better listener will help you to create a stronger foundation and have a deeper understanding from an emotional level. I believe that when it comes to creating a business and a life you love, it's all about doing less, not more but work side by side to support each other.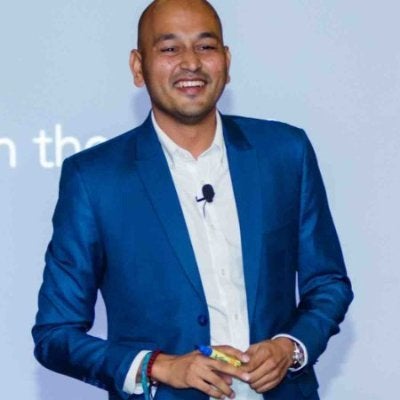 How do you become a better listener in a partnership? What do you listen for?
In order to become a better listener in a partnership, it's important to let your partner fully finish their thought before responding. Sometimes that means taking a deep breath to digest what has been said and then respond thoughtfully. Often times, we think of our responses before the other person is finished therefore we don't completely hear or understand what is truly being said.
Can you describe a partnership that shows this?
A partnership that demonstrates communication and a true connection is one with Dr. Neeta Bhushan. I worked on a project called Emotional GRIT: Revolutionary leaderships with personal and professional development speaker and successful entrepreneur Dr. Neeta Bhushan. I openly shared about how you can achieve exponential growth in your business, create an incredible income and hit your biggest goals while staying aligned with your values and standing by what you believe in.
Can you describe your partnership with Dr. Neeta Bhushan in more detail? What makes it a great partnership between you?
Dr. Neeta Bhushan is a socially-conscious entrepreneur who is shifting the global paradigm to inspire a new wave of building leadership that focuses on empathy-based solutions and emotional GRIT. I support Neeta in helping her scale her business. This is where we work together and enter a phase of exponential growth dialogue and dive into organizational structure and KPIs (key performance indicators). This is a great partnership because Neeta and I get to grow together.
Can you describe the personal side of helping people build great connections and partnerships?
There are many organizations that I work with that I look up to and we learn from each other. A life worth living is a life that is dedicated to being of service to others. My passion and purpose revolves around helping entrepreneurs create a positive impact in the greater world. Nothing makes me happier than watching honest, dedicated business owners achieve their dreams; knowing that I played a part in making those dreams come true.
What advice would you give to business owners who are looking for new partnerships?
When looking for new partnerships, make sure you have a strong business foundation first. Get to know yourself well and stay true to your personal and professional goals. Keep in mind that you want to find someone who will complement your skills and most importantly, someone you can trust.
Trust is a core value. How do you build trust in a partnership?
We can build trust in a partnership through emotional intelligence. When we develop a stronger sense of human development and connection, we are able to become compassionate leaders with the ability to make clean and conscious decisions. Dr. Neeta Bhushan wrote a book called Emotional GRIT which dives deeper into compassionate leadership and why it is crucial to company cultures and partnerships….and it all begins with trust. Trusting yourself to make the commitment to embrace change and accept opportunities, which holds true in trusting others, especially in a business partnership.
Related
Popular in the Community