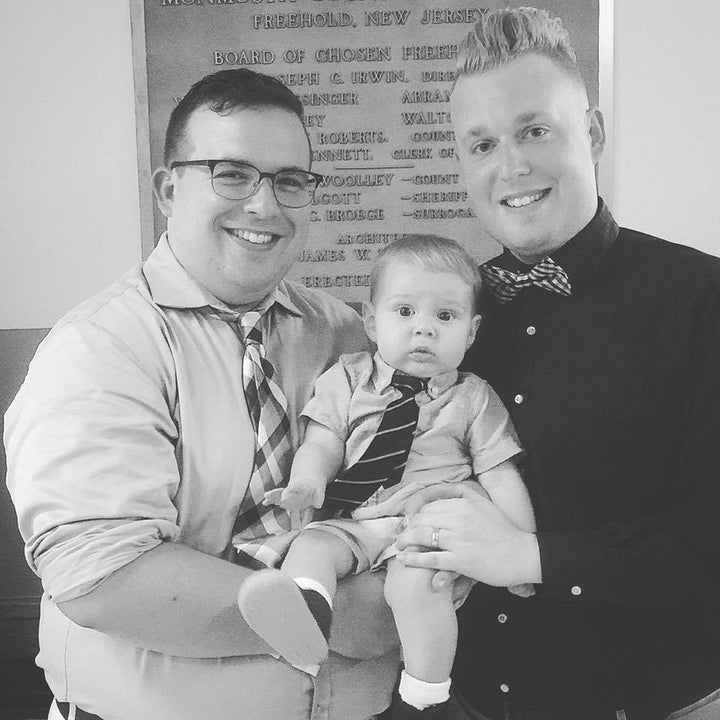 A voice on the intercom calls our names aloud, and as we walk through the hall, the crowd in front of us parts, our families on both sides gathered as the last box on a years-long checklist is completed.
It is a veritable who's-who of intersected lives spread out over 30 years, watching as two-and-a-half men come to the final part of a journey to become a forever family; it is the end of the beginning.
One year ago this week, the adoption agency called us, and told us that a birth mother had identified us as potential adoptive parents.
I remember coming home from work, stuck forever on a crowded commuter bus moving way too slowly, just wanting to be in the same room with my husband, to see his face and his reactions as he told me about the phone call he had received from the agency.
There were risks here, to be sure, challenges and obstacles and hurdles and undesirable situations. But we knew it was our chance. We had declined placement a few weeks earlier, and we were struck with fear that the phone would never ring again.
It rang. And we ran with it.
My husband and I decided that we had to tell our story, in real time. Not only would it be a way for us to collect our thoughts and stories in one place, a place our child could access in later years, but it would also serve to create a roadmap for other parents to follow.
Not for ourselves alone. Too many men think it's impossible or improbable that they could become Dads. It is neither. The road is there, waiting for you to jump on.
From the very first moment I heard my son cry in the delivery room, I forgot the work. I forgot the aggravation, the frustration, the fears. I was a Dad. I could remember no time in my life where a label had been affixed so appropriately and so deservedly.
Now in the nine months since that first cry and my buckled knees, we've settled into a routine. Daddy, Papa, and Gabe. Diapers, feedings, vacations. Playtime, naptime, storytime.
Time for singing, for learning, and time to just watch each other watching each other. Two-and-a-half men, in the world together, one man finding the next, and the whole greater than its parts.
And there have been home visits, as part of the march towards adoption finalization, to which we have had to submit ourselves every other month for eight months, where our social worker comes into our home to assess Gabe's growth, his physical and emotional well-being, to track our adjustments, to be presented with doctor's paperwork to ensure that Gabe is the recipient of proper care.
Fast forward to the morning of August 4, 2016. We had bought the food, we'd pressed the shirts. I had run around all morning, making stops in six towns in two hours for final supplies for the post-hearing party, while my husband stayed at home running the ship.
We had spent the better part of three days and nights sewing custom favors for the guests. We'd readied the paperwork. But that morning, I came home, arms full, and saw them on the couch, my two boys.
They smiled at me when I walked in the door, dressed in their khakis and dress shirts, ties packed until arriving at the courthouse. And in that moment, I knew I'd never find the words for the story that could express what was sitting on my couch. It's beyond family.
With my brother and sister joining us for the car ride, we met up with our family and friends at the courthouse, who had taken the day to be there for the exact moment that our son became part of our forever family.
We conferred with our attorney (and I use the word for literary heft, when in reality the theatrical side of me conceptualized what we did as a dress rehearsal), and then our names were called. Hand in hand, we walked into the courtroom.
We were sworn in, and under oath, were asked questions regarding our specific adoption circumstances. When I was done with my testimony, my husband was asked if he agreed with everything I had just said. He did.
As the judge started speaking to us, I knew the moment was finally upon us, the summit of our mountain.
I had thought that losing my Mom was the heaviest feeling I could carry. And then I turned and saw my husband looking down at our son, beaming through glassy eyes. And I saw my son holding a pair of silver teething rings that had belonged to my husband when he himself was a baby.
And I realized that layering just one more year on top of my 30 had given me the clarity to know that while the world can hurt, and boy oh boy can it hurt, it can also heal. If you seek out the missing pieces, and you work tirelessly to make them yours, there is wholeness to be gleaned from the world.
The judge, in what I had gathered during our 11-minute interaction to be his infinite wisdom, said that all signs and reports indicated a child whose life was filled with love, further evidenced by the record number of people seated in the observation gallery. He finalized the adoption, and officially made our family complete.
We walked out of the courtroom, back into the hallway where we'd waited earlier, and with Gabe wearing an "I'm Special, I'm Adopted" heart-shaped button he was given by the judge, our forever family was greeted with raucous applause from the other families waiting in the hallway.
Strangers, people we'd never met before and would never see again, poured their love out for us to soak up, friendly faces greeting friendly faces, sharing genuine human kindness with one another without fear of consequence.
The rest of the day was lovely, deviled eggs in the backyard, poolside sangria, lots of pictures for posterity. An Adopt-A-Monster station, with individually designed and hand-sewn monsters, set up to allow our guests to enjoy the experience of adoption for themselves, complete with blank Monster Birth Certificates to be filled out.
Hugs, kisses, promises. A family together, again, at long last.
I do love a good story, I always have. My love of reading them has grown into a love of writing them. But I'm reminded that setting down the pen and paper, and laying aside the laptop allows the stories we write and read to be lived out loud.
We are the words, and we are the stories. And if our beginning's end inspires a new beginning, then we're doing something just right.
So here's to new beginnings.