Our world needs a new type of leader who is courageous, selfless, humble, innovative and remarkably effective. We desperately need leaders who have a vision and passion for creating new market opportunities and a better future not just for themselves but also for society at large.
Shawn Askinoise, CEO and Founder of Askinoise Chocolate transformed his passion to create a sustainable solution in the world. It's the story of one man, who builds communities, making an enormous difference in the lives of many and still making a profit with purpose.
It's All About Chocolate. It's Not All About Chocolate. But Yes, It is Totally About the Chocolate
Shawn Askinoise, CEO and Founder of Askinoise Chocolate, has been described as "Willy Wonka with a philanthropic streak." But after talking to him, I would simply say he is what our world needs: a bold new leader who is making a profit and a difference. He is someone who does not put social responsibility in a silo but integrates it into daily work as his business purpose is directly linked to his community and even more so to being a citizen of the world.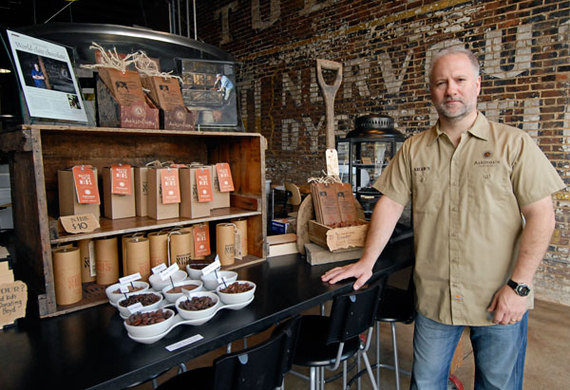 So why is it about the chocolate? Askinoise Chocolate is a small batch chocolate manufacturer located in Springfield, Missouri, sourcing 100% of their beans directly from the farmers. Shawn Askinosie, founder and chocolate maker, travels to regions of the Philippines, Tanzania, Ecuador and Honduras to work directly with the farmers and source cocoa beans for their chocolate. This enables Askinosie Chocolate to profit share with the farmers, giving them a Stake In the Outcome™. The Askinosie Chocolate mission is to serve their farmers, their neighborhood, their customers and each other and to share the Askinosie Chocolate experience by leaving the world a better place than they found it.
What Are the Problems Askinoise Addresses?
After a career as a criminal defense lawyer, Askinoise decided to reinvent himself and find a new path. He spent time searching for a new inspiration and decided to pursue his passion, which is now a little chocolate factory in Missouri with 15 people who are involved in the local community and communities around the world. His passion for chocolate included facing two big challenges:
Challenge #1: The barriers to the market were enormous. He needed to figure out how he could make a profit and run a financially sound business and also address the social problems he saw in the community. He addressed this challenge by establishing his chocolate factory in a neighborhood that was going through revitalization. "We became aware of the needs of our neighborhood just by being close to the homeless shelter that houses 80 children a night and we wanted to involve those children in our business from the very beginning with our Chocolate University."
Challenge #2: The barriers extended to the globe as sourcing cocoa beans directly from farmers from Honduras, Ecuador, Tanzania and the Philippines provided a clear view of the problems they were facing in their communities. "By rubbing up against these farmers, we learn about their problems and needs." He shared. "Then the issue becomes one of how we partner with them without becoming the great American savor to the world." Shawn sees his work as simply helping them find their own, unique solutions through partnership.
Solution #1: Link Your Business and Profitability to Your Community Through Sustainable Solutions. Here is how Shawn does it: "We produce 8 metric tons of cocoa shells in our chocolate making process. Often they are simply thrown away. We trade them with local farmers who use it as a fertilizer and mulch and in turn people in our factory get fresh vegetables as a trade. What would normally be thrown away we use to get food for people in the factory. "
Solution #2: Invest in Your Local Community by Addressing Social Problems. Why?
It will help your business grow. As interest increases in how the chocolate is produced, Askinoise Chocolate opened its doors to people who wanted to tour the factory. The money raised went directly to the community like building a basement at the homeless shelter "and turning it into to a computer lab for the students who are there to study and have some sense of normalcy like other kids."
Solution #3: By Listening, Understand Needs and Build Sustainable Solutions that Change Lives. On a global level, the issues Shawn uncovered were about hunger. He believes that "There is no way we would have come up with the problems and solutions had it not been the fact that we source our beans directly from farmers."
By working with local PTA communities in the Philippines and Tanzania, local solutions were found. In Tanzania where every child eats one meal a day, the local PTA spearheaded a program one metric ton of rice that would be 6,000 meals was transformed into a quarter million meals just by leverage in the American marketplace. The key lesson here is that solutions are formulated locally.
When asked about leadership, Shawn's insights were illuminating. He believes that many leaders today are missing humility. "That lack of humility will end up hurting our country and hurting the world. It is an impediment to social problems at home and abroad."
Call to Action #1: Educate Yourself and Ask the Hard Questions
Shawn's asks that we all do research about the companies we do business with. We need to find out where the food you are eating comes from. Are the companies that you are supporting acting in a way that is worthy of your financial support? Shawn challenges each of us to really look closely at what you are spending money on and what the companies are investing in. How are they giving back and being socially responsible?
Call to Action #2: Take One Step
Anyone can make a difference. You don't start a non-profit or join one to contribute. All it takes is taking one small step every day and reaching out to one person who can use your help. As Shawn says: "You won't only help them; you will also help yourself. People are overwhelmed thinking they can't do anything about people in their community or hunger in the world. Yes, you can. We can make it happen."
We need to re-imagine business leadership so we can inspire a generation of business leaders who recognize that social problems in the world and our community from housing to hunger to education can at a large measure be solved by business. For young leaders, when you dream this dream for yourself. Take one step toward that dream. This step of action in faith and action toward your dream will unlock and open so many doors of opportunities. That one step will do so much for their future and the future of their communities.