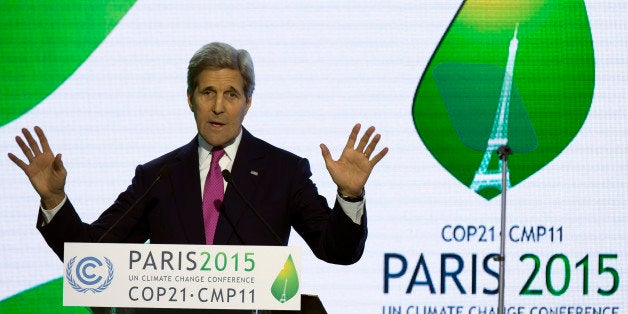 By George Gresham & Aaron Mair
As leaders of the labor and environmental movements, we stand together to declare that creating good middle-class jobs and protecting our planet are crucial and complementary goals. We urge the world leaders who are assembled at the Paris COP21 climate negotiations to finalize a fair, binding and ambitious agreement that will protect the world's most vulnerable people and reduce the dangerous carbon pollution that is causing global climate disruption.
A strong agreement in Paris is essential for getting the world started on a safe pathway that avoids catastrophic climate change. Momentum for a significant agreement has been building for more than a year. A range of major events signal that the world is ready to get serious about climate justice, including the historic People's Climate March in New York City, landmark climate cooperation agreements between the U.S. and China, and Pope Francis's groundbreaking encyclical.
At the same time, the price of clean, renewable sources of energy like wind and solar have fallen dramatically over the past few years, and usage is rapidly growing as a result. In the U.S., the solar industry is growing ten times faster than the rest of the economy, and clean energy investments are creating three times as many jobs for working people as fossil fuels are. It is up to all of us to make sure these new jobs are accompanied by strong worker protections so that they provide quality careers that sustain families and build healthy communities.
The global stakes could not be higher as the world works toward an agreement. The degradation of our shared, and only, climate is already taking a heavy toll. The United Nations recently reported that since 2008, an average of 22.5 million people have been displaced each year by storms, droughts, floods, and other climate-related weather events. The World Health Organization reports that in 2012 alone approximately 7 million people died -- one in eight of total global deaths -- as a result of air pollution exposure.
Air pollution causes asthma, heart attacks, stroke, emphysema, cancer, and other lung and respiratory diseases. As usual, working people, the poor, and communities of color bear the heaviest burden from living and working near waste facilities, diesel truck routes, and power plants.
More than two-thirds of African Americans live within 30 miles of a coal-fired power plant -- the zone of maximum exposure to disease-causing pollutants. African American children are three times more likely to suffer asthma attacks than white children. Moreover, wherever you look around the world -- from the 9th ward in New Orleans to the streets of Bangladesh -- we find that the consequences of climate disruption fall hardest upon the least advantaged. That's why action on climate is essential for both racial and economic justice.
Climate change is also a threat to world peace. Last fall, the Pentagon reported that the warming of the planet poses an immediate danger to national security, with increased risks from terrorism, infectious disease, destabilized governments, global poverty, and food shortages.
But there is still hope. Political momentum has given us an unprecedented opportunity to both respond to the climate crisis and grow our economy. We can create hundreds of thousands of good, green jobs by speeding the transition toward the clean energy economy we know is coming. These will include jobs repairing our decaying infrastructure, upgrading our public transportation systems, and building wind turbines and solar panels. We can invest robustly in clean energy research, development, manufacturing and construction. Those jobs can help create real economic security for working Americans.
If smart kids want to go to college and study clean energy engineering, we should make sure their education is affordable. We must also ensure that there are low-cost training and continuing education opportunities for workers to transition from the fossil fuel industry into good, green-collar union jobs. We need a just and fair transition so that working people, their families and communities are protected and supported as we move toward a clean energy economy.
The time for small thinking is over. Incremental change is no longer an option. World leaders must sign onto a binding agreement that significantly reduces global emissions while helping developing nations prepare for the worst effects of the climate crisis as they make the shift to clean energy.
Whether we are labor union members, environmental activists, faith leaders, communities of color, or just concerned citizens, an issue of this magnitude requires us to recognize our shared values. To tackle this crisis that impacts us all, it will take all of us working together.
Aaron Mair is president of the Sierra Club, the largest grassroots environmental organization in the U.S.
George Gresham is president of 1199SEIU United Healthcare Workers East, the largest healthcare union in the U.S.
REAL LIFE. REAL NEWS. REAL VOICES.
Help us tell more of the stories that matter from voices that too often remain unheard.