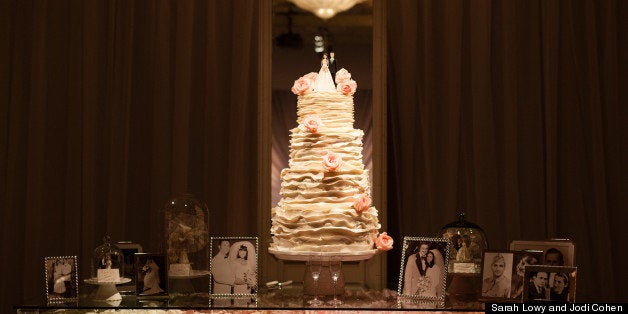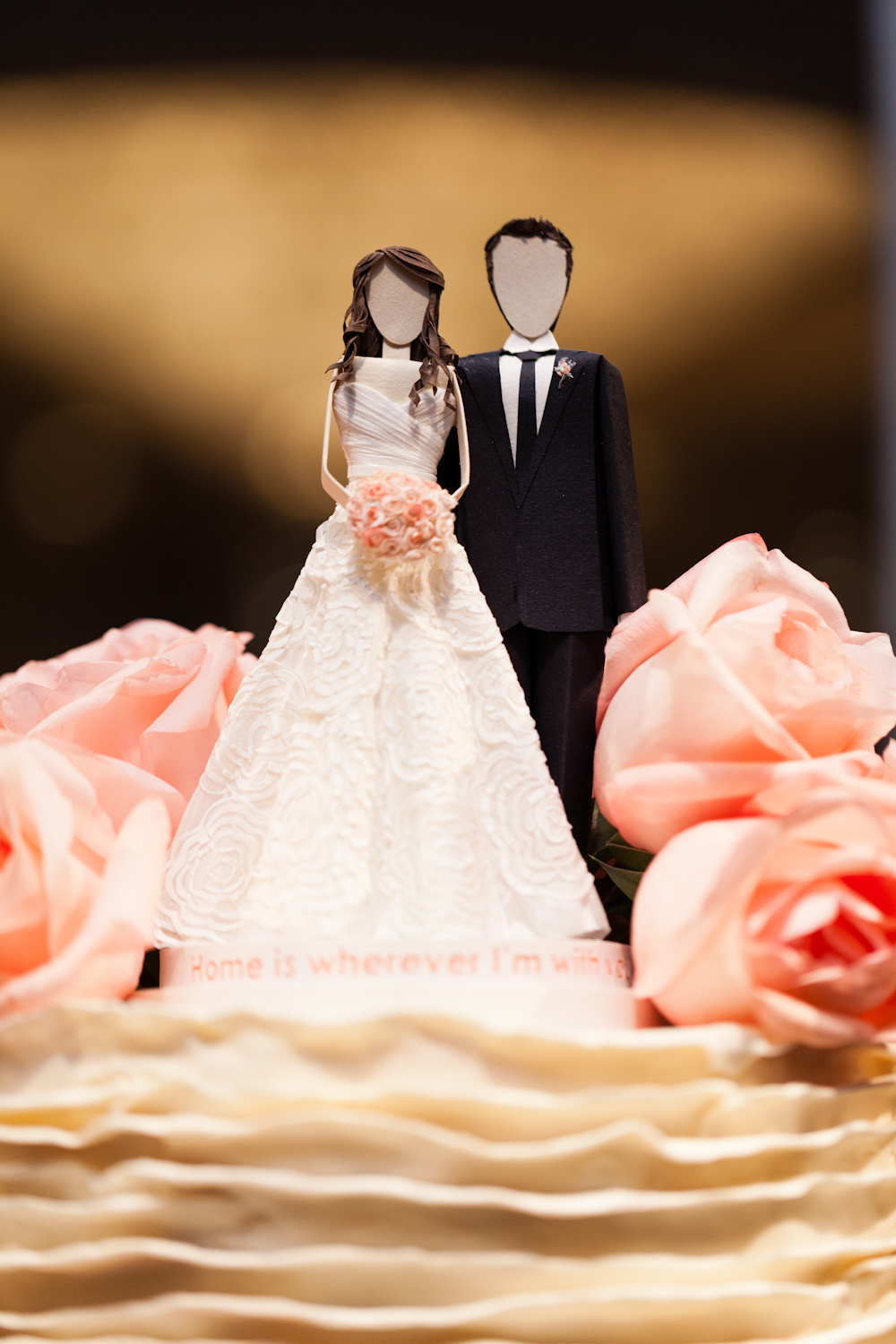 Photo credit: Heather Kincaid Photography
Often times, brides and grooms ask how they can honor their loved ones on their big day, both past and living. The goal is always to design each wedding specific to the couple and create special details that fall within the overall aesthetic of the event. There are many ways to honor these loved ones and make it unique to your wedding day.
Many weddings include a list in their ceremony program of close family who are not able to be with them "today" whether they have passed or are not able to attend. During a wedding reception, you can showcase family members by displaying family photos at your reception in frames that were either taken directly from their homes or put into frames to match the look of the wedding design. When displaying family photos, you can set up the beautiful frames on the bars or on a piano during the cocktail hour and feel this is a great way to capture the essence of the family and share the history with your guests. Often times, guests will venture over to the family photos at some point throughout the evening and have a brief look and you will be thrilled to have shared your family history with your guests. It is a nice touch and many cultures also display family photos at a wedding so it ties-in with many wedding traditions.
Another idea having to do with family photos is to incorporate family photos into your guest book or photo booth scrap book so when guests sign in they too see photos of one's family. Many weddings have a photo station where guests take their photos and two prints are printed: one to keep and one for the guests to place in the photo scrapbook and write a note to the couple. Pre-place family photos, some old, some new, throughout the book so when your guests flip through the scrapbook to pick their page to write their note along with their photo from the evening, they can see all of the family photos as well.
Table names can be a good way to incorporate family and memories. Instead of using table numbers, name your tables with meaningful names that represent significance and importance for both families; whether it's your family reunion city, or favorite family restaurant, names will be meaningful to both families and create a talking point for your guests.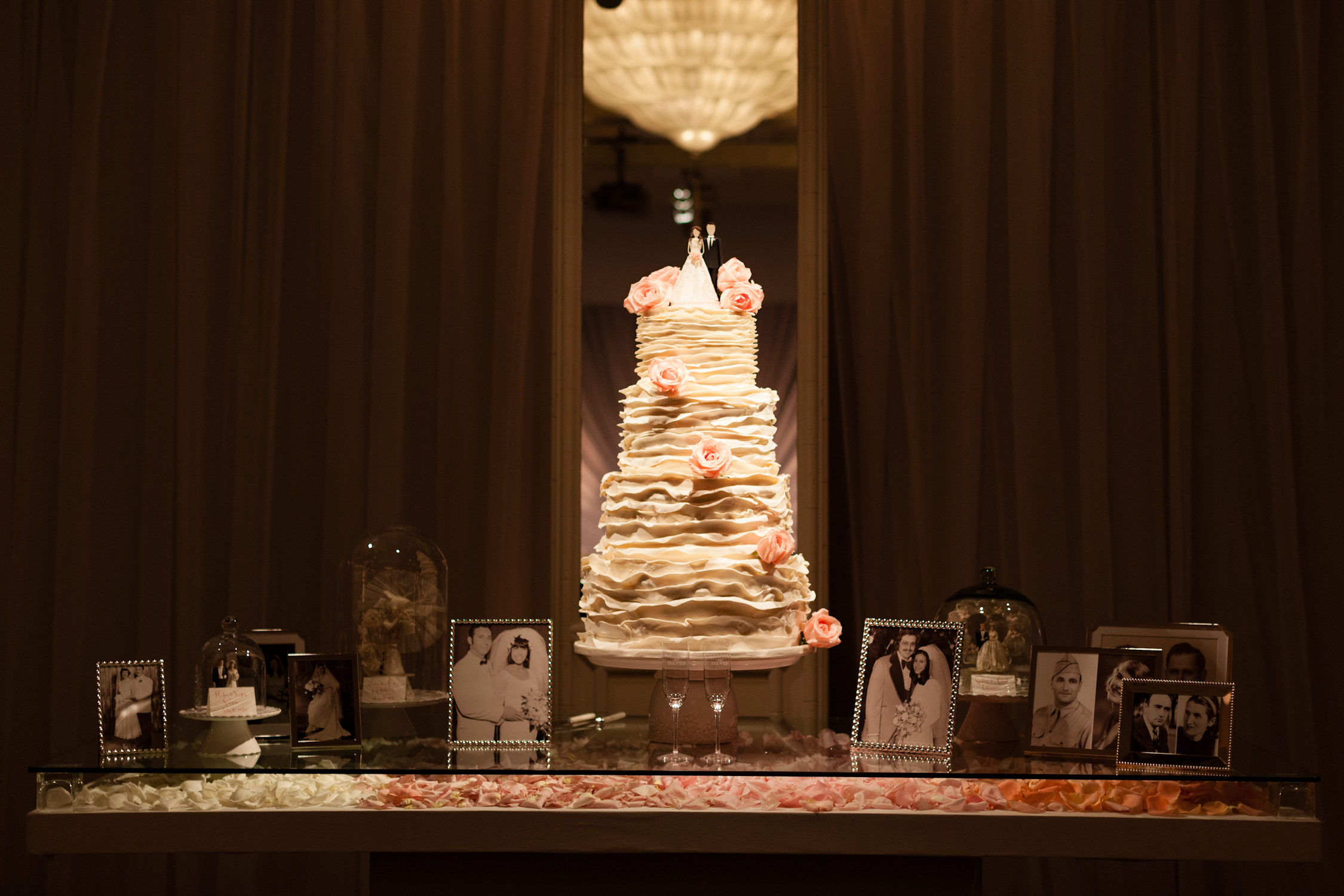 Photo credit: Heather Kincaid Photography
At a recent wedding we had the pleasure of executing a very unique "memory lane" for our bride and groom. The couple along with both sets of parents and the bride's grandparents all had a cake topper from their own wedding day. As a focal point of the dinner reception, we positioned a cake table at the rear of the ballroom to showcase the wedding cake and "memory lane." The cake table had the same "wow" factor as one of the special dinner table scenarios.
The four-tiered wedding cake was centered on the table and we conceptualized showcasing each couple's cake toppers along with the wedding cake. We positioned different sized cake domes to house each significant cake topper and placed a placard under each dome noting the wedding date specific to each wedding with the name of the couple. Special photographs from the actual wedding day corresponding with each cake topper were framed and positioned by each cake dome so guests could have a look at each couple on THEIR wedding day. The grandmother of the bride gifted a beautiful, custom-made cake topper of the bride and groom to look like them on their wedding day, down to their facial features and their outfits: wedding dress and tuxedo to match their attire. For guests joining the couple for their wedding brunch, all of the cake domes were showcased including the new bride and groom's cake topper in their own dome.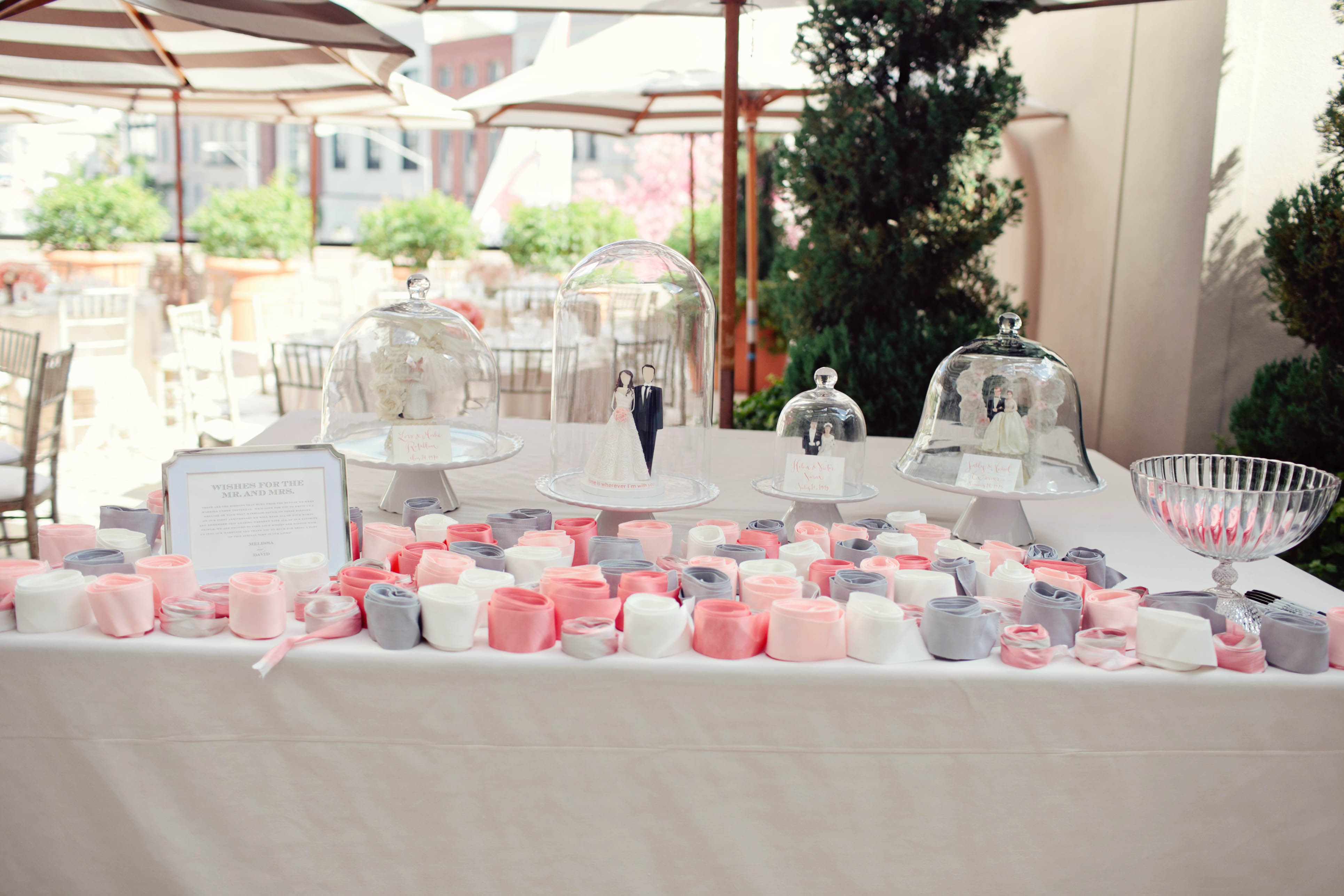 Photo credit: Heather Kincaid Photography
This was a very specific design element because it was truly unique and was a thread that connected the couple to their families. This is a good example of how to create a "memory lane" honoring your loved ones, living and past. Find something special that is unique to your family and create your own "memory lane."