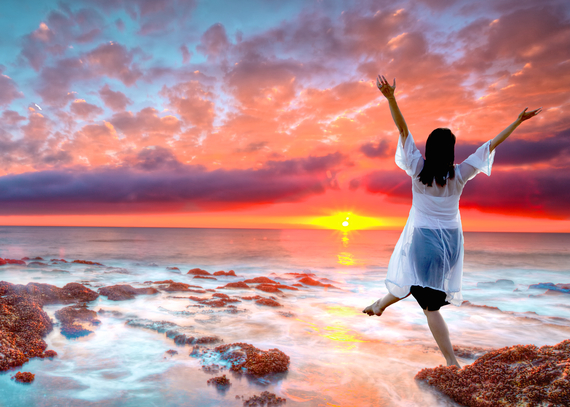 In March of 2014 my husband and I began experimenting with creating our own reality. I'd been feeling trapped in my own with a career that was consuming my life, ruining my health and causing me a great deal of unhappiness. How could this be since I had the money, recognition, successful results, big bonus checks, and was working along-side amazing people? I was petrified and embarrassed to admit to anyone, especially myself, that ALL THIS was not all that! Determining whether I could consciously create a new experience seemed like a good step to shifting out of this existential funk.
I decided to play a game with the universe and asked Spirit to bring me an apple. An object that was simple, random and without any emotional charge. I don't particularly like apples so I knew it was also unlikely that anyone would be offering me one. It seemed like a fun little experiment. I set this as a clear intention Sunday evening before the week was underway, and left town the next morning for the Ritz-Carlton Global Exchange Conference.
I had just received a very large bonus check and had a recent wonderful meeting and glowing review from my boss. For the most part, I was feeling unconsciously good about my job. On some level, however, I knew this temporary glimmer was unsustainable. But at the time I was feeling valued and it was easy to look at all the incredible material things afforded to me through this career. I continued to try and convince myself that I could stuff down my real feelings and my true self and keep on keeping on.
Well, my body (or should I say the keeper of my spirit) had a different point of view. I settled into my seat and was suddenly very aware of the acute pain in my shoulder and arm. The inflammation was visible and my nerves were screaming. The agony made me tired and emotional during my flight to Dallas, so I applied my usual strategy of ignoring it by getting lost in a book.
I burrow up against a window reading Ken Robinson's, Finding Your Element. I had high hopes for this book because for my entire life I've felt I had been on a quest to find my element. But on the last pages of this book I'm no closer than when I started. Yet, as I read on, my body is talking to me louder. My shoulder is throbbing and visibly swollen. I read:
"Navigating your life is like being on the open seas. You can cling close to the known shores or you can set a more exploratory course." Robinson writes. "Mark Twain used this same metaphor in his famous quote, "Twenty years from now you will be more disappointed by the things you didn't do than by the ones you did do. So throw off the bowlines. Sail away from the safe harbor. Catch the trade winds in your sails. Explore. Dream. Discover."
Robinson goes on with another quote from Ralph Waldo Emmerson:
"What lies behind us and what lies before us are tiny matters compared to what lies within us." Finding your element is about discovering what lies within you and in doing so, transforming what lies before you."
Strong emotions are welling up in me. I feel the energy begin to surge in my chest. I know something is happening, and then I get to the clincher. I read this little tiny, eight liner. The tiny little catalyst for what will be profound life changes. The poem by Anais Nin that left me in a sobbing puddle of pain with my heart open as I sat in my window seat:
Risk

And then the day came,
When the risk
To remain tight
In a bud
Was more painful
Than the risk
It took
To blossom.
And suddenly I became conscious of the tears flowing down my face. Through a crystal clear dose of divine guidance, I had a deep and direct knowing that the pain in my shoulder (which turned out to be a frozen shoulder) had manifested as my Soul's strategy to get my attention. I knew suddenly with complete clarity that this physical pain was directly connected to suppressing my own potential, and in that moment the pain in my shoulder was the metaphor for remaining tight in the bud.
At once it no longer mattered that I didn't have "a plan" or that I had yet to "find my element." I knew that it was time to stop complaining and stop with the excuses and to quit this job that I did not love and to get on with deciding how I wanted to spend the rest of my fleeting time I have left here on this planet.
At that moment I knew with all of my true authentic self that I needed to do nothing but to embark on the journey of reinvention. That it didn't matter what people thought or what they would say when I walked away from the money, the recognition, and what was considered by many to be the best job within one of the world's most prestigious companies. I knew it was going to be ok. So, I just cried. I sat on that plane and I cried from the pain and cried from what I knew to be right and from the truth I had just discovered in myself. I cried in awe and I cried in gratitude.
I soon landed and went on to experience the conference with complete knowing that this was to be my last Ritz-Carlton conference.
Although I was crystal clear about my decision to leave, as the conference progressed I was still secretly hoping to be re-inspired in the way I had been two years ago in Shanghai, China at the previous global conference. It would have been so much easier than leaving for an unknown destination. More than once I had been romanced with the idea of this company, their branding and message, and the way they treat their employees. I always used the brilliant excuse of "not knowing" what I really wanted to be doing as justification for not making a change. My boss and the company were trying to live their touted values of trust, honesty, respect, integrity and commitment. But I was not being any of those with myself.
Despite this new awareness, I was and remain deeply grateful to my boss. I would not have reached this place had he let me resign when I tried to sixty days into the job. I knew then that the value and importance of my experience with him and this company has all been part of the grand plan. I am better today because of those experiences and they have been a divine catalyst in my Spiritual growth. I am smarter and stronger and have learned about refinement and grace. Today, I am reminded of the synchronistic perfection of our lives and that of our experiences are set forward perfectly for our learning. Whether we like it in the moment, or not.
The last night of the Dallas conference I enjoyed a wonderful dinner in true Ritz-Carlton style with all the beauty and elegance of a first class meal in a magical setting. I sat next to a wonderful gentleman who shared with me with his true story of physical recovery from a tragic motorcycle accident. On his iPhone he showed me the titanium in his arm and his leg and talked to me about how to work through physical pain. I had a lovely time in my knowing that this was the last dinner for me. Internally, I was embracing my decision to move on and as a result I was able to be my authentic self over dinner. We spoke of energy medicine and holistic healing and I said to my new friend, "This is way more fun and interesting than talking about sales and marketing!" We laughed, and I meant it.
Then my name was called to the stage. For the third consecutive year in a row, I was the recipient of the western regional marketing achievement award. Three times a charm. I had worked my way up the ranks to transition my career in hospitality from the top, working for the most prestigious hotel brand perhaps in the world. I knew I was complete with that chapter of my life and was feeling an aliveness and urging to move forward on the path of self-discovery and finding my element.
As I walked back from the stage to my table, dessert was just being served. Placed at my seat were the sweet course and the menu card. Apple Composition, Almond Clafoutis and Apple Confit with Green Apple Sorbet.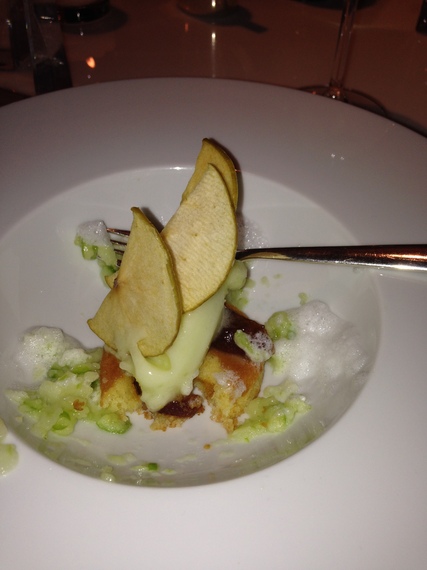 I sat marveling at the universe and my powers within it to create my own experiences. I smiled, knowing I was ready to reinvent myself and that I had the support of the Gods. My life experience thus far has bestowed many gifts upon me and I was grateful for each and every one. I looked down at my apple dessert with a deep knowing in my heart:
Fully present in the moment, I tasted the sweetness. I am a Spiritual being having a human experience, manifesting apples. And I can create anything.
by: Donna Bond
www.donnabond.com
REAL LIFE. REAL NEWS. REAL VOICES.
Help us tell more of the stories that matter from voices that too often remain unheard.