In a recent post we claimed that one of the opportunities for independent bookstores is to find new ways to bring people together to talk about books and ideas. That post generated a lot of good discussion. Specifically, some of the questions that came up were: Why do bookstores need to rethink community building? Isn't this something independent bookstores already do? Today, we answer some of these questions and provide a real example of what we consider "new ways of bringing people together."
First, let us tell you about the Booksmith Bookswap, which has been generating some good buzz in local literary circles. New York Times' cultural correspondent featured it as one of four things to do in the San Francisco Bay Area. A local dating columnist called it a "great way to meet smart, creative, literary minded people," and local author Holly Payne dubbed it, "the most unique book event I've ever participated in." Participants in the Bookswap have responded with the same enthusiasm. One of them recently told us "It really was a lovely way to meet like-minded people. One woman and I ended up actually choosing one another's books and I think we may be kindred spirits. We would have been unlikely to meet without you."
So, what is the Booksmith Bookswap?
The Bookswap was designed as an interactive and fun social event to bring book-lovers together for stimulating conversation about books. For singles, it can be a matchmaking event, for couples it can be a date night, for others it can be simply a fun way to meet smart, interesting people. Participants at previous Bookswaps have ranged across the board in demographics: a 25-year-old events organizer for a museum; a couple in their late thirties; an artist in her forties; there were writers, students, consultants, environmentalists, and on. People come alone, with friends, significant others -- and everyone wanted to have a good time, good conversation, and meet new people.
How did we design this new literary experience?
We started with some simple observations...
Problem #1: The traditional bookstore event typically features a nervous author nobody has heard of reading monotonically from their newly released book (that no one has heard of). For young people, attending a typical bookstore event is about as exciting as eating broccoli or going to church.
Problem #2: Bookstores around the country have been complaining about dwindling audiences at their store events for years. No surprises there.
Opportunity #1: Many literary minded young people complain that there aren't enough interesting places to meet other book-lovers. Some single women even swear that they would never marry a guy who doesn't read.
Opportunity #2: People are willing to pay for new and interesting experiences. Witness rock concerts, museums, and 3D movies. Starbucks created a multi-billion dollar company by creating a powerful new experience around a product that has been around forever.
Then came the vision: Create a new literary event whose success would be measured by how much fun people have talking about books and how many new friendships they develop with other lit-minded people.
Followed by R&D on how to design a new literary experience: There were a thousand details to be figured out and many concerns to be addressed -- How do we create an environment in which everyone feels comfortable talking, sharing, and getting to know each other? How will people react if there are awkward silences? Should we call this a dating event or make it broader to appeal to everyone? Should we serve food? What about drinks? So, we assembled a small concept design team of men, women, singles, couples and put our brains together. Everyone agreed upon wine and food. No one can argue that these are the first ingredients for a happy crowd. To keep with a lively, intimate dinner party feel, we decided to cap the attendance so that everyone would have a chance to meet everyone else without it feeling overwhelming. One person hit upon the concept of breaking into small groups -- each group would be armed with discussion topics to ward off any conversation lulls. Another suggested basing the "swap" on a white elephant gift exchange, thus ensuring that everyone would receive a new book and lending a dash of humor to the process. Piece by piece it all came together.
What can you expect at a Bookswap?
On a select Friday evening we shut down the bookstore early and turn it into a private party space. Guests are asked to bring a book they are willing part with in a swap. Upon arriving, guests are greeted by a Booksmith host and offered a welcome drink. The center table brims with goodies -- feta stuffed peppers, cheese and crackers, chicken skewers and on -- and another staff member mans the bar, stocked with a selection of wines, beer, and other drinks. Guests are introduced, fill their plates and their glasses, show one another their books. They then break into small groups of 5-6 and sit around tables spread throughout the store -- each table is supplied with food, drinks, and a Booksmith or local author host. The groups chat for 20-30 minutes at which point they are rotated to a new table with new people. Over the course of the night, you might talk about the brilliance and tragedy of David Foster Wallace and the best sex scenes in literature at one table, and engage in a nostalgic reminiscence of Roald Dahl, Judy Blume and other favorite childhood authors or a lively talk about which science writers can make a literary minded person laugh or swoon (we heard Mary Roach and Rachel Carson) at the next. After two rotations, we reconvene as a group for the swap which is a fun filled group exercise that normally has people rolling with laughter, cheering their fellow book pickers, and everyone chiming in about who should pick which book. Everyone goes home with a new book, and an optional contact card about the person whom the book came from in case they want to get together later to discuss the book.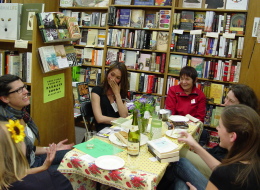 When we started down this road, we wanted to create social interaction around a common interest, but we didn't realize quite how meaningful it would be for people. Sometimes we forget how much we have to say about the books we have loved over the course of our lives. How much we learned from them. What emotions they stirred in us. What they taught us about the world. There is rarely, if ever, a forum for us to talk about these books, rarely even the space or time for us to remember them in full. People come to bookstores to look for new books, yes, but they also come to visit books they've read, as they would an old friend. Which is why bookstores have a unique opportunity to bring people together -- and in an age where there's talk of extinction of the printed page, it's vital we keep coming up with new, innovative and fun ways to get people talking about and sharing their love of literature.
Each of the three Bookswaps we hosted have been sold out, participant feedback has been exceedingly positive, many participants are coming back again and again. One guest loved it so much she brought her sister to the next one and introduced her saying she is visiting from Chicago to attend the Bookswap! The MasterCard commercial ran through our minds...
Round trip airfare from Chicago: $600
Gift for your sister to let you sleep on her couch: $100
Ticket for Booksmith Bookswap: $25
Making new literary friends in San Francisco: Priceless!
Sky Hornig contributed to this article. Sky is a second year MFA student at University of San Francisco, and co-produces the Booksmith Bookswap.