"Politicians know they can use social media to talk to people. What they don't know yet is how to listen."
That was Anil Dash's summary of a basic challenge that lies ahead for many elected representatives as they explore Twitter, Facebook, YouTube, blogs and other online platforms that allow reciprocal communication. Last year, he wrote that "the most Interesting new tech startup of 2009" was government.
Dash knows a thing or two about tech start-ups as the first employee of Six Apart LLC, one of the world's leading blogging companies. He understands online engagement too, after blogging at Dashes.com since 1999. Now, however, he's set his sights on an even bigger goal: transforming the ways citizens relate to their government through social media, using a startup mindset.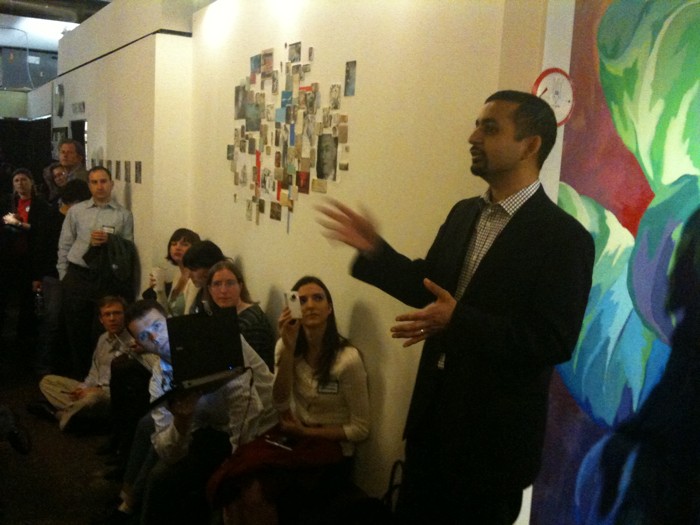 [Image Credit: Debbie Weil]
Speaking to a group of "digerati" at Baked and Wired, a chic purveyor of cupcakes and Internet in Washington's tony Georgetown neighborhood, Dash laid out his vision for Expert Labs, "a new independent initiative to help policy makers in our government take advantage of the expertise of their fellow citizens."
The first project at Expert Labs will be a "ThinkTank App," an open source web application that aggregates and organizes replies to status updates on Twitter. ThinkTank App was developed by Lifehacker founder Gina Trapani, who has signed on with Expert Labs to develop the platform.
The first client for Expert Labs is one that would make most startup founders swoon, too: the White House will be using the ThinkTank app to get better answers from citizens.
"We want to create a different space for participation that rewards good answers, said Dash. He cited several online websites with communities that allow meaningful exchange of information without the ugliness that pervades many comment boards, including stackoverflow.com, ask.metafilter.com and the site his wife manages, SeriousEats.com.
"We need to establish our priorities as a nation, with citizens as the think tank," said Dash." If we can go from six people in a closed door rooom to sixty thousand addressing a problem, that would be a small win." Dash asserted that the disruptive influence of online collaborative tools will cause "entire federal agencies will be transformed, just as newspapers have been."
Given the immense economic, social and technological challenges that lie ahead for the United States and the world in this young 21st Century, that's a vision worth keeping an eye on.
Dash's talk was livestreamed on uStream and is embedded below: