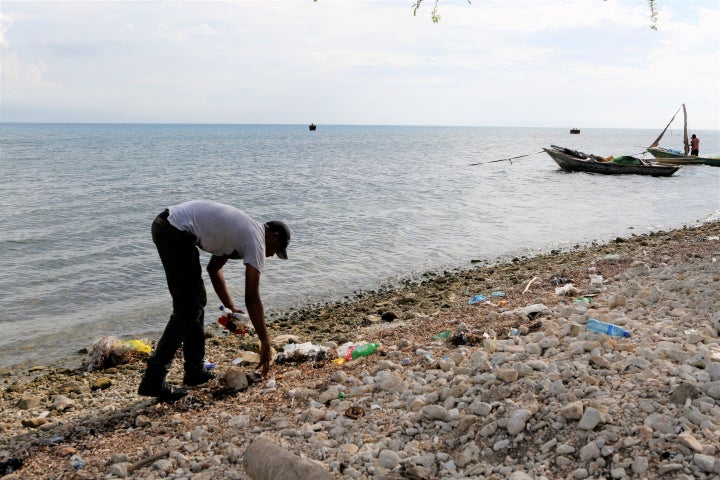 Envision a tropical oasis with white sand beaches and palm trees by the dozen. Now imagine those beaches dotted with trash as far as the eye can see. That's what Haiti, the poorest country in the Western Hemisphere, is experiencing.
While this island nation has long-lacked adequate infrastructure, in 2010 a catastrophic 7.0 magnitude earthquake struck, diminishing most existing roads, along with thousands of residences, commercial buildings and schools. Without adequate infrastructure, the population of Haiti has very limited access to clean water and sanitation systems. As a result, Haitians are reliant on bottled drinking water. Because proper disposal methods aren't in place, plastic bottles litter the land. When rain falls, they're swept away into canals, eventually making their way into the Caribbean Sea.
Haiti's plight is a microcosm of the world's stubborn plastics problem – each year humanity generates more and more plastic waste that harms people and the planet. While plastics remain an integral part of the global economy and provide many benefits, they also bloat landfills, pollute communities and suffocate oceans. By 2050, there will be more plastic in the ocean than fish, according to the Ellen MacArthur Foundation. Reliance on plastics also poses a threat to our climate, as they could consume as much as 20 percent of all oil production within 35 years, up from an estimated 5 percent today.
At HP, we recognize the global plastic waste challenge and are actively combating it by reinventing the way we design, manufacture and recover our products in the shift toward a circular and low-carbon economy.
HP just released its first Original HP ink cartridges made with recycled plastic collected and purchased in Haiti. This follows through on a commitment we made last September and builds on our progress to advance the circular economy. By opening a new market opportunity, generating a steady revenue stream and partnering to improve conditions for workers, HP is helping to create jobs and bring dignity to the collectors of recyclables in Haiti – all while creating more sustainable ink cartridges.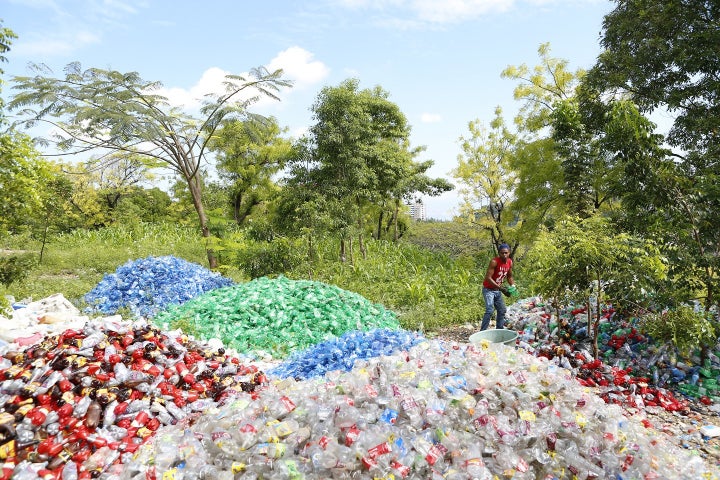 Improving the 'first mile' of the supply chain
Spanning as far as the eye can see, the Truitier landfill is one of the largest in Port-au-Prince. All manner of waste ends up there: plastic bottles, discarded food scraps, old clothing and even used medical supplies. For years, families have been collecting and selling plastic as a primary means of survival – an estimated 300 children currently collect recyclable materials from the Truitier landfill. Every day, these children are exposed to unsafe working conditions.
While some might say the simple solution would be to stop buying plastic from Haiti, HP sees this as an opportunity to improve the working conditions and upward mobility of the community. By partnering with social enterprise Thread International and joining the First Mile Coalition – which includes Timberland, Tassy and ACOP (Association des Collecteurs des Objets en Plastique) – HP is helping young collectors find a path out of poverty and onto meaningful work as adults.
The coalition addresses child labor in the "first mile" of global supply chains – where the raw materials going into a product are sourced – beginning with communities adjacent to the Truitier landfill. Together, HP and the First Mile Coalition are creating responsibly-made goods while elevating the future education and economic prospects of children living in the first mile.
This joint initiative aims to improve the lives of these children and their families by providing them with access to quality education, including more than 200 scholarships, as well as full access to medical care and health and safety training. Additionally, commitment partners will provide job training for the adults, and invest over US $150,000 in the local economy.
Advancing the circular economy with ink cartridge products
In addition to helping to improve the lives of the people of Port-au-Prince, our partnership with Thread and the First Mile Coalition is providing HP with a steady source of recycled plastic for use in our closed loop ink cartridge recycling program. After the collected bottles are processed and packaged in Haiti, they enter our global supply chain where they are mixed with returned cartridges from millions of HP customers and find new life as new products. This isn't a special product line – the recycled plastic from Haiti can be found in Original HP ink cartridges.
HP has long been on the front lines of closed-loop recycling. To-date, we have manufactured more than 3.4 billion HP ink and toner cartridges using more than 88,900 million tonnes of recycled material – including 3.7 billion post-consumer plastic bottles. Today, more than 80 percent of HP ink cartridges contain 45 to 70 percent recycled content, and 100 percent of HP toner cartridges contain 10 to 33 percent recycled content.
By adding another valuable source for our supply chain through our work in Haiti, HP is deepening our commitment to improving social and environmental outcomes in our global supply chain. It's the right thing to do – both for our company and for everyone we touch along the way. To learn more about our efforts in Haiti and our work to reinvent our supply chain to advance social impact and the circular economy, I invite you to check out the HP 2016 Sustainability Report.
Support HuffPost
The Stakes Have Never Been Higher
Related
Popular in the Community