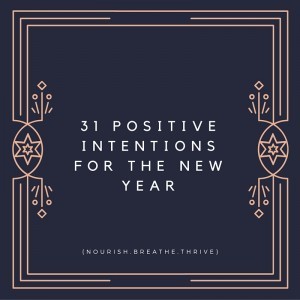 We are a little over a week into the New Year and all the hype around resolutions is already exhausting. Forget about that unreasonable, obligatory resolution and instead, commit to creating meaningful intentions that will serve you throughout the year. Thoughtfully setting intentions is a great way to stay present, achieve your goals, and foster gratitude while you're at it. Healthy habits can feel overwhelming when you have lofty expectations. Keep them simple. Maybe you commit to one intention a day, or one a month? You could even choose one for the entire year! This exercise is more about reflecting and finding something that speaks to you. There is no right or wrong. There is forceful thinking or failure!
Health can be defined in many, many ways. While you may think health is defined by the way you look or the number on the scale, I personally think it is more about the way you feel. Health starts with self-love and with self-love comes self-respect, happiness, gratitude and the desire to truly care for ourselves. When we care for ourselves in a thoughtful way, we are able to better pay attention to our needs. We can reflect on the things that are not serving us and instead create a positive environment in which we can thrive. I know, this is not easy and it doesn't happen overnight. It requires that we reflect and reset on a regular basis, but through this process we can grow. Take it from me, it will happen.
I very vividly remember the immense amount of stress I used to feel on New Years Eve (as recently as 2014). As the clock would tick toward the New Year, I would panic. I remember feeling like I should have reflected more and planned better. It made me feel like a failure, which feels particularity ick in the midst of the joy of the New Year. While swimming in this pool of failure I would force myself to come up with some life-changing resolution that never felt authentic. Talk about missing the point and missing the joy of the moment!
Circle back to January 31st, 2015, New Years Eve came around and I anticipated a similar experience to past years. To my surprise, it never happened. The clock inched toward midnight and I found myself curiously wondering why I didn't care? I had nothing planned. I had not made a list or committed to a resolution and still, I was happy and care-free! I realized that the reason I was not putting so much emphasis on this one moment was due to the fact that I had been actively working to fulfill my intentions every day and that I planned to continue on this path in the new year. Honestly, I cried (I do often) joyful tears for the fact that I let go of the "shoulds" and released myself, unknowingly, from the pressure. I could not think of a better way to enter the New Year than with a feeling of freedom, growth, and joy.
Instead of a resolution, I decided to choose a word that embodied my goals for the year. That word for me is "Joy." Take some time to come up with your own. Share it with us in the comments to inspire others.
In the meantime, here are a few wellness focused intentions to carry with you throughout the year!
1. Say "I deeply love and respect myself" EVERYDAY. Trust me; you will eventually come to know this genuine self-love!
2. Make a gratitude jar in which you can save moments of thankfulness as they bless your life.
3. Surrender to the things you cannot control. Consider making a surrender box.
4. Set time aside each week for self-care.
5. Remind yourself breathe! Just one cleansing, mindful breath, each and every day, can be transformative.
6. Taste your food. Slow yourself down and engage in your meal. We often choose to eat a food because it tastes good yet, we are rarely thoughtful enough to actually experience and savor each bite.
7. On that note...chew your food. The act of chewing more mindfully can be very beneficial--it can aid in digestion, slow you down and encourage you to savor each bite.
8. Commit to random and spontaneous acts of kindness.
10. Eat less processed food.
11. Make and freeze a few meals and snacks for anytime use.
12. Decrease your exposure to environmental toxins. Choose better beauty products and cleaning products, or even make you own!
13. Tell someone that you love them.
14. Write someone a handwritten note and send it to them in the mail.
15. Prep healthy foods at the beginning of the week.
16. De-clutter your life.
17. Set screen-time boundaries.
19. Choose to nourish your body instead of depriving it through dieting. Focus on what you put in instead of what you take out.
21. Cry more often, both as a release of emotion and to celebrate!

22. Reflect on your finances and prepare a budget.
23. Move your body and reflect on how good it feels.
24. Remind yourself of the power of hitting "pause".
25. Eat more nuts, seeds, and other healthy fats and decrease your refined carbohydrates.
26.Take a bath (if you enjoy them).
27.Try something new to you.
28. Eat your favorite food and savor every bite. If you truly savor your food, you may find you need to eat far less to feel satisfied.
29. Make time to reflect and regroup so that you stay on your path. Be gentle with yourself if you stray--it will happen.
30. Choose progress over perfection
31. Choose Joy--trust me, you can find joy in every moment!