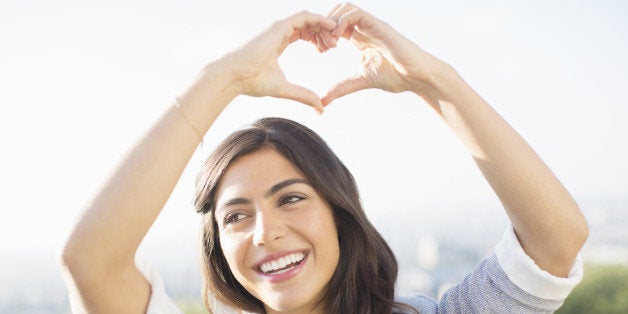 With so much of our time and attention focused on other people, places, tasks and responsibilities it rarely dawns on us to slow down and spend some time on ourselves, just for the pleasure of the experience.
Sometimes it takes an illness or other huge sign from the Universe to get us to slow down and figure out that something needs to change. However, if we take care of ourselves on a regular basis, we're free to enjoy our lives more freely and with a light and grateful heart.
A simple but consistent self-love ritual can also take care of the need to feel loved, pampered and important. We can't and shouldn't rely on others to take care of that for us. It's our own honorable responsibility to make sure our health and happiness are in good standing.
If you're overwhelmed at the thought of adding one more thing to your to-do list, here are some ideas to get you feeling motivated, in control and in charge of your time.
1. Get nice and quiet. Meditate or pray and really listen to what thoughts and feelings bubble up. This is going to be your self-love ritual compass. What you need day to day, week to week changes. Today your body may be craving a long afternoon reading in the sun, tomorrow you may need some silly, fun, girl time. Being in the habit of getting quiet and listening to your intuition will only strengthen your connection with what you really need and want in your life. The more you do it, the easier and more natural this will become.

2. Shift your energy and shake your booty. Get moving by going for a walk, or putting on your favorite song and dancing in your kitchen. This has the almost immediate effect of letting you get out of your head (away from whatever's bothering or overwhelming you) and focus on something else. You'll also get a boost of endorphins and feel great afterward. You just may be inspired in the middle of dancing to "Uptown Funk" on what it is that you need right now.
3. Clear some time from your schedule. Have designated blocks of time that are strictly for your self-love rituals. If it's on your calendar, then you're so much more likely to commit to it. You may not feel like you can schedule a full day to lounge and be pampered at a beautiful and indulgent day spa, but you can probably squeeze in 15 minutes before going to bed for a little reading or slow stretching. Schedule it in, on a regular basis, and you'll find that it becomes a regular habit that gets easier and easier.
Now that you're all set, and feel like you can fit this into your life, I'm going to share 10 ideas of what to do during your self-love rituals. This list is just a small snapshot of what you can do, the sky's the limit!
1. Start a journal or smashbook. Depending on how creative you want to be with it, you can simply jot down what's going on in your life, the things you're grateful for or you can cut, paste, draw, paint or design a book that's really beautiful.
2. Take up yoga, if you don't practice already. It can be such a nurturing and relaxing activity. I highly recommend it.
3. Create a list of affirmations to read to yourself. Go online for inspiration if you need it, but having a list of personalized, go-to positive phrases to say in times of frustration or overwhelm can be like having your own cheerleader in your pocket at all times.
4. Read an uplifting, inspiring or motivational book. There are so, so many to choose from. Find something written by an author or speaker that you like, or ask friends for recommendations.
5. Take a hot bath. This one's a classic. Personalize your experience by adding essential oils, lighting candles, playing relaxing music or listening to an interesting podcast.
6. Subscribe to a gorgeous magazine. When you get it in the mail every month, sit in a comfy chair and just enjoy it.
7. Take a hike or walk near a body of water. Take pictures, pack a gourmet lunch for yourself, look for interesting rocks. Keep the rocks in a pretty dish on your bedside table as a lovely reminder of your self-love ritual.
8. Get a massage, body scrub, wrap or facial. Just get yourself to a spa. Close your eyes and point to the menu. You'll love whatever you choose, I'm sure of it.
9. Find a quiet spot and just be. Let your mind wander without any agenda at all, except to enjoy yourself and your thoughts.
10. Buy yourself a new set of sheets. Go a click softer and more luxurious than what you currently have. Make a ritual out of making your bed, and then slip into bed once you're finished. Doesn't that sound amazing? Now, as a bonus, take a nap. Just because you can.
I hope this has helped you, and inspires you to create regularly occurring self-love rituals for yourself. Now, if you want to find out about more articles and blog posts like this, or want to be in the know when my book, Selfish Mama, is published in May, head over to my website and make sure you're on the list! www.ifmamaainthappy.net