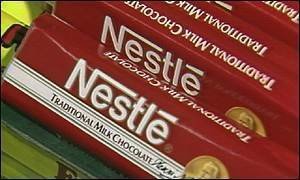 Today, the values and behavior of global businesses face unprecedented scrutiny, and trust in corporations appears to be at a very low ebb. Never in the last 80 years has so much value been compromised for both shareholders and for the general public in such a short period of time, with catastrophic consequences for the individuals and families affected. The financial crisis which resulted in the current deep recession revealed once more a basic business axiom: if you fail to work on behalf of the public interest and take shortcuts that place the public at risk, you also will fail your shareholders.
It is interesting that some of the companies that diminished shareholder value and damaged hundreds of thousands of ordinary citizens were at the same time highly rated on corporate social responsibility measures. That is because these measures rarely deal with the fundamental function of the business, which is creating value for society and shareholders.
For Nestle, and I suspect many other global companies, our challenge is to move beyond playing the role of "good corporate citizen". Instead, we should create a fundamental connection between shareholder value and community value. We need to integrate the improvement of the lives of families, workers and communities into our core business strategy. While this may sound more like a government policy platform than a commercial objective, the truth is that community investment aligns with business investment across a wide range of Nestle units from supply chain to production and distribution. From labor policies and human rights to development, sustainability and the environment, successful global companies will be those who identify outcomes desirable to both shareholders and communities and work aggressively to bring these outcomes to fruition.
At Nestle, we call it Creating Shared Value. That is, to have long-term business success, you must create value for both shareholders and for the public. This is the fundamental principal behind the way we conduct business at Nestlé. One example: We strive every day to make a difference in the areas of nutrition, water, and rural development. These are core to Nestlé's business strategy and essential to creating a better and healthier world in the 21st century. Nestlé works directly with 600,000 farmers throughout the world, providing over $26 million worth of microfinance in 2008. Today, about 2.4 million people in developing countries earn their livelihoods from the Nestlé supply chain. These are staggering numbers, and they remind us that the health of the community from which Nestle draws its labor and raw materials is vital to our success as a business and to our shareholder value.
Here's another example closer to home for Americans. Nestlé recently made its largest ever capital investment at an aseptic manufacturing facility in Anderson, Indiana. We've committed over $400 million and created more than 500 jobs in an automobile-manufacturing town that has fallen on hard times. But our business success in Anderson will depend on more than the facility itself. As a result, we've turned to the community and established programs for literacy, mentoring and nutrition, bringing Anderson schools into the Reading is Fundamental program, which gives books to elementary-aged children. In fact, Nestlé's nutrition education programs reach at least 10 million children worldwide, with a total investment of more than $11 million -- and we believe there is room for improvement.
That's why in the coming days, Nestle will announce a series of Shared Value initiatives intended to foster improved nutrition and food safety, accelerated rural development in Africa, and innovation. These initiatives are aimed at leveraging partnerships with government, non-governmental organizations, and promising microenterprises in the developing world to achieve objectives related to the United Nations Millennium Development Goals.
We will be announcing, among other things, a new investment in agricultural productivity, food safety, and availability of nutritious food in Africa. We will unveil and new program to reward and seed creative approaches to solving problems of water conservation, rural development and nutrition. Finally, we will attack childhood malnutrition and obesity with a new global education initiative that will be implemented in the more than 100 countries around the world where Nestlé operates.
Nestle has long been the world's foremost nutrition, health and wellness company, with half our factories and employees in the developing world. We owe our success in large part to those communities, and it's that understanding that guides us to do even more than ever we have before. And though it's difficult to do in these uncertain times, it's my hope that other companies will follow suit, remembering as we do that corporate social responsibility is not just an add-on. It should be at the heart of the business we conduct collectively, no matter where we conduct it in the world. That's what Creating Shared Value means.

Calling all HuffPost superfans!
Sign up for membership to become a founding member and help shape HuffPost's next chapter