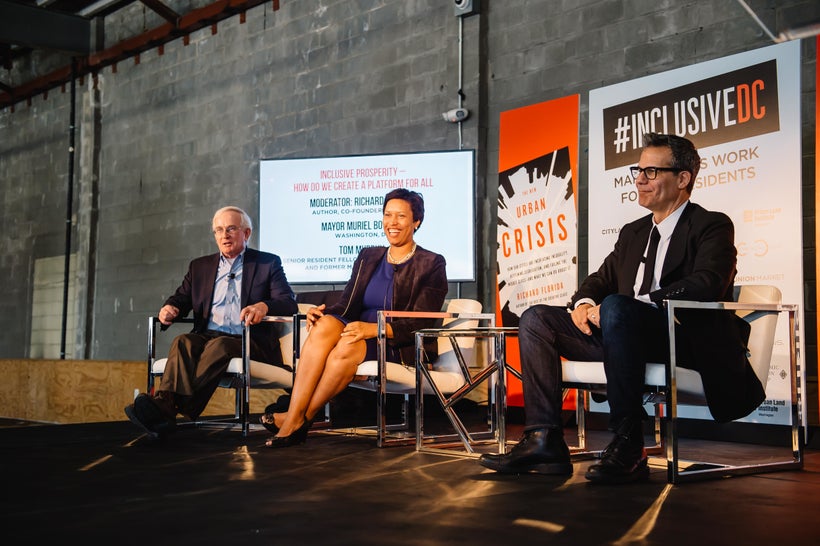 Decades ago, one of the biggest challenges facing cities was the loss of residents brought on by the devastating effects of deindustrialization. As urban residents began flocking to the suburbs in the 1960s and 1970s, cities were confronted with rising levels of poverty, crime, and housing decay. While many of these issues still linger, our modern urban crisis is more extensive and encompassing than its predecessor. As cities continue to benefit from the return of wealthy, talented residents, they now face a number of challenges borne out of their very success. Where cities once benefited from sturdy middle-class neighborhoods, today's urban areas are up against a disappearing middle class, as well as rampant gentrification and economic and racial segregation.
In his latest book, The New Urban Crisis, author and urbanist Richard Florida identifies the core issues plaguing our modern cities. At the root of the problem, Florida argues, is a new kind of inequality called "winner-take-all urbanism," which has divided cities into small areas of concentrated advantage and much larger swaths of concentrated disadvantage. To solve this mounting challenge, cities must strive to make their communities and neighborhoods more accommodating to all residents—not just the wealthy few. Under a new model of inclusive prosperity, cities can cultivate an environment in which people of all backgrounds are able to live, work, and create.
But what exactly does the model for inclusive prosperity look like? This month, nearly 400 thought leaders and community advocates gathered in Washington, D.C. for "Union Market Talks," an event focused on building more inclusive cities in today's spiky urban climate. The 45-acre Union Market District—which has quickly gained a reputation for cultivating new ideas, developing relevant retail concepts, launching and scaling new businesses that create jobs, and engaging local residents in the arts and power of community—provided a fitting backdrop for discussion. Since opening in September 2012, Union Market has become home to more than 40 local businesses and attracted over 15,000 visitors each weekend.
Hosted by EDENS, the nation's leading retail real estate developer, along with the Urban Land Institute, Economic Innovation Group, and CityLab, the event offered a series of panel discussions from leading experts, including Washington, D.C. Mayor Muriel Bowser, former Pittsburgh Mayor Tom Murphy, CityLab's Rob Bole, and the CEO of EDENS, Jodie W. McLean.
"Discussing inclusive prosperity in an open forum helps us come together and appreciate our communities' rich diversity," McLean said of the event. "It is essential in D.C. and throughout the country that we all work together to create opportunities for all."
To celebrate the April launch of The New Urban Crisis, the event kicked off with a discussion between Richard Florida and The Atlantic's political expert Ron Brownstein. Their exchange focused on the importance of shifting power away from the federal government toward cities and municipalities, with Florida highlighting the ability of mayors to effect local change. The conversation also stressed the need for public-private partnerships to address inequality in cities.
With Florida and Brownstein outlining the importance of inclusive prosperity, the following panels explored the role of inclusivity in cities like Washington, D.C., Pittsburgh, Philadelphia, and Detroit. According to Steve Glickman, the Co-Founder and Executive Director of the Economic Innovation Group, "access to opportunity is the key to inclusivity" in urban areas. Across the country, cities can provide greater access to urban residents by investing in affordable housing, upgrading service jobs to higher-wage work, and improving opportunities for entrepreneurship and civic and social innovation.
The final panel of the day echoed this sentiment, with Mayor Bowser offering up a few key strategies for inclusive prosperity. To start, the mayor argued for increasing the income of local urban residents. She also noted that cities "have to make affordability in housing a focus for everybody, and we have to be aggressive in holding everybody accountable." By educating both the local community and policymakers about the importance of inclusive prosperity, this month's "Union Market Talks" is one of many necessary steps toward increasing accountability in the D.C. area and beyond.
This post was published on the now-closed HuffPost Contributor platform. Contributors control their own work and posted freely to our site. If you need to flag this entry as abusive,
send us an email
.