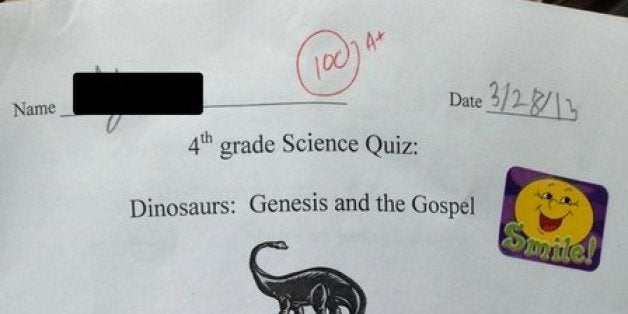 Although the school responsible for the quiz was not immediately apparent from the Reddit posting, Angie Dentler, the publicist for Blue Ridge Christian Academy in Landrum, S.C., recently reached out to The Washington Post to confirm the quiz's origin. She told the outlet that the tiny private school might be forced to close next year due to financial issues. A press release she forwarded to the Post said that donations, like those received after the quiz went viral online, help the school stay afloat.
During a phone conversation between The Huffington Post and several Blue Ridge employees Friday, Dentler noted that the school also teaches the "theory of evolution," along with what she called a "biblical world view."
The administrator for the school, Diana Baker, told HuffPost that the thousands of dollars in recent donations are still only a fraction of the $200,000 the school needs to stay open.
Baker said many donations received after the controversy came with notes expressing support for the school's teachings.
"We have gotten emails from all over the world, and it's been a real joy to see that people just show support and love for a ministry that they had never heard of before," Baker told HuffPost.
Bernice Buchanan, a teacher at the school, pointed out to HuffPost that part of the school's financial problems are due to the fact that 40 percent of the school's 139 students receive some form of scholarship. She acknowledged there is no specific amount of money the school currently expects to raise before next year. However, she expects that "[God] is going to meet all our needs."
REAL LIFE. REAL NEWS. REAL VOICES.
Help us tell more of the stories that matter from voices that too often remain unheard.
BEFORE YOU GO
PHOTO GALLERY
Controversial school-related documents from around the country