I was struck in the first episode where [Tyson] talked about science and how, you know, all ideas are discussed, you know, everything is up for discussion –- it's all on the table -- and I thought to myself, 'No, consideration of special creation is definitely not open for discussion, it would seem.'
Tyson recently addressed providing balance when it comes to discussing science. In an interview with CNN, the astronomer criticized the media for giving "equal time" to those who oppose widely accepted scientific theories.
"I think the media has to sort of come out of this ethos that I think was in principle a good one, but doesn't really apply in science. The ethos was, whatever story you give, you have to give the opposing view, and then you can be viewed as balanced," Tyson said, adding, "you don't talk about the spherical earth with NASA and then say let's give equal time to the flat-earthers."
"Cosmos," broadcast by FOX and National Geographic, covers a broad range of content from Earth's place in the universe to the origin of life. However, the documentary series' focus on Darwin's theory of evolution has stirred the most controversy.
An Oklahoma TV station faced backlash shortly after the first episode aired when a YouTube user posted a video of the FOX affiliate's abrupt transition from "Cosmos" to a news promo, cutting out a part of the show when Tyson mentions evolution. While some speculated that the placement of the promo was intentional, TV station KOKH explained in a tweet that the interruption was accidental.
Tyson was not available for comment.
Support HuffPost
The Stakes Have Never Been Higher
Related
Before You Go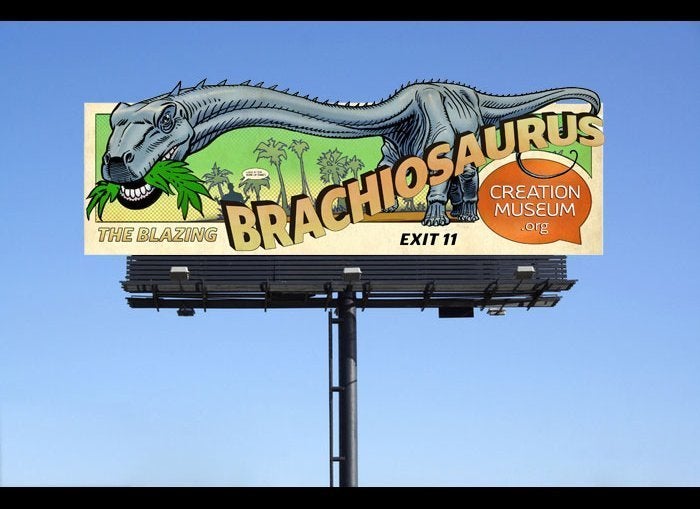 Creation Museum Billboards
Popular in the Community