Nick Onken is a passionate, exuberant, colorful character. That's why he is a photographer and creator, and hopes to inspire others to find their creative resonance through his own creative journey.
Onken started his creative career as a graphic designer, but one day picked up a camera and he hasn't looked back since. He says it wasn't easy making the transition from professional graphic designer to full time artistic photographer, many times struggling to make it financially viable and contemplating giving up. But he has proved that dedication to your passion does pay off. He has been flown around the world to capture beautiful people and stories, with brands like Nike, Coca-Cola, and Conde Nast Traveler bring him on to capture images and moments for them.
And he pays it forward. He is a big supporter of Pencils Of Promise, a charity that builds schools and creates education for kids in the developing world. He even traveled to Guatemala with Justin Bieber and Pencils of Promise (he's a big donor), to visit the schools with him. Onken recalls the story on his website (www.nickonken.me), "This was the first time he [Justin Bieber] had seen poverty in his life, and I was there to capture the moments that shifted his heart. It was an emotional day for us all."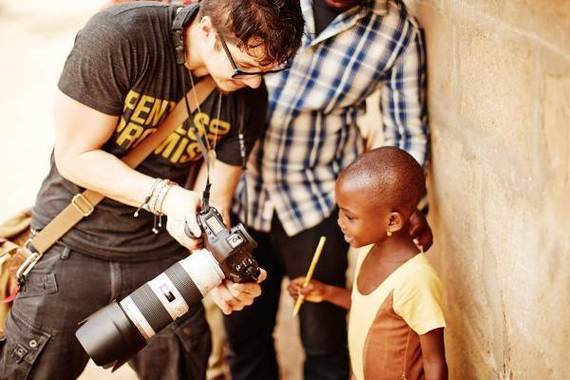 Continuing his photography and support for Pencils Of Promise he has ventured into Podcasting, creating and hosting ShopTalk Radio - the synergy of art, commerce and inspiration of the creative entrepreneur lifestyle. He interviews creative minds and successful entrepreneurs in the hopes of inspiring others to unlock their inner creativity and create their dream life.
Onken is using The 8 App, a multi-media storyboard, to share his colorful photos and portraits, work with Pencils Of Promise, and behind the scenes images of ShopTalk Radio. Check him out and be inspired to find your creative resonance.
Popular in the Community