Morning routines can become, well, pretty routine (and that's the best case scenario). Most of the time it's more like a mad dash -- wrangling your kids to get up and out of bed, making sure they're packed and organized for school, and taking the dog out for a walk all before 8 a.m. You do your best to make sure your kids have had breakfast before seeing them off. Yet the reality is, the most important meal of the day is also the toughest to make time for, and there simply aren't enough hours in the day to prepare a breakfast spread every morning.
We totally get that. In partnership with Tropicana, we've rounded up a few creative and healthy breakfast ideas that fit into your morning routine, or fittingly celebrate the arrival of your family's weekend.
Weekday Grab-And-Go Ideas (maximum cute, minimal time)
1. Yogurt Pig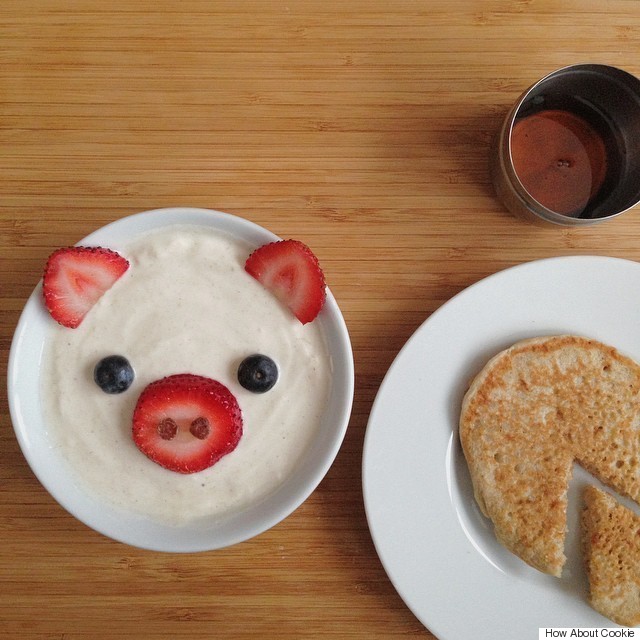 Image: Selena Kohng/How About Cookie
Simply pour a bowl of Greek yogurt, add blueberry eyes and strawberry ears and a snout. Serve to squeals of delight.
2. Bagel Bunnies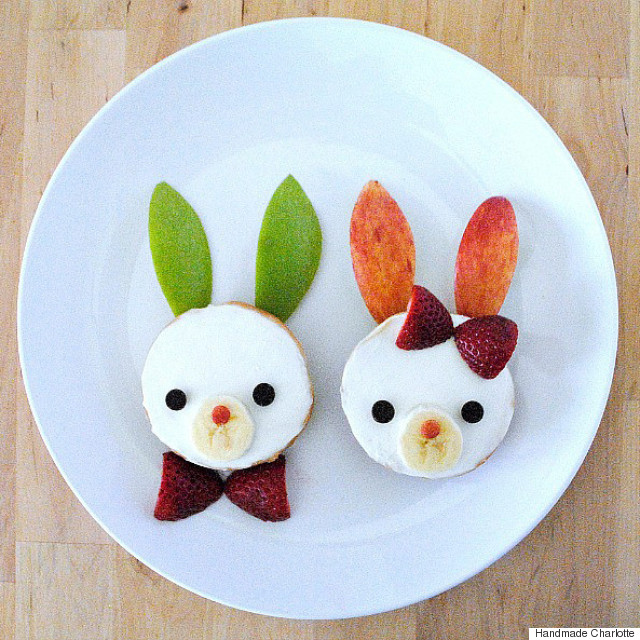 Image: Selena Kohng/Handmade Charlotte
These cute and easy-to-make breakfast critters are guaranteed to have your kids hopping out of bed in the morning. Spread cream cheese on mini bagels, slice up apples, strawberries and bananas, and "voila!" You've created a morning masterpiece!
3. Groovy Smoothies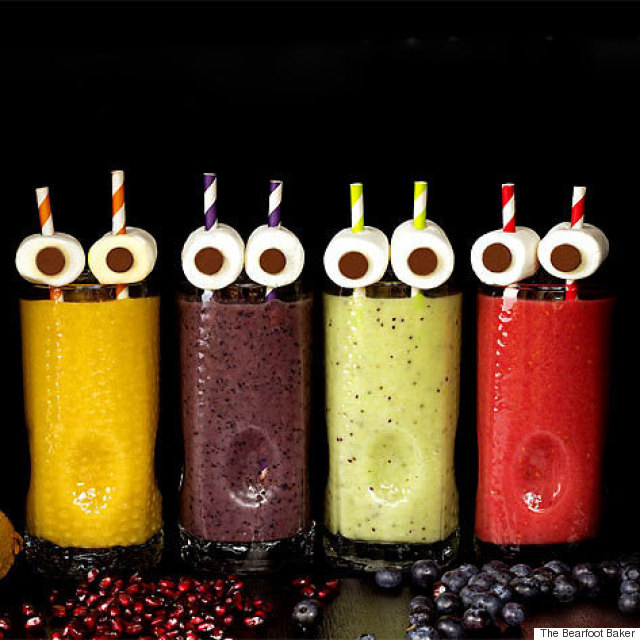 Image: Lisa Snyder/The Bearfoot Baker
A surefire way to fool your kids into consuming healthy fruits are these monster smoothies packed with essential nutrients. Some yummy options (pictured above) to stir include: pineapple-mango, blueberry-banana, honeydew-kiwi-lime and pomegranate-berry. You can even make grab-and-blend bags of fruit the night before to make morning prep a cinch.
4. Breakfast Sushi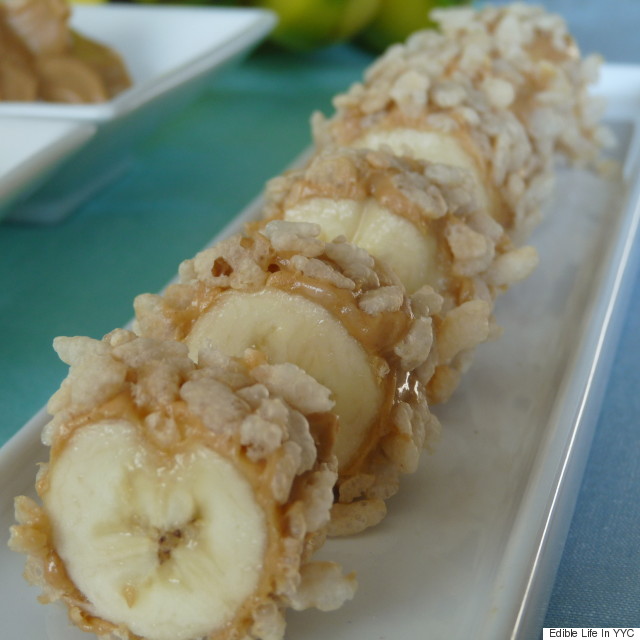 Image: Jen Sproule/Edible Life In YYC
This fresh take on a sushi roll is bound to be a household hit. To master it, all you need are bananas, peanut butter and toasted rice cereal. Try swapping toasted rice cereal for a preferred flavor of whole-grain rice cereal for a healthier alternative.
5. Egg Clown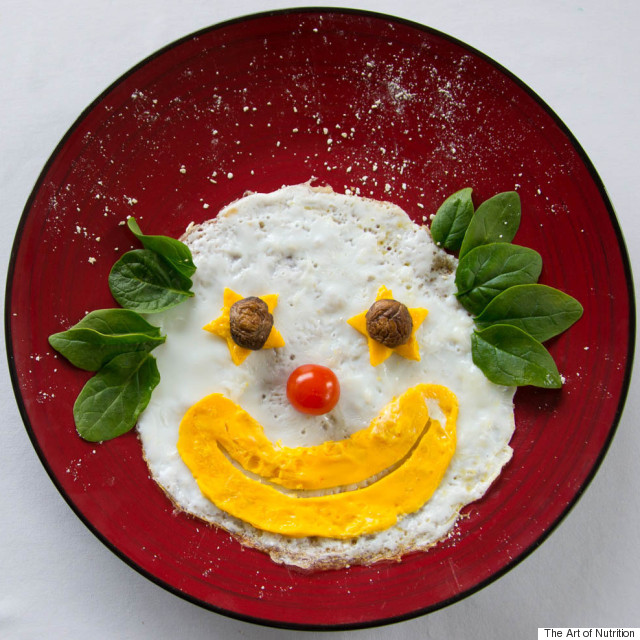 Image: Judith Yeabsley/The Art of Nutrition
This lean egg-white dish can be whisked up quickly, leaving more time to clown around with the kiddos in the morning. Egg clown will definitely crack a smile on your young ones' faces while they rack up some serious protein and iron from the spinach in this merrymaker's sprouting hairdo.
6. Teddy Bear Toast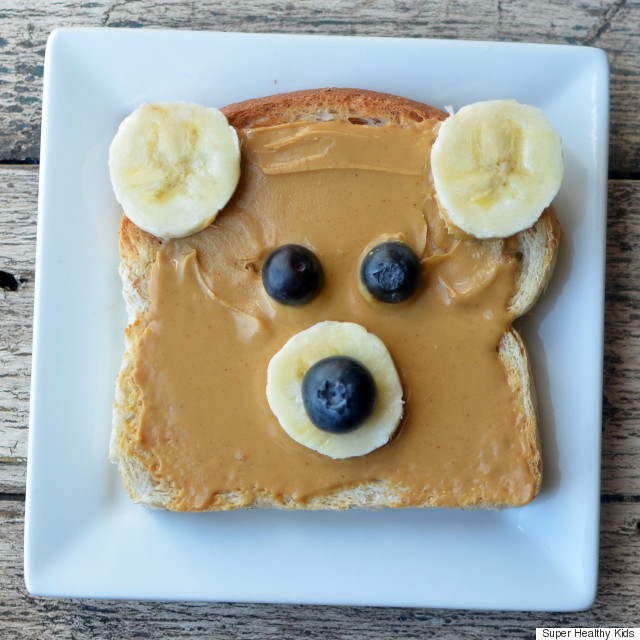 Image: Natalie Monson/Super Healthy Kids
Teddy bear toast is a nutty treat that's beary hard to beat as it can be prepped and served in less than five minutes (and likely consumed that quickly too!).
7. Chickie Eggs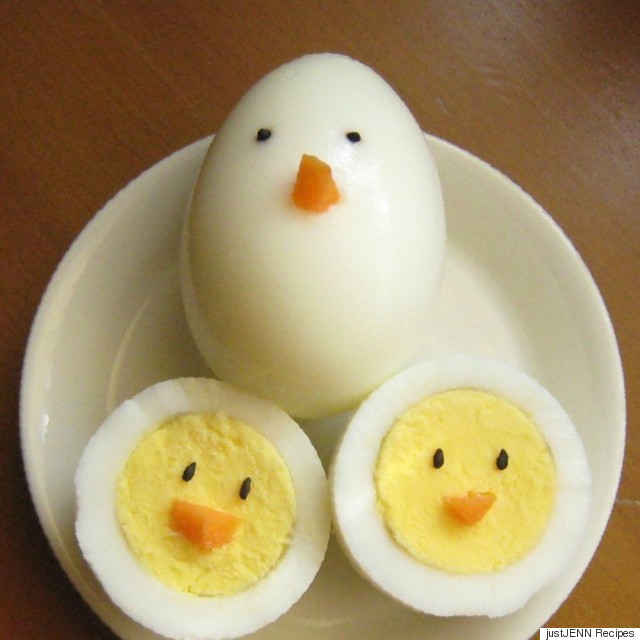 Image: Jenn Fujikawa/justJENN Recipes
Surprise your little chicks in the morning with these hard-boiled beauties. They're an easy breakfast when you're pinched for time and can also be packed to enjoy on the go.
8. Oatmeal Kitty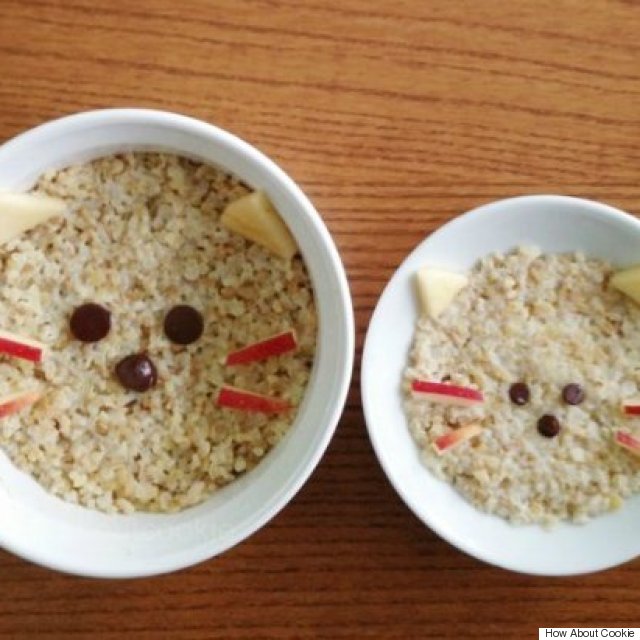 Image: Selena Kohng/How About Cookie
Rich in calcium and potassium, this oatmeal kitty strikes a cute and nutritious balance. For a purr-fect way to make eating oatmeal fun, all you need are apple slices for cat ears and whiskers, in addition to chocolate chips for the eyes and nose.
9. Banana Pops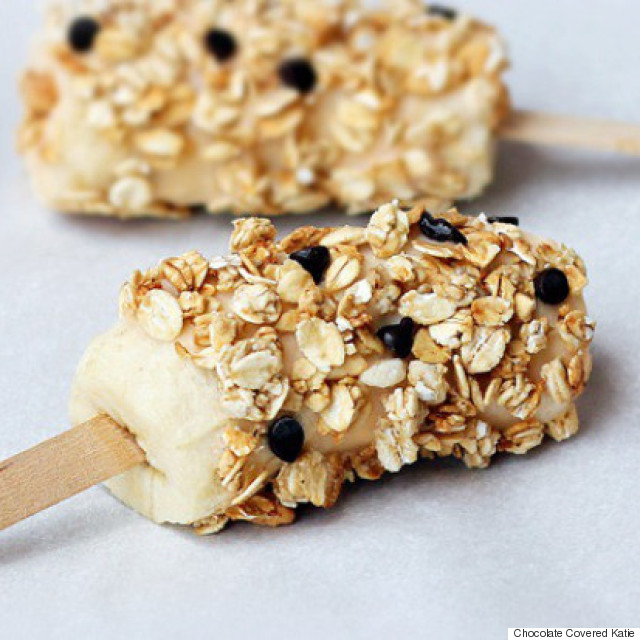 Image: Katie Higgins/Chocolate Covered Katie
Ice pops for breakfast? We guarantee there will be no argument there. Roll bananas in yogurt and then, in granola, and top 'em off with coconut shreds or mini chocolate chips. Freeze these bad boys overnight to make breakfast a breeze in the morning. Be sure to make extra for yourself!
Weekend Ideas (when you have a little more time to fuss)
10. Owl Pancakes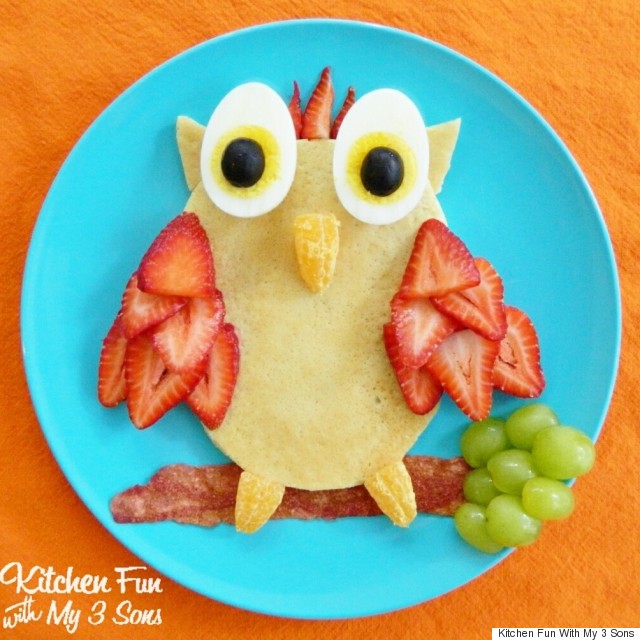 Image: Jill Mills/Kitchen Fun With My 3 Sons
Try whipping up these clever owl pancakes for Sunday brunch. A balanced breakfast complete with pancakes, eggs, turkey bacon, and fresh fruit will give your precious owlets something to hoot about.
11. Pancake Bear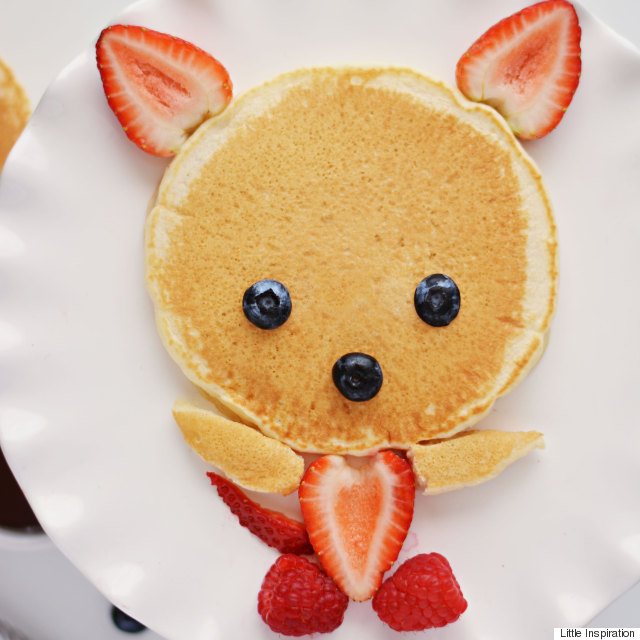 Image: Angie Ramirez/Little Inspiration
For an additional pancake option, flip this bear together and add sliced blueberry and strawberry accents for the face and body parts. Experiment with whole-wheat pancake batter for an extra-wholesome feast.
12. Banana Sheep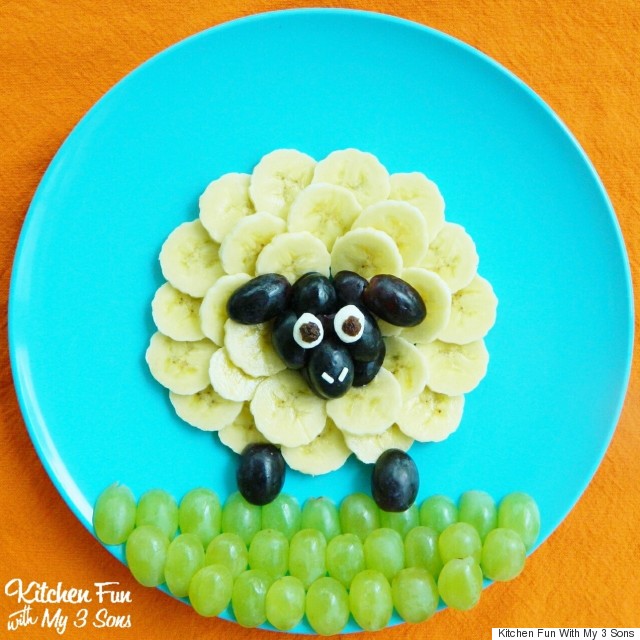 Image: Jill Mills/Kitchen Fun With My 3 Sons
Bahhh...nana sheep are the best kind of sheep. To craft the sheep and pasture, thinly slice a banana, cut green and black grapes in half, and assemble.
13. Banana Puppy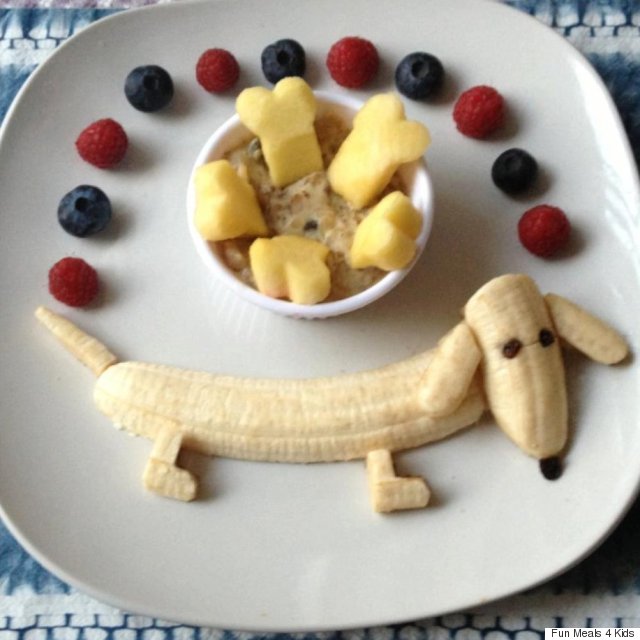 Image: Gabriela Fischer/Fun Meals 4 Kids
Making your kids a banana puppy for breakfast is one doggy trick that will never get old. Packed full of potassium, this dish will keep your kids fueled up and ready to tackle their day to play!
Tropicana wants to help your family start the day with a nutritious boost. Rise and shine with one of these clever and healthy breakfasts paired with a tall glass of pure-squeezed vitamin C.
Calling all HuffPost superfans!
Sign up for membership to become a founding member and help shape HuffPost's next chapter