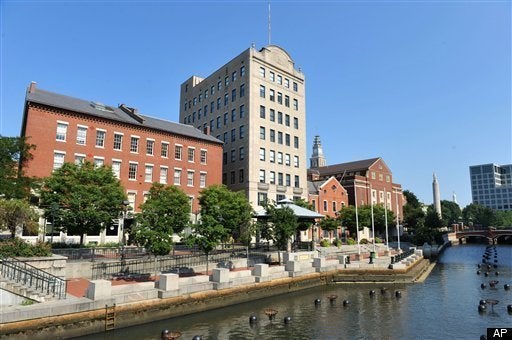 Do you know Tina Roth Eisenberg in Brooklyn? If you don't yet, you soon will.
Also known as @swissmiss on Twitter, Tina has amassed a huge following for her engaging tweets on art, design and life. Tina is also the founder of CreativeMornings. She has grown what started as a "breakfast networking event for creative types" in her own New York studio to a franchised brand of more than 30 monthly morning events across the globe.
I've admired her growing venture over the last few years, and am proud that Rhode Island School of Design has joined CreativeMornings for the June series of events to present "The Intersection of Arts + Technology" month. It is the first time that all of the CreativeMornings chapters around the world will host events under a unified theme, each hosting remarkable speakers from diverse fields -- arts, design, education -- that demonstrate their passion for this special mix of the Arts and Tech in a worldwide celebration of our local creative communities.
Tina is a connector. CreativeMornings is all volunteer-based. They get a speaker to speak for free, someone donates space to use in the morning, someone caters the event for free, tickets are first come first serve and free, folks show up, network, get inspired, and go to work. No need to take an entire day out of work and lose productivity. It's like a free, "breakfast bar" version of TED. It's a nice complement to the online social networks that keep us connected 24/7, where we can come together in a more personal, human way to interact and share in an alive way.
Arts + Tech month is the global embodiment of the STEAM theme that I've been talking about for the past year or so. I believe art and design are poised to transform our economy in the 21st century like science and technology did in the last century. Great ideas today add Art to turn STEM (Science, Technology, Engineering and Math) into STEAM to create innovations that taste delicious. We've been showing the magic of Arts + Tech here at RISD and sharing STEAM work with the world, including taking the cause to Congress, events with the National Science Foundation, and more. I spoke with Darby Roach on the importance of STEAM for HuffPost earlier this year. This collaboration with CreativeMornings for the June series is the next big step in sharing the importance of STEAM thinking and practice.
More than ever, design-focused organizations are disrupting industries and sparking innovation. From the thousands of projects funded through Kickstarter to Airbnb's game-changing service to Apple's record-breaking sales, art and design represent an undeniable driver of progress. When tight budgets force arts education to be cut, we aren't eliminating a "nice to have," we are risking our potential to foster the next generation of creative doers and makers.
Artistic thinking and practice -- grounded in humanity and dirty hands -- gives technology the nuance, depth, and texture it lacks today. What is needed to balance our current obsession with "the cloud" is an appreciation for our real, imperfect world -- or what I call "the dirt."
RISD is thrilled to be partnering with CreativeMornings to share this message in a focused and creative way globally, featuring some of the world's most talented and forward-thinking creators. It's all happening in June with Creative Mornings to present events in 29 cities from Aarhus to Zurich under the theme: The Intersection of Arts + Technology. The free tickets typically go quickly, so if you'd like to attend, visit www.creativemornings.com to RSVP to an event near you.
Related
Popular in the Community