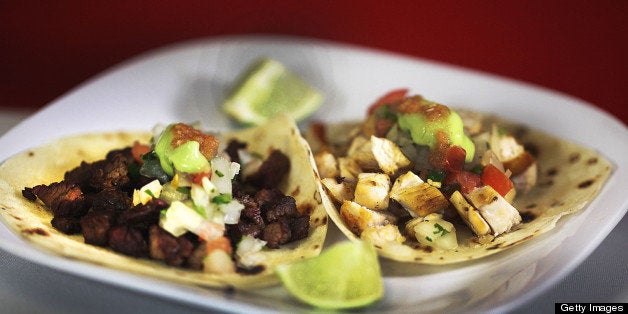 Pop quiz, which of the largest 50 California cites has the highest amount of unique tacos per person? L.A.? San Diego? Baja?
Courtesy of whatsGOOD, here are the cities with the most tacos per person in California:
Top 5 Most Prolific Taco Cities In California:
(How many unique tacos for every 1,000 people in the city)

3.3 Tacos, San Francisco
2.7 Tacos, Sacramento
1.7 Tacos, San Diego
1.4 Tacos, Bakersfield
1.3 Tacos, Fresno
To find the best dishes in your city, sign up at whatsGOOD
"Simplicity is the ultimate sophistication."
-Leonardo Da Vincni
Congratulations! You can now cross "read an article about tacos, that also mentions Leonardo Da Vinci" off your bucket list!
Tacos are simple. They all contain some type of tortilla or tortilla substitute, wrapped around some kind of meat and/or vegetable, with cheese or some other accoutrements.
The news of Taco Bell ringing in $2.5b annually can be attributed to the growing love for the delicious, but simple Mexican dish. With so few components to the taco, and such fervor for the faire, restaurants around the country have engaged in an arms race to build the most creative variations of the dish.
As of 2013, here are some of the most popular and unique tacos in the U.S. today.
EATERS NOTE: This article is going to be a two-part article. Part one will be about the amazing, but often ignored outside of the taco. Part two will look at all the deliciousness between the sheets (tortilla).
Junk Food-Wrapped Tacos
Unless you are Über healthy or have not turned on a TV, computer or radio, you are already well aware of Taco Bell's introduction of the "Cool Ranch Doritos Locos Tacos." For those unfamiliar, the concept is a regular Taco Bell taco, dressed up with a "Doritos Cool Ranch" taco shell. For stoners and snack food aficionados, this is a marriage of two very wonderful things. At current, this is by far the most talked-about taco on the internet. It's good enough to remain that way for some time.
Interesting Fact: The introduction of the Cool Ranch Taco created 15,000 jobs at Taco Bell according to HuffPost.
Wonton-Wrapped Tacos
When you think Tommy Bahama, I'm sure creative Mexican food doesn't come to mind. I used to share those same reservations, until dining at the Tommy Bahama restaurant in Wailea. To the heavens, I am a convert! Their food is both delicious and creative, and no dish represents that more than their Ahi Tuna Wonton Tacos. Using a wonton shell instead of a tortilla is a unique change both for my tongue and my taste buds. The dish has high popularity within whatsGOOD and is one of the more unique tacos in the U.S. Beauty & Essex in NYC also has its own variation that gets mentioned in the same breath as the Tommy Bahama wonton taco.
Bacon Tacos, Or "Bacos"
"Bacon-anything" is going to put comments at the bottom of this article. Same goes for "taco- anything." Some enterprising chef at PYT in Philadelphia recognized this cultural formula and combined them to make "Bacos." The taco shell is three to four strips of bacon pan-fused together filled with traditional beef, lettuce, pico de gallo and veggies on the inside. Are you drooling yet? When they made the announcement it sent the internet into a frenzy and will likely spawn ba-clones throughout the country this year. It's only going to be served for a limited time, so get to Philly and get it while you can. A quick Orbitz search shows roundtrip flights from LA to Philly are $428.70, a small prize to pay for such glory.
To read part 2, click here!