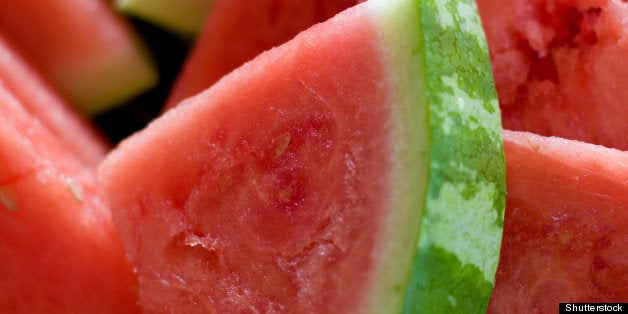 Nectarines, apricots and peaches: clear signs from the produce department that summer is here. For many, the warmest season isn't complete without a fresh, juicy peach or a watermelon seed-spitting contest. But summer fruit is so much more versatile than we think. Sure, blueberries are a great snack straight from the carton, but have you ever thought of adding them to a rice side dish? Here are some unique ways to use your favorite summer fruits, along with some very good reasons to indulge.
Blueberries: Full of vitamin C, fiber and the mineral manganese, these tiny blue powerhouses may help fight cancer. One recent study found that post-menopausal women who consumed more berries and peaches had a lower risk of developing breast cancer.
Out Of The Box: Toss fresh blueberries into a traditional chicken salad recipe. They provide a pop of sweetness that blends well with the savory, creamy texture of chicken salad.
Nectarines And Peaches: Both are good sources of vitamins A and C, as well as potassium. Nectarines are basically peaches without the fuzz, offering a different taste profile but similar nutrition. Research has shown that these fruits (referred to as stone fruits) have a compound that may help fight off diabetes and even obesity.
Out Of The Box: Grilling nectarines and peaches brings out their natural sweetness even more, and creates a decadent dessert without the calorie splurge. Just cut the fruit in half, brush on a bit of olive oil, and grill them for about 5 minutes or until browned. Drizzle with honey, top with a bit of vanilla ice cream, or simply enjoy as is!
Cherries: The bright red pigment in cherries is actually a powerful antioxidant, and cherries (especially tart cherries) have been linked to helping ease the pain in arthritis and gout, as well as preventing post-exercise muscle recovery pain.
Out Of The Box: Try making a cherry sauce to use with grilled pork or chicken: Take fresh cherries and sauté them with some shallots until they're soft. Add a tablespoon or two of red wine and about ¼ cup of broth, then simmer until sauce is reduced.
Raspberries: Nutrition-wise, these are similar to blueberries, and they boast a wide variety of phytonutrients. Recent research links raspberries to obesity prevention. The compound of interest, raspberry ketones, can be found in other fruits as well, and has admittedly been over-hyped based on one mouse study. Still, the pretty red berry offers plenty of nutrition and flavor, even if it won't melt fat away.
Out Of The Box: Freeze raspberries in ice cube trays to add a pretty touch and slight flavor to beverages like iced tea.
Plums: Like peaches and nectarines, these are also a stone fruit, and there are more than 2,000 varieties of plums. They're a good source of fiber and vitamin C, as well as other compounds that help regulate and relieve constipation.
Out Of The Box: Fruit soup can be a great way to use up summer fruit that's about to turn bad. Heat some apple juice and add chopped fresh plums and a cinnamon stick, simmering until soft. Discard the cinnamon stick, purée the mixture with a few ice cubes, then whisk in some plain yogurt. Serve chilled as an appetizer.
Watermelon: The epitome of summer fruit, watermelon is packed with the nutrient lycopene, which has been linked to lower rates of prostate cancer, as well as better eye health. Watermelon is also hydrating (as are all fresh fruits), and provides vitamins A, C and B6.
Out Of The Box: Summer salsa made with watermelon is a great way to balance the heat of traditional salsa. Combine fresh tomatoes, jalapenos, onions, cilantro, lime juice and watermelon. Add salt to taste, and refrigerate for an hour before serving to allow flavors to blend.