In a previous post, I threw myself and my "smelly kids" under the bus for contributing to California's water woes.
I also threw a lot of other folks under the bus (including one of my favorite breweries, golf courses, and my hometown for that matter), but I feel like many Californians are finally starting to get past the denial/anger/bargaining/depression stages of the drought and accepting conservation and sustainable water practices for the long haul.
While we have a lot of work to do, our recent water bills show a drastic cut in the amount of water our family is using, so I thought it was worth sharing some of the creative ways we're cutting back to help further the conservation conversation.
Here are some of the water-saving practices we've adopted, including a massive lawn-removal project that helped my parents reduce water use for the month of May by 70% over the same period last year.
If we've learned anything after four years of drought, it's that extreme weather is here to stay in the Golden State (El Niño or no), and we should plan accordingly.
From drought-proofing projects around the yard, to rain-capture solutions around the house, there's still plenty we can do at the residential level to help ease the burden of Mother Nature's mood swings and help protect our community water resources moving forward.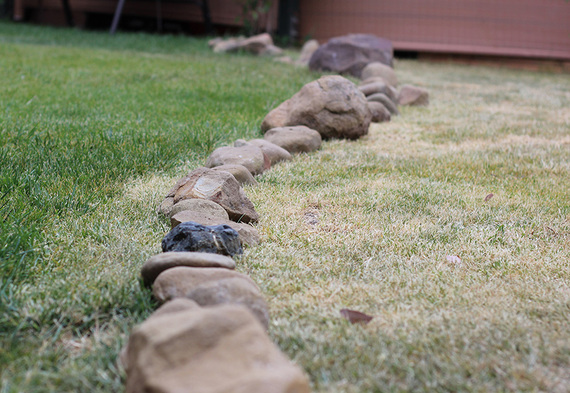 My parents' ranch house sits on a couple acres in the country, and much of that acreage is hilly, rocky and covered with dry weeds and a smattering of oak trees.
But around the perimeter of the house had been a lush, green lawn that extended a few hundred feet from the porch for close to 50 years. I took my senior high school portrait on that grass. My wife and I were married on that grass.  Up until last year, we held our kids' Easter egg hunts on that grass.
Not any more. My parents spent a good month tearing out that grass this summer in favor of redwood mulch, river rock and drought/deer-tolerant vegetation. Removing the lawn was a painful process, both for the back and for a scrapbook full of grassy-knoll memories, but it was a major reason why they were able to slash their water use this summer.  
Greywater Garden Irrigation System
We've always had a greywater irrigation system for the rose garden. It just made sense with a washer located on the back part of the house, just a few feet from the rose garden.
All it took was running a small hose out of the back of the washer to the garden out back, which receives a few gallons of greywater runoff every time a load of wash runs.
The good news for Californians is that greywater system regulations have improved because of a lack a water resources. Some agencies even provide financial incentives for buildings that reuse water for irrigation purposes.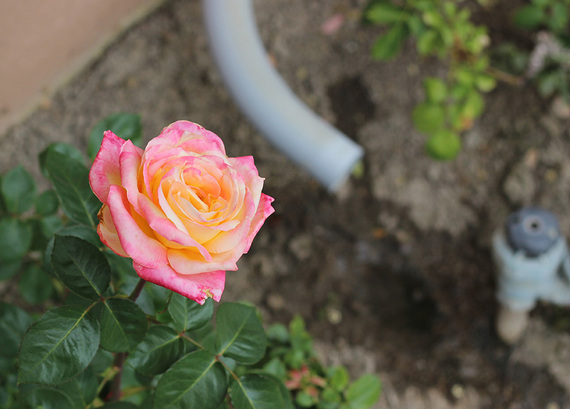 On the coast of California, we're pretty fortunate to live so close to one of our largest water resources in the Pacific Ocean. But as we all know, desalination plants are expensive, and there's only so much we can do with saltwater currently.
Additionally, many coastal towns such as drought-parched Cambria, as well as California state parks, have cut back water use and no longer have running water for the public, whether that be for outdoor showers or even flush toilets.
Along the California coast, the new norm is port-a-potties and disinfectant gel, so more and more residents are starting to bring their own water when they head to the beach.
I enjoy surfing with the kids on the weekends, so to help cut down public water use, I've turned an unused Roundup Weed Killer spray bottle into a mobile shower. It's portable, pressurized and person-powered so it won't drain your battery. I've even painted the jug black, so the water warms in the sun while we're in the water. 
In the end, my post-surf showers use less than 2 gallons of water, which is about 15 gallons less than the average American uses when showering on a given day.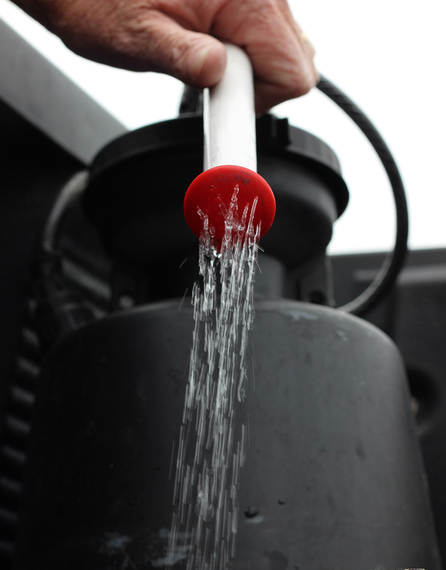 While we're on the topic, another good way to save water while showering at home is to put a 5-gallon bucket under the faucet and capture excess water as it warms for irrigating your plants. We save a gallon or two per shower using this method in our master bathroom, located on the opposite side of the house from our water heater.
Rain Gutter Water Capture
When it does finally rain, like it did this past July when we saw 3.5 inches in two days, we need to be prepared with not only flood protection for our barren landscapes, but with rain-capture projects that guide runoff to key areas, reservoirs or tanks for future use.
As with greywater systems, I tend to fall back on simple rain-capture devices. One easy one is to put buckets under your rain gutter runoff points to capture water that would otherwise run into the gutter.
During a July thunderstorm, I was able to fill trashcans with water each night by removing the endcaps on our rain gutter and placing the cans under the drop points. After cleaning our rain gutters out, I nearly filled a yard waste container on the final night of the storm, using the water for landscape irrigation.
While many of these techniques are simple and don't take a ton of cutting-edge technology, they also don't take a ton of effort and show just how easy it is to implement sustainable-water projects around the house.
Here's to more rain, and water conservation projects, in coming months!
Have a creative home water conservation project worth sharing? Share your thoughts in the comment section below.
Calling all HuffPost superfans!
Sign up for membership to become a founding member and help shape HuffPost's next chapter