When I was young, I asked my grandfather to carve a piece of wood. Grandfathers can do anything. When he handed it back, it still looked like a piece of wood. I took it with love, but carved on it a bit, until it looked a little more like what I had envisioned. We benefit when all of us creatively carve change.
Having been an educator for many years with a focus on education technology, I've often seen slow change over the years. As we kick off 2012, I'm hopeful that our nation's educators are open to being brave and creative when it comes to how to positively impact learning in our schools. The digital age is pushing us to figure things out quickly.
A few months back, I attended Dell's first Education Think Tank in NYC. Educators from diverse backgrounds came together to talk about technology solutions -- not just products -- but a sharing of ideas and experiences, an honest conversation about where we need to go and how we can turn talk into action.
We all have contributions to how we can "carve" out pieces. Here are a few important things to think about as we look ahead.
I read an interesting blog post by a tech-savvy educator, who was getting rid of obsolete classroom tools. His list included a stapler and a document camera. The class had netbooks, so he felt the document camera wasn't necessary anymore. I asked him to remember that most educators weren't as lucky -- and document cameras could still be cool tech. I understand it. When I taught first grade, my desk got in the way, so I wheeled it out, and never missed it. No one noticed it was gone.
If you're like me, you can key a paragraph quicker than pen your name, so should students learn cursive handwriting or not? Now, that's more than a day's passionate debate -- longer if you invite grandparents.
Some think paperless means no paper at all, but less paper is probably more accurate -- printer companies won't argue. We love our refrigerator magnets too much to completely trust paperless. While most of my reading is digital, the natural warmth of a traditional book still brings a smile. Oh, if they only had Search!
Students and Social Media -- Risky Business?
Kids under 13 aren't allowed to use social media, and it's blocked in many districts. The prerequisite, like other tech use, has to be as part of a district's Acceptable Use Policy. Using social media with students really comes down to teaching, and lesson appropriateness, safety, and eliminating risks. I must say that even adults have difficulty monitoring and blocking social media nonsense. Some districts are using simulated social media solutions, and some have figured out how to safely use the real thing.
Where are the AR/3D interactive lessons?
Unfortunately, what I see as interactive lessons are merely PowerPoint/Flip Card lessons -- and word dragging, with an occasional video tossed in. Usually these things are disconnected and not, "blended" -- pardon me for using that term. I appreciate the need for technology-teaching stepping-stones with interactive devices, but no at the end all -- check the century. When many of the best teachers, using technology, are still only masters of multimedia, rather than masters of a lesson, with a full-bodied story from start to finish, a poke may be needed. Educators need to do interactive things that can and can't be done without interactive devices -- and do those teaching things easily. If you can jump through 20 tech hoops, and finally figure it out -- that's fine, but most educators need a better plan. I'm really looking at the marketplace to figure some of that out, along with educators, who take advantage of interactivity as part of a masterful lesson. Hopefully, books/eReaders, software especially designed for whiteboards and other interactive devices, as well as Internet and Web 2.0 extensions -- with blogs, e-mail, and social media components will be part of it.
Twitter is a global faculty room, or administrative council meeting. It provides how to, professional development, resources, links, encouragement and expertise -- just for following. Using translation tools will help build a global Personal Learning Network (PLN). It's organic growth and educators across the globe are taking advantage of it. It's really up to us to take it to the next level.
Tech-successful districts start with their curriculum, and choose the right tech to match. Technology must meet student and staff needs, and not just the cover the cool factor.
Whatever the technology is, it should be given to all staff, in all classrooms, and not just to a few. If it's in all classrooms, it will be used. Training, of course, is a necessity from the start and then beyond. Educators who train other educators works well, and is cost effective. Sharing within and across grades -- and schools integrates teaching with technology.
Educators guide students -- allowing them to take control of their own learning. The technology, alone, can't do that.
Disparity and Beyond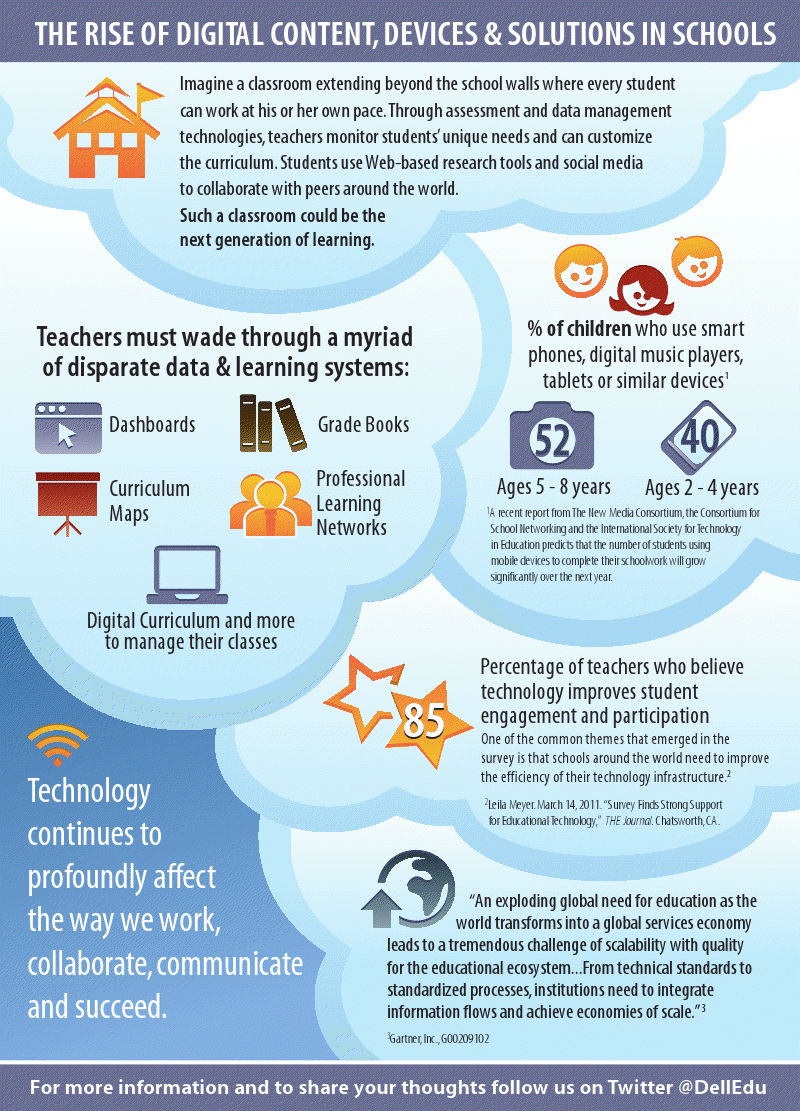 When computers first entered schools, all we had to do was find a spot, and plug them in. There were few users, and dark computer labs, pristine keyboards, and un-smudged screens were common. That's as far as we thought. Now, we love those smudged devices, and the plug in plan isn't as simple.
Today, district technology has to be professionally done, as well as dependable and consistent, to integrate all district needs -- server and cloud -- including student information systems for RTI (Response to Intervention) and education decision-making. Stakeholders are many, and their demands are different -- important and immediate. From board members to administrators, educators to students, parents and community, finding a trusty, single login Learning Management System makes things a lot easier, saves time, money, as well as gives a district peace of mind, with a lot less, unnecessary creative carving. It's not quite plug in, but it's close.
I know by analyzing and looking closely at all these components, we can make a difference and find ways to carve newness and progress in our classrooms. The question around how to best implement technology in schools, but more importantly, how we, as educators, share best practices and turn our discussions into action will be ongoing. The key is to continue to be creative and keep carving.

Ken Royal is an educator and well-known blogger on all things education technology. To learn more, follow him on Twitter @kenroyal.
Dell will be hosting the next Education Think Tank in London. To participate via livestream, click here.
Calling all HuffPost superfans!
Sign up for membership to become a founding member and help shape HuffPost's next chapter