It's been an amazing time here in Kenya. We met with Kenyan entrepreneurs, and a representative from USAID, which is deeply invested in building Africa's world presence as an exporter.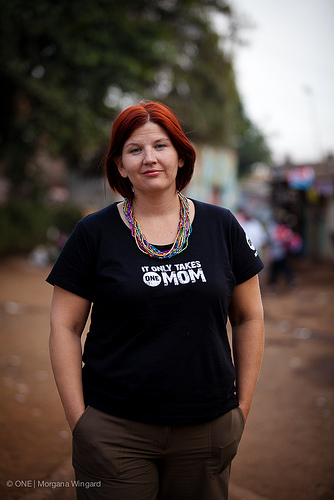 Then this afternoon, we spent time in Kibera, one of Nairobi's most well-known kagigis, or slums. The two are linked in my mind, because I think it is the first that will eventually help lift the circumstances of the second.
I heard a Kenyan joke today, "We don't have oil here in Kenya -- our people are our main exports." We all laughed, but the truth is, though Kenya has many great natural resources, the people are an amazing asset. I have yet to meet an ordinary person. The energy, creativity, and enthusiasm they've given us with on this trip simply astonish me. And I don't think they're putting on brilliance for the out-of-towners, you really can't fake this level of extraordinary-ness.
There, I've created a new word.
What do people brimming with energy, creativity, and enthusiasm do best?
That's right. They make things.
BEAUTIFUL things that quite enthralled the 10 of us at an impromptu shop after our meeting this morning. We all left adorned with Zulugrass, Katchy Collections, and MooCow items, both gifted by the business owners and then purchased in alarming volumes by the lot of us.
The founder of Katchy Collections, Anthony Mulli, spoke of his employee philosophy:
When I hire someone to work for me, I tell them, 'You had a dream before you came here. Whatever it is, don't become content in this position and forget it. If you want to go to university, do that and then there will be a place for you here in the business side. I am here to help you reach your dreams, as well.'
That's what will put an end to the need for places like Kibera. People with drive and spirit to spare, encouraging others to tap into their core strengths.
We visited the home of Mercy while in Kibera. She and her daughter Nicole live in a small room that is beautifully kept, but where she needs to walk to fetch water every day, cook in a small corner of the room, and risk respiratory infections and worse from living in an area that is notoriously good at spreading contagions.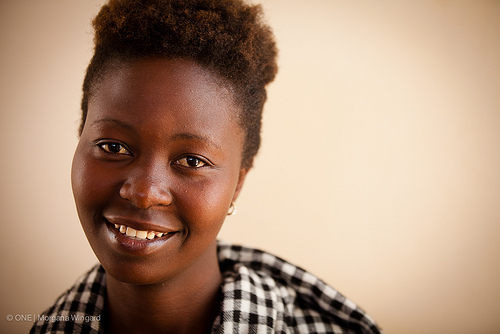 But that is not even close to all of Mercy's story. She also takes in clients and braids hair, a skill she learned from watching her mother, who learned from her mother.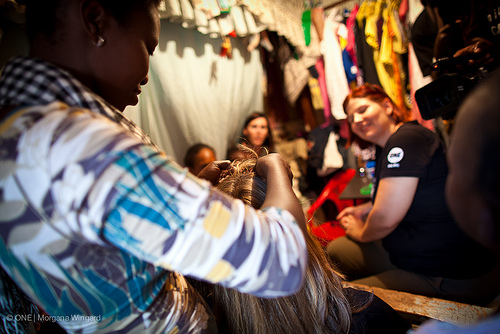 She also makes beautiful jewelry, a skill she learned from a friend who taught her after she expressed interest. It rivals any that I've seen in shops, and I bought a beaded ring that I already know is one of my new favorite things. In fact, we're talking about Mercy having an Etsy shop -- and if and when she does, I will be so sure to let you know.
There are many Mercys in Kenya, with skill, drive, and an entrepreneurial spirit -- but how to create a structure that allows for their products to reach a global market? Africa is sometimes viewed as remote, and has not always been the first place a company would look to source products.
Origin Africa was developed by USAID as a part of the COMPETE program, which is part of the African Growth and Opportunies Act (AGOA). COMPETE takes an integrated approach to addressing the issues of advancing trade and economic growth in East and Central Africa.
This approach is based on the premise that regional integration is the best way to grow regional markets, and simultaneously increase the competitiveness of African products in global markets.
In other words: Trade, not aid, developed from a collaborative standpoint.
All stakeholders -- from African farmers to US retailers -- develop, guide and promote African trade in apparel, cut flowers, specialty foods, home decor and fashion accessories. They also sponsor pretty stellar events, like July's Africa Fashion Week New York.
But does it actually work to generate new trade opportunities?
Absolutely. It's generated more than $50 million in exports to the US in just the last two years. Diversifying the African economy can build stability, which will be a game-changer on both an individual and a continental level.
Another Kenyan entrepreneur we met this morning is Katy Leakey. Her business was founded in 2002 by Katy and her husband, Philip Leakey. They live in the rural bush of the Rift Valley in Kenya, among the Maasai. Together, they created a product called Zulugrass, which is so much more than adornment -- though they're gorgeous.
Their mobile work sites in the Rift Valley provide employment for over 1200 Maasai women, depending on the time of year. More than 10,000 people are supported by the work generated from assembling Zulugrass.
Traditionally, Maasai women do not earn an income, so there were initial cultural barriers to overcome when Zulugrass was developed. But the men of the tribe now prize the peace it brings -- with the added income, their home lives grew more peaceful.
And as we know from the Africa's Future is Female report, women re-invest 90 percent of their earnings right back into their households, elevating the status of many. The women use the income for everything from the basics of food, education fees and medical expenses, to improving their lifestyles such as buying their own herds of goats, purchasing land and starting their own businesses. Communities become more stable financially and politically. Small service businesses begin to flourish as there was money to spend locally.
Many educated, talented and skilled African designers and entrepreneurs are quickly and indelibly creating change in their countries. The next employee Anthony hires and mentors could be Mercy, and she and her daughter could perhaps save enough to leave Kibera and pursue her other dreams -- to open her own salon named after her daughter and eventually see her daughter in medical school.
This post was originally published on 08/09/2011 and is being re-featured for HuffPost Global Motherhood.

REAL LIFE. REAL NEWS. REAL VOICES.
Help us tell more of the stories that matter from voices that too often remain unheard.