Sitting at his kitchen table and staring at a Pillsbury Crescent Rolls can, Perz wracked his brain for an idea. Suddenly, he imagined a doughy white character jumping out of the can.
Perz described him to Martin Nodell, an artist at the agency, who sketched the little spokesman. The joyful dough boy had big blue eyes, a chef's hat, a sassy bandana, and blushed when he was kissed.
Although Perz originally intended the Pillsbury Doughboy to be animated, he changed his mind after seeing a stop motion clay technique on television. Designer Milt Schaffer then brought the baking icon to life at a cost of $16,000, The Washington Post reported. The Pillsbury Doughboy has been created using CGI technology since 1992. Veteran cartoon voice actor Paul Frees served as the Pillsbury Doughboy's voice until his death in 1986. Since then, the character's voice has been provided by Jeff Bergman and JoBe Cerny.
The Pillsbury Doughboy appeared in more than 600 commercials from 1965 to 2004, and returned to the small screen in 2009, 2011 and 2014. He hawked dozens of freshly baked biscuits and cinnamon rolls, breads and cookies, and charmed viewers with his signature giggle (a sweet "Hoo Hoo" or "Hee Hee" that emitted whenever someone playfully poked his middle).
Yet the Pillsbury Doughboy was more than just an advertising spokesman. He was beloved by millions who grew up in the 20th century. According to General Mills, parent company of Pillsbury, the Doughboy received 200 fan letters a week and hundreds of requests for autographed photos. During the 1970s, "Pillsbury Playthings" -- doll-versions of the Doughboy and his "family" -- were some of the fastest selling toys in the U.S.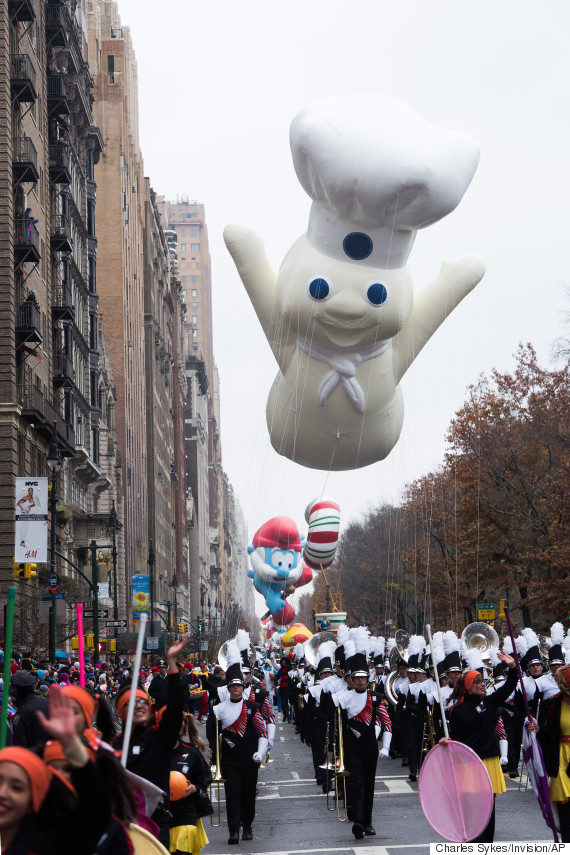 The Pillsbury Doughboy balloon floats in the Macy's Thanksgiving Day Parade on Nov. 27, 2014 in New York. (Photo by Charles Sykes/Invision/AP)

As for the mastermind behind him, Perz was born in 1925. The Glenview, Ill., resident and advertising copywriter was married to the late Lois Wagberg Perz, and had three children and six grandchildren.
Next month, Perz was to have been honored for his doughy creation at the Museum of Broadcast Communications in Chicago. The exhibit, "A Salute To Advertising's Greatest Icons," will also feature Tony the Tiger, the Jolly Green Giant, Morris the cat, Mr. Clean and Ronald McDonald.
Perz died on April 1. Cause of death was not released. He was 89.
Calling all HuffPost superfans!
Sign up for membership to become a founding member and help shape HuffPost's next chapter
BEFORE YOU GO
PHOTO GALLERY
Notable People We've Lost In 2015