Apple plans to make online shopping a little easier this fall.
Here's what it will look like, with photos courtesy of 9to5 Mac: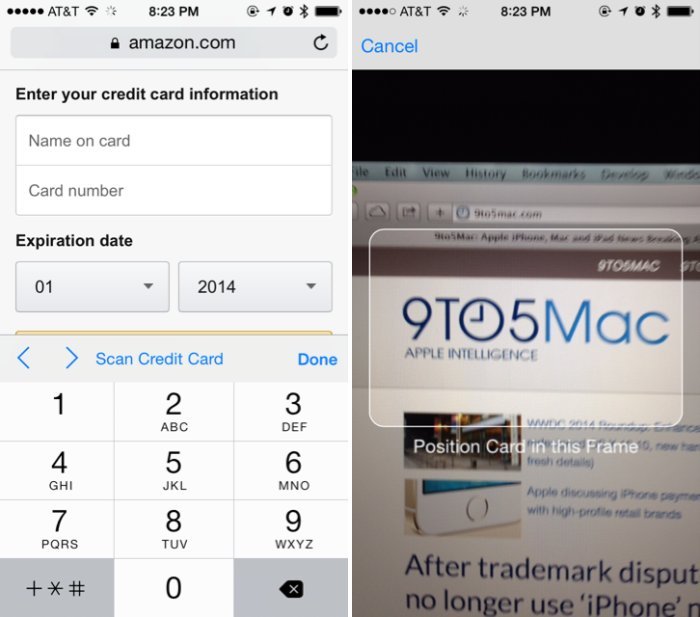 Apple debuted both the new iPhone and Mac operating systems in San Francisco on Monday. Though you can't get the updates until this fall, a few developers already have access -- and the credit card feature is just one of several changes that are coming to your phone and computer. The company also has plans to make texting easier, and might be changing the font on the Mac for the first time ever.
Some apps like Uber already use similar technology to the new card-scanning option, allowing you to hold your credit card up to your phone and get the information off of it. PayPal recently bought the app Car.dio, which does just that.
In iOS 7 (what you have now), Safari can save your credit card info when you enter it, and then auto-fill it for you when making your next purchase. The iOS 8 update will also let you scan and save cards to auto-fill for future purchases, 9to5 Macreports.
We have to wonder how hard it would be to take a surreptitious pic of your neighbor's card -- say, while paying at a restaurant -- and use it for a purchase. But that probably wouldn't be any easier than just looking and writing down their number.
REAL LIFE. REAL NEWS. REAL VOICES.
Help us tell more of the stories that matter from voices that too often remain unheard.