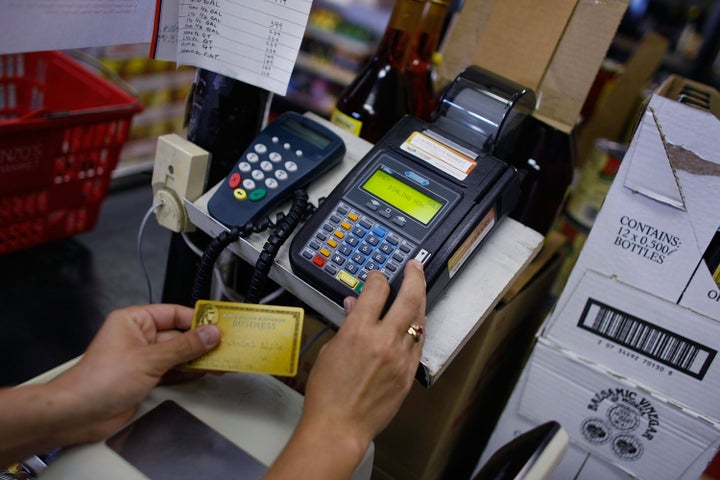 As tighter federal regulations have been placed on debit cards, credit cards have come back with a vengeance. Banks have spent the past year pushing credit on shoppers through aggressive advertising, low-promotional rates and 0 percent offers, leaving no website, mailbox or television commercial slot untouched with promotions to get shoppers charging.
The new efforts come as a reaction to the Durbin amendment, part of the larger Dodd-Frank financial reform legislation, which was enacted on October 1. The regulation limits the amount a bank can extract each time a customer swipes a debit card to around 21 cents.
Credit card swipe fees, meanwhile, are essentially a Wild West for bank revenue: Companies and issuers can charge between 2 and 4 percent per credit transaction, with rewards cards typically getting an even higher rate. Where a $100 debit card purchase adds up to pennies on the dollar in swipe fees for a financial institution, a credit card swipe might send a $2.50 chunk of change to issuers.
"It's more than gravy, it's a nice fee for these banks," said Curtis Arnold, an credit card expert from CardRatings.com, a site that offers credit card information and deals to consumers.
The more shoppers the industry can get hooked back onto credit cards, the more easily it can earn back the money that has dried up from other sources, like debit-card usage fees and overdrafts. Beginning in August 2010, banks saw reduced revenue from debit-card overdrafts as customers opted in to the service, rather than the lucrative default setting banks had been using prior to the rule change.
"Consumers have preference for debit cards, but from a bank's perspective, they make a lot more money [on credit cards]," said Mallory Duncan, senior vice president of the National Retail Federation.
Already, the amount Americans are charging is on the rise, though it's still nowhere near pre-recession levels. Credit card spending nudged higher in October, according to the latest consumer borrowing figures released from the Federal Reserve on Wednesday. While the uptick of 0.6 percent was still smaller than a full percentage point, month over month the numbers show a clear progression to more credit card borrowing.
JPMorgan Chase credit card spending in the first nine months of the year was $241 billion and is likely to exceed last year's spending of $293 billion, according to a company spokesperson. Overall, growth for the financial institution's consumer and small business credit card business is up nearly 14 percent year over year.
The increase reverses a trend away from credit cards, as debit card use increased and available credit tightened in the recession and recovery. Americans became more cautious with their use of credit cards and late-payment rates are at nearly the lowest levels in 17 years, according to TransUnion, a national credit reporting bureau. The average balance at the end of the third quarter of 2011 was $4,762.
"I think it's natural as after credit crisis people will resume using credit cards," said Linda Sherry, director of national priorities for Consumer Action, a nonprofit consumer lobby group. "It has been very tight in last few years."
As in the pre-credit crunch heyday, introductory 0 percent interest rates are being promoted heavily. Yet this is not without a major catch: post-introductory rates are anywhere between 17 percent and 23 percent and are variable, meaning they will likely swing even higher a year or more from now if interest rates head north again, though interest rates are expected to stay exceptionally low until 2013.
It's not just new cards that are getting the full marketing treatment. MasterCard, for example, is trying to incentivize more spending on existing cards with holiday rewards promotions, such as extended warranties, shopping lounges in malls, and cash back.
For savvy consumers, that poses an opportunity to finance big-ticket items at a low cost. But it also poses a risk for shoppers who are sloppy with credit, allowing balances to build long after promotional rates are over.
Also new is the increase in self-branded cards from banks like Chase and Citi, who have been heavily marketing new cards like the Sapphire and Simplicity.
"We expect to see more firms going toward a consolidation toward self-branded products," said Doug Miller, senior banking analyst with Corporate Insight, a market research firm in New York City. He also said frill-free cards like American Express Clear, which has no fees and 0 percent interest for the first 12 months and jumps to 17 percent or higher after that introductory period, may also become more prevalent.
Regulators are taking note. On Wednesday, the Consumer Financial Protection Bureau released a sample two-page form that clearly and easily spells out all the payment and interest rate terms for credit cards. Last month, the government agency released a report showing that consumers have difficulty understanding the exact terms of their cards.
REAL LIFE. REAL NEWS. REAL VOICES.
Help us tell more of the stories that matter from voices that too often remain unheard.