 Consumers today expect to be able use a debit or credit card to buy anything they want -- including $5 sandwiches and $3 cappuccinos. Restaurant owners have responded resoundingly: 92 percent of full-service restaurants now take cards, according to Euromonitor data provided to The Huffington Post by Visa. New technology lets even food trucks and tiny vendors in on the action.
"There are very few places that don't accept Visa or MasterCard, at least," National Restaurant Association spokeswoman Liz Garner told The Huffington Post. "Restaurant owners feel like they have to take these cards in order to compete."
As a result, dining is rapidly becoming a cashless experience. Last year, 81 percent of the money spent at full-service restaurants in America was charged to debit, credit or pre-paid cards, up from 72 percent in 2006 and 66 percent in 2004. At quick-service restaurants, many of which only started taking cards in the early 2000s, just 37 percent of sales were charged in 2012, but the trend toward plastic is the same.
At the same time, customers' insistence that restaurants take cards has allowed companies like Visa, MasterCard and American Express to charge ever-higher merchant fees, leading some restaurant owners to question the value of plastic. These fees often range from 2 percent to 3.5 percent of the bill -- a significant chunk to a restaurateur running a business with a profit margin in the mid-single digits.
Take Sara Jenkins, the owner of two successful Italian restaurants in Manhattan's East Village. While reviewing the annual accounts at her upscale restaurant, Porsena, where about 90 percent of customers pay with plastic, she discovered that she had been charged $40,000 in card fees for the year.
"I could do a lot with $40,000 around here," Jenkins said. "The question I found myself asking was, do those fees bring so much business that it's worth it or would one be better off going cash-only? It's not really a question I've ever resolved."
She does know, though, that eliminating cards at this point would be risky. "There's a certain amount of my clientele that is older and more established, and they wouldn't bother [coming here] if I didn't take a credit card. They'd go right down the block to someone else," she said.
Garner, of the National Restaurant Association, said that stories like Jenkins' have made reducing fees a priority. The group fought successfully to give the Federal Reserve the authority to cap debit-card fees at a rate "reasonable and proportional" to the cost of the transaction as part of the Dodd-Frank Act. (Garner believes the rate set by the Fed is still too high.) Now the group has set its sights on credit-card fees, which are unregulated and often significantly higher than debit-card fees.
Some restaurants have devised other methods of coping with fees while waiting for a legislative remedy. Thanks to a major lawsuit, restaurants will soon be allowed to pass credit card fees onto their customers in 40 states, so some eateries might add a new line to the check. More and more restaurants have started to push their own prepaid gift cards, which can save them money by taking transactions off credit card companies' servers.
The big kahuna in this last category is Starbucks. Company spokeswoman Linda Mills told The Huffington Post that 25 percent of sales came through prepaid Starbucks cards. The coffee shop chain is so convinced of the benefits of a payment system outside the purview of traditional credit and debit card companies that in August, it invested $25 million in payment services company Square. Starbucks is shifting all its card processing to Square, which Mills said will save the company "a lot of money."
Meanwhile, a small but growing corps of restaurants has a counterintuitive hunch that they can save money and work by eliminating cash payments rather than plastic. Some of these "cashless" restaurants sell tickets to tables in advance online; that means there's sometimes no bill at the end of a meal. At least one, Commerce, in New York, operates in the traditional manner but has refused to take cash for any transaction since 2009.
Commerce owner Tony Zazula explained that his staff had been expending an inordinate amount of effort tracking down, counting and depositing dollar bills that collectively accounted for a relatively small part of the restaurant's income.
"Somewhere between 85 and 90 percent of revenue was coming through credit cards already," Zazula said. "So to have two systems, and to have 10 percent be so burdensome to reconcile, and to go to the bank every day, and to have several different cash registers in the restaurants, just didn't make any sense."
Zazula said that requiring customers to use credit cards has bumped the total cost of fees up slightly, but he said the reduced logistical hassle makes up for it. He also argued that going cashless has made Commerce feel "cleaner" and more like a private club. He's so glad about his decision that he's planning not to accept cash when he opens a cheaper offshoot of the restaurant in the near future.
Still, even at Commerce, some customers insist on leaving their tips in cash. Many insiders agree that this is a good policy for restaurant workers, because many waiters prefer to leave work with a pile of cash in hand than to wait for weekly paychecks with the tips left to them on credit cards.
Jenkins said she always tries to pay tips in cash. But she admitted that she uses cards for the bulk of her purchases, even though she knows first-hand how much doing so costs small businesses.
"I know that I personally run around with no cash in my wallet and just swipe my debit card merrily left, right and center whenever I want something," she said. "And I feel like when you open a restaurant, you just have to accept the reality of that."
Related
Before You Go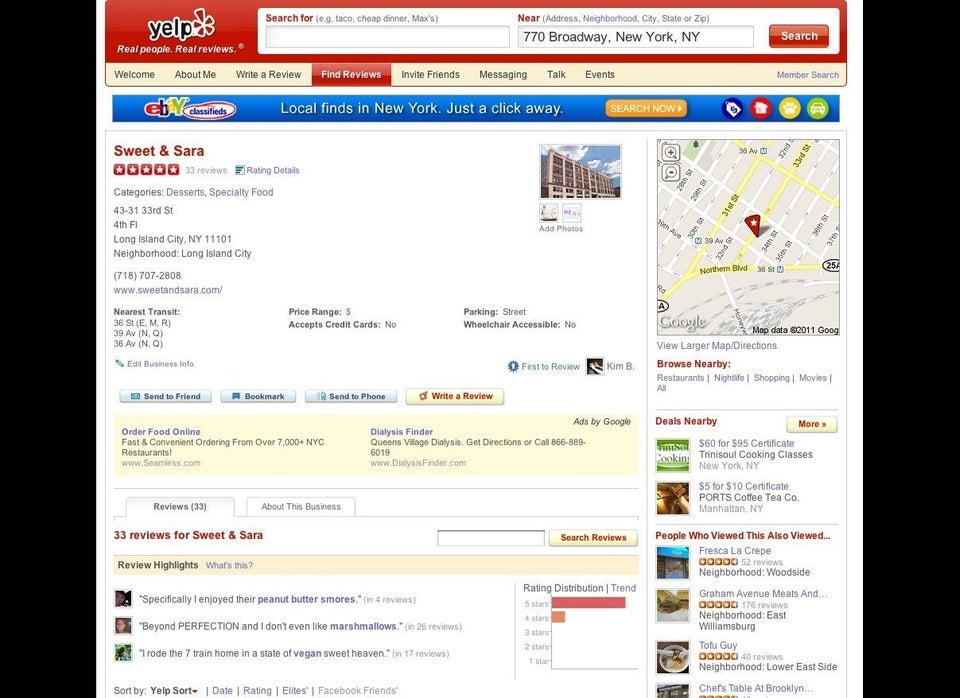 Top 9 Reasons You Can't Always Trust Yelp