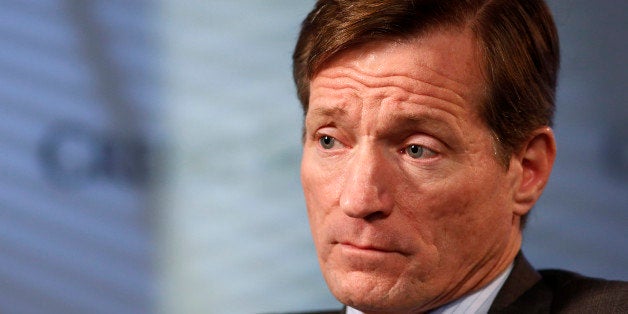 The U.S. government has finally backed up its boast that no bank is too big to jail, if by "jail" you mean "vigorously slap on the wrist."
The Justice Department on Monday filed criminal charges accusing Swiss banking giant Credit Suisse of conspiring to help U.S. customers dodge taxes. The bank pleaded guilty to the charges, breaking from a recent tradition of letting banks defer prosecution. Credit Suisse also agreed to pay about $2.6 billion to settle the claims brought by the Justice Department, the Federal Reserve and New York State.
"This case shows that no financial institution, no matter its size or global reach, is above the law," Attorney General Eric Holder said in a press release announcing the settlement.
Though the government is undoubtedly proud of itself for successfully managing to prosecute a large bank -- with the first guilty plea for a big financial firm since 1989, The New York Times notes -- this by all accounts is turning out to be the most toothless criminal plea imaginable. It's hard to imagine it will deter future crimes.
Prosecutors and regulators have done everything they could to make this criminal case easy on Credit Suisse. The bank will not lose its ability to do business in the United States, The Wall Street Journal has reported. Its top executives, including CEO Brady Dougan and Chairman Urs Rohner, will keep their jobs.
Meanwhile, there is no indication that any more people will be criminally charged in the case beyond the small handful of lower-level bankers who have already been indicted. Dougan has claimed that bank management was unaware of what these underlings were doing and did not encourage tax evasion. The U.S. government could always bring more charges. For now, though, it has apparently decided to punish the bank's shareholders instead of its managers.
The settlement comes a little more than a year after Holder confessed that some banks are just too huge and interconnected and important to the global economy to threaten with criminal prosecution. Criminal charges have been death blows for other companies, like the accounting firm Arthur Andersen, and prosecutors have long feared that taking down a big bank that way would bring down the entire economy.
Holder, realizing too late what a horrible message he had just sent to the big banks -- they can get away with anything, basically -- soon recanted his remarks. He and other prosecutors have since repeatedly claimed that, in fact, no bank is too big to prosecute.
Prosecutors have been searching ever since for a bank to serve as an example. Credit Suisse won the lottery, though France's BNP Paribas may soon follow, according to the NYT and other reports. The long arm of the law does not yet reach American banks, apparently.
But Credit Suisse will apparently not be an Arthur Andersen-style prosecution. As The New York Times reported last month, prosecutors have been canvassing other regulators to make sure a big bank could plead guilty without any sort of life-threatening consequences. Credit Suisse is reportedly not going to lose its charter to do business in the U.S. and seems unlikely to face any other serious business repercussions as a result of this plea.
So what we have, in the end, seems to be a version of the anemic civil settlements and deferred-prosecution agreements that banks always get when they commit crimes. As usual, it is little more than the cost of doing business: Credit Suisse will make that $2.5 billion back with just a couple of quarters' worth of profits.
For now, the government's message to banks remains the same: Go ahead and break the law. If worse comes to worst, your low-level bankers will take the fall, and your shareholders will pick up the tab.
This post has been updated with additional facts and comments from the Justice Department.
Related
Popular in the Community