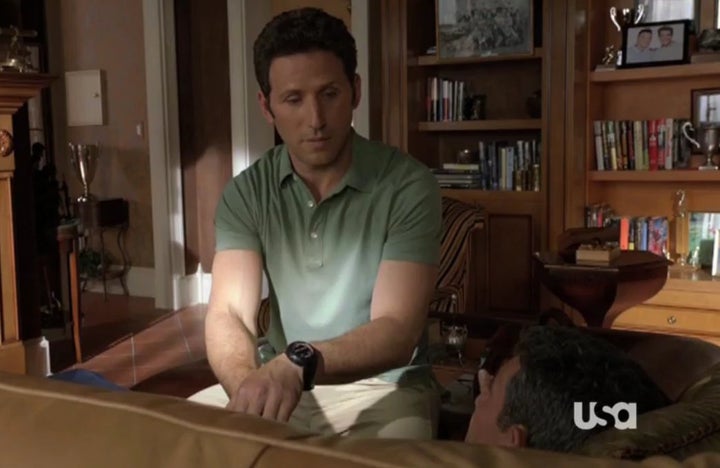 Okay, so, sometimes in life, I can be a score-keeper -- someone who keeps track of what he gives and what he gets in return. An annoying quality, to say the least, and I'm sure my wife has your sympathy, but it's made me highly attuned to when and where credit is due.
Recently, I've been given two different credits on Royal Pains. I'd like to clarify just how much genuine credit is due me!

Producer: Mark Feuerstein

Uh, yeah, not sooo much. If my producer hat were shot off my head by a bunch of resentful line-producers tomorrow, the show would get produced perfectly without a scratch. I have definitely had a hand in helping to cast a bunch of roles on our show, and I certainly keep things positive and upbeat on set, but it's not like I'm on the phone all-day, like our UPM, Kathy Ciric who keeps us on schedule and on budget, or our Associate Producer Margo Johnston who's been on the front lines making it all happen since our show's inception.
It's nice to see my name up there, I love that my agents at UTA and my manager, Steven Levy, secured this wonderful credit for me, my parents have certainly gotten a lot of mileage out of it at dinner parties, and don't get me wrong, I'm not giving it back. But credit where credit is due, it's the writers and the real producers who get our show made every week.
Director: Mark Feuerstein
Okay, yes, for this credit I definitely shed my blood, sweat and tears. The two episodes of Royal Pains (my 2nd airs tonight August 1st, USA, 9p.m.) I've directed have truly been the greatest challenges of my career to date. But more than film, television is a truly collaborative art form.
First of all, it took a ginormous vote of confidence from our Exec. Producers Andrew Lenchewski and Michael Rauch and our head network honcho, Jeff Wachtel, to bestow this opportunity upon me. And then it was Michael Rauch, who's been directing for years, who took the time to listen to all of my ideas, be they insane, expensive, or, in many cases impossible. He helped to focus and translate those ideas so we could make the best possible episode in the time we had (or in the two months it took to actually complete my first episode last season -- for those who don't know that's too long!). I had definitely done all of my homework and played every scene out in my head, but Michael was there early on set every day of my episode to discuss the blocking of the actors, the shots I wanted to get to capture them and how to best make our day. He was my consigliore -- I am forever grateful for that support. And Andrew let me cast my father in Wednesday night's episode -- check out the Ice Cream Man -- that's Harvey Feuerstein, not Fierstein, comin' atcha!
Our Director of Photography, a genius at what he does, Joe Collins met with me last season to go over all of my storyboards and shot ideas for three hours in a NYC diner on a stormy weekend! First season, I had an idea for this dream sequence where I'm having a hallucination, and I envisioned something out of Macbeth with Divya, Jill and Evan being the witches; an apocalyptic set with a gigantic coffin out of which my witches would rise and fall. Our brilliant set designer, Ray Kluga, spent days drawing up plans for this sequence that was, in the end, way too expensive, but he indulged me as he does all directors as he helps to find the best, most creative solution to tell the story.
Not to mention our costume designer, Caroline Duncan, who came up with coordinated attire for two different funerals, HankMed's and Ronnie's (spoiler alert), in both my episodes. Not to mention the other incredible professionals I'm surrounded by as an actor and director everyday: Grip Department, Sal Lanza; Make-up, Francesca Buccellato; Electric, Steve Ramsey; Hair, Anita Lausevic; Sound, Brian Miksis and Karl Wasserman; Associate Director's Rob Albertell and Eric Yellin; Locations, Mike Fucci; and Line Producer, Kerry Orent. These are all people who are not only great at what they do, but whom I consider friends. I'm lucky to get to work with them everyday.

So when interviewers ask me, "What was it like for you to act and direct?" I can't answer that honestly without explaining how many people deserve the credit that will appear on the TV screen this Wednesday night, August 1st -- did I mention on USA, and did I mention at 9 p.m.? Cause the answer is: "It would have been hell and impossible, without each and every one of them."
And here is a quick illustration of what a collaborative engine runs the machine which is Royal Pains. Recently, we were scouting locations for both my episode and a scene from another episode. Our Executive Producers were on a big notes call with the network, and the director for that other scene was not with us. So there was our brilliant set designer, Ray Kluga, explaining to Joe, our DP, how he would turn that modest pier into a gorgeous Hamptons coffee shop and our genius director of photography Joe Collins explaining to Ray, how he would shoot the scene: in what directions he would point the camera considering the backgrounds for the actors and where the sun would be at that time of day. No director, no producers, no executives, just two great designers prepping the scene as if they were directing it so the show never sacrifices its integrity or beauty.

Sure, I'm the guy who gets to talk about the episode I directed on talk shows and here on HuffPost, but it's the writers, the designers, the executive producers, our amazing cast, and all of our brilliant crew members who should be celebrated. I'm grateful not bitter, but for some reason, our show isn't one of those that gets nominated for Emmys, so in lieu of a speech at that Awards Ceremony -- the people mentioned above (in addition to my beautiful wife, kids, and parents) are the ones I would have thanked.
An uninformed producer once naively commented of our show,"It directs itself." Yeah, sure, with the help of 250 of the best, hardest-working people in show business.
REAL LIFE. REAL NEWS. REAL VOICES.
Help us tell more of the stories that matter from voices that too often remain unheard.