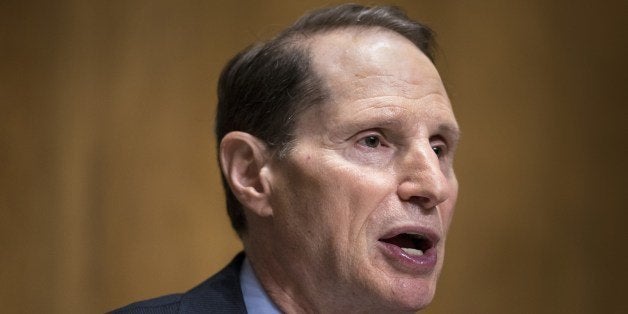 Progressive activist group CREDO Action is targeting congressional Democrats with a new online ad campaign accusing them of supporting Medicare cuts by backing major trade legislation pushed by President Barack Obama and Republican leaders.
The Medicare twist increases the political pressure on supporters of a bill that would grant Obama the authority to "fast track" trade deals he and future presidents negotiate with other countries. Under fast track, Congress would be stripped of authority to filibuster or amend the Trans-Pacific Partnership, a pact with 11 other nations currently being negotiated by the Obama administration. The TPP almost certainly cannot pass without fast-track power.
While Senate Majority Leader Mitch McConnell (R-Ky.) and House Speaker John Boehner (R-Ohio) have supported Obama on both fast track and the TPP, tea party Republicans and most Democrats in Congress oppose the measures, as do traditional liberal interest groups including labor unions, environmentalists and Internet freedom activists.
To win over additional Democrats, Republicans have agreed to couple fast track with a program called Trade Adjustment Assistance, which provides financial aid and training to workers who lose their jobs to increased foreign trade. But much of the GOP is opposed to such support, and House Republicans have pushed a measure that would force $700 million of TAA funding to come out of the budget for Medicare.
The CREDO Action ads accuse lawmakers of cutting Medicare to pay for the fast-track bill, and will target Sens. Ron Wyden (D-Ore.), Mark Warner (D-Va.), Ron Kind (D-Wis.), Earl Blumenauer (D-Ore.) and Ami Bera (D-Calif.). Sen. Ron Johnson (R-Wis.) is the lone Republican who will be featured in the first round on advertising, CREDO Action said.
Here's an example of an ad the group plans to run on Facebook: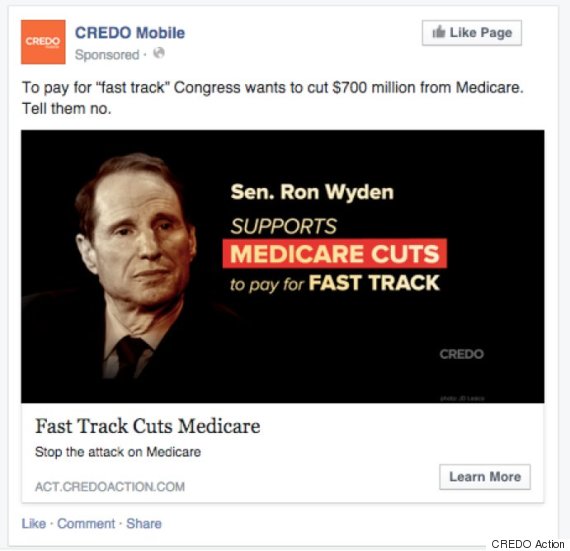 Obama has spent months trying to woo critical Democrats who believe his trade agenda will exacerbate income inequality and undermine important regulations that protect the economy and the environment. The progressive wing of the party remains strongly opposed, however, and in recent weeks, Obama's persuasion tactics morphed into public attacks on Sen. Elizabeth Warren (D-Mass.), a popular figure among liberals who has helped rally additional opposition. The fast-track bill is likely to pass the Senate in the next few days, but remains several votes short of passage in the House.
Calling all HuffPost superfans!
Sign up for membership to become a founding member and help shape HuffPost's next chapter
BEFORE YOU GO
PHOTO GALLERY
Scenes From 114th Congress And Capitol Hill