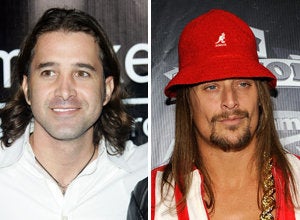 Creed's Scott Stapp and Kid Rock may have been caught on camera receiving blow jobs from groupies on a tour bus in 1999, but the Christian rocker insists they did not have sex with those women.
Clintonian parsing notwithstanding, Stapp says things got awkward between him and his video costar after the incident.
"What sucks about that is Bob -- Kid Rock -- and I were friends," he told the magazine. "He'd been over to my house and we jammed and hung out. We were in Tampa playing with Metallica, and I walked into his trailer and there were some strippers. It's a time in his life and a time in my life that we'd like to put behind us and not publicize because we have children now, and they're in school, and their friends read. I know he was pretty pissed off at me when that came out."
The 45-minute tape didn't surface until 2006, when Stapp successfully blocked it from being released. Stapp and Kid Rock still aren't speaking.
"We haven't sat down face-to-face," Stapp said. "I did apologize to him that I didn't just burn that thing. I thought that was a skeleton in the closet that would never find the light of day."
Popular in the Community